Crowns coming to Vauxhall
Posted on February 9, 2017 by Vauxhall Advance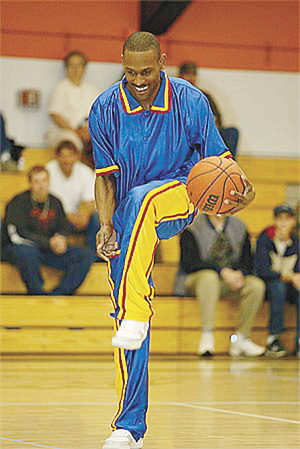 (Photo Submitted) SKILLS: The Harlem Crowns will be showcasing their comical and physical basketball skills to Vauxhallites on Feb. 13.
By Greg Price
Vauxhall Advance
gprice@tabertimes.com
With their hardcourt hijinks, the Harlem Crowns are once again making their way to Vauxhall High School.
In their third voyage to the school, the 'clownball' team will be competing against the Vauxhall Vikings boys basketball team. The Harlem Crowns will go through their set gags and regular comic routines as they compete on the hardcourt while continuing communicating with the audience.
"Most people are familiar with the Harlem Globetrotters, it's like a version of that. It's a fun exhibition," said Daryl Johnson, head coach of the Vauxhall Vikings boys basketball team, who will be doing their version of the Washington Generals, the infamous team that once suffered a 2,495-game 'losing streak' to the Globetrotters. "You have to roll with the punches a bit, because it's all about the show. It's always a fun evening and kids and adults alike seem to like it."
The event goes on Monday, Feb. 13 where the Vauxhall Queens girls basketball team will first compete against Erle Rivers in league play before the Vauxhall Vikings tip off against the Harlem Crowns at 7 p.m.
Cost is $10 each with kids six and under getting in free.