Vikings earn zone silver
Posted on March 16, 2017 by Vauxhall Advance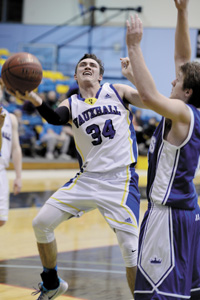 (Photo by Greg Price) PAINT BALL: Hunter Johnson of the Vauxhall Vikings boys basketball team attempts a shot in the paint as he is fouled against Picture Butte last Tuesday at Lethbridge College.
By Greg Price
Vauxhall Advance
gprice@tabertimes.com
In a battle of 2A titans, the top-two seeded teams in the south zone gave fans the highlight game of the tournament as the Vauxhall Vikings boys basketball team earned the silver medal in an epic 86-84 loss to top-ranked Willow Creek at Lethbridge College on Saturday.
"Neither team had seen each other before. They had a couple of bigger kids and we have some big kids, size-wise it wasn't really an advantage either way. Both teams were dialed in and gave everything they could," said Daryl Johnson, head coach of the Vauxhall Vikings boys basketball team.
"We went into overtime and we would go down and hit a big shot and then they would come down and hit a big shot. It was back and forth all game long, where I think the most we were up was six points and the most they were up maybe three or four points. It was super competitive and a super good game."
The Vikings managed to hit a shot from beyond the arc to tie the game with 20 seconds left to put the game into overtime in the heated battle that saw both squads witness two of its players foul out where 48 fouls were called in total in the gold-medal game.
"Everyone was fully engaged in the game and ready to go. Fouls did hurt us. Usually at zones they let the kids decide, but there were a lot of whistles," said Johnson.
"I've coached a lot at zones and usually the refs hold back their whistles at zones and let the kids go. That can hurt you, especially when you get into overtime and you don't have your normal rotations."
Damiano Palmegiani led the Vikings with 27 points and Garrett Hawkins poured in 21.
Ben Erwin added 13 points and Liam Vulcano chipped in 11.
The Vikings dominated its competition to get to the gold-medal game, starting off with a 96-45 win over Picture Butte last Tuesday at Lethbridge College.
Hawkins had a game-high 25 points and Kevin Turner hit for 15 points.
Other double-digit scorers for the Vikings included Erwin (14), Jared Binsfeld (12) and Kyle Turner (11).
Vikings got to the gold-medal game by dispatching Immanuel Christian 94-50 last Friday.
Kevin Turner had 20 points and Hawkins poured in 16. Palmegiani added 13 points.
"Picture Butte and Immanuel are not what they used to be I guess. But, that didn't make us overconfident heading into the final. They played well those two games and we played well in the final. We were fired up," said Johnson.
"That final, you can't look at the game and say, 'Well we should have done this, or we should have done that'. They made good adjustments and we made good adjustments. They (Claresholm Willow Creek) played a 1-3-1 zone on us that we hadn't seen all year. The kids adjusted to it and they executed against something we hadn't even practised against all year."
Starting the season strong with a couple of tournament wins, the Vikings battled through some injuries through the winter months which Johnson noted some positives came from giving valuable minutes to bench players and making the Vikings a more well-rounded team as zones approached in March.
"At zones we were almost at full strength and it gave kids an opportunity to get minutes that  maybe they wouldn't have during the winter. It helped us out and will help us out next year, too, having a more experienced team," said Johnson, adding some players are going to be hard to replace as graduating Grade 12s.
"There will be holes to fill with Jared (Binsfeld), Kevin (Turner) and Ben (Erwin). Ben had a great year for us, he hit so many big shots for us in that final game, just fearless shots. Overall, I couldn't ask for anymore from that group, they were all in and left everything on the floor."