Spurs earn wins to start season
Posted on June 8, 2017 by Vauxhall Advance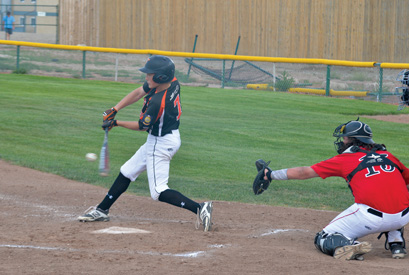 BUMP: Dax Wandler of the Vauxhall Spurs grips and rips for the team's first hit of the American Legion 'A' 2017 regular season at Jets Stadium last Wednesday. ADVANCE PHOTO BY GREG PRICE
By Greg Price
Vauxhall Advance
gprice@tabertimes.com
It was a strong start for the Vauxhall Spurs to its regular season in American Legion 'A" competition as the squad came out of the gates with a 2-1 record.
One of those wins was the home opener at Jets Stadium in Vauxhall with a 12-2 victory which was called after six innings last Wednesday.
"We had a big inning where the offence exploded. Things were tight until then. They used two guys that were pretty good, but it was one of those things where a couple of guys got some hits and then it became contagious where these guys feed off of each other," said Ronnie Deck, head coach of the Vauxhall Spurs. "With our bats, we took control of the momentum in two or three innings there in the middle of the game."
That was on top of a strong pitching performance by Carson Triodl, going five innings.
"He did a really good job throwing first-pitch strikes, getting the lead-off man out every inning and keeping the momentum with us even when we were tied," said Deck. "He kept the damage to a minimum so that our offence had a chance. It was key to get some early-season momentum and show these guys that they have the ability to take games over offensively."
The second game of the doubleheader was suspended after five innings due to weather and will be continued at that point when the Spurs visit the Miners in a road doubleheader on June 21. The Spurs will be trailing 4-3 when they resume the game in the top of the sixth inning.
"That is going to be a battle with two innings to go. We will need the hitters having a full sweat heading into that game because we will be down to our last six outs and we'll need those to manufacture some runs and use them as well as we can use them."
The team made their way to Great Falls where they took on the Electrics in a split with a 12-11 loss and an 8-4 win.
"That 12-11 game, you got to give credit to Great Falls. Early, we came out hitting and they took our best blow and they scrapped right with us," said Deck. "We gave away some very key defensive mistakes that I think as these guys play together more, we will be able to correct those. We made some bad throws, some bad decisions where to throw the ball, just not catching the ball at the right time. They are easily correctable stuff and it'll be my job to make sure the concentration on the defensive side stays where it needs to be. Give credit to Great Falls, they capitalized on those mistakes and really started to put the bat on the ball. They earned as many runs as we gave them."
Deck was quick to give credit to his own squad as well, as the Spurs almost rallied back after digging itself a huge hole with its errors that had the Electrics shocking the Vauxhall squad.
"I give a lot of credit to our boys making it a game in the last inning. We were down 12-8 going into our last at-bat and we rallied back and almost won it. That's something positive where our guys can believe in our offence where we know we can have a big inning."
The Spurs were able to bounce back and defeat the Electrics 8-4 to finish off its road doubleheader on Friday.
"That game was 4-4 late. It was a wild two games of baseball. What really stood out for me that game was we really ran the bases like we want to run them. We were super aggressive and we capitalized on the things we needed to capitalize on," said Deck. "Two plays stood out in my mind. Kaden Fujita hit a routine single to left where he got out of the box quickly and turned it into a double. In the final inning, we were looking for a few insurance runs and the ball got away from the catcher on a little wild pitch, but it didn't get too far away from him. Brant Mack made an unbelievable read and scored to give us our eighth run to put the game away. He had a great lead, a great secondary and great anticipation."
Deck added the Spurs 8-4 win against Great Falls was the epitome of a team win with so many varied contributions down the line.
"We had multiple guys on the mound get us key outs. We had multiple guys get us key hits with RBIs. We had an injury in Carson Becker who went down with a shoulder injury, so we had to move some guys around and bring in some guys who came in cold off the bench and get us key hits and make some defensive plays," said Deck.
"It was tight for five innings and so I give my guys credit for sticking with it. We were on the brink of getting swept and we stayed in there tough. The boys found a way to win that second game. Games you win by blowout are very low stress, but it's those close games, that if you find out a way to win those early in the season, that can carry you a long way when it comes to tournaments and key games you have to win later in the season."
The Spurs travel to Helena, Mont. for a tournament on the weekend.