Wins and losses for Spurs in recent action
Posted on June 29, 2017 by Vauxhall Advance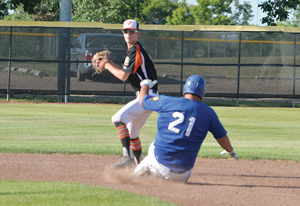 (Photo by Trevor Busch) DOUBLE TROUBLE: Second baseman Brant Mack prepares to turn a double play under pressure from a Fort Macleod Royals baserunner during doubleheader action on Tuesday evening at Jets Stadium.
By Trevor Busch
Vauxhall Advance
tbusch@tabertimes.com
It was splitsville for the Vauxhall Spurs in a series of recent doubleheaders as the team attempts a deep drive into the standings in American Legion "A" baseball.
On June 21, the Spurs were in Lethbridge at Spitz Stadium to take on the Miners in a two game set which saw them emerging with a loss and win.
"Lethbridge came out swinging the bat, they took the momentum of the first game," said head coach Ronnie Deck. "We made some errors defensively, and it was errors we couldn't overcome. We tried to make a run at that game, but Lethbridge kept adding runs and tacking on to their lead. We made a nice run at it at the end, we were down by three with the bases loaded, but we couldn't get that last timely hit."
The first game ended with a 12-9 loss, which Deck attributed to poor defense.
"It really came down to a few defensive mistakes we made in the middle of the game that cost us that lead, and eventually the game. Lethbridge swung the bat really well, I have to give them credit. They did what they had to do defensively to hold us off."
It was a different story in Game 2 versus the Miners, which saw the Spurs take a commanding lead only to give up four runs late for a tie game.
"Game 2, we took the momentum, got a nice lead. We were in the position to win it in seven, we hit the ball well, we pitched, we played a little bit better defense — we did everything we had to do. We were up by four, 8-4 with one out to get. In baseball, that last out of the game can be a tricky one at times, and it was for us. Lethbridge put together a great rally, scored four right there with two outs and tied the game at eight," said Deck.
Following a scoreless 8th inning, the Spurs rallied in the 9th to take back the game for a 12-8 win.
"We got out of the inning, but we had no momentum, we had nothing going for us at the time," said Deck. "I told the guys the other day, after that game, that I was as proud of them at the top of that 9th inning as I have been all year, because as a team, you are who you are when nothing's going for you — and they had nothing. Baseball told them that they should just quit, they were totally deflated — and they went out in the top of the 9th and put four runs on the board, ran the bases hard, were very aggressive."
"They were very emotionally in tune to what they had to do to regain the momentum and get the game back."
Deck went on to praise the mental effort of his players in achieving a come from behind victory in late innings.
"For those guys to come back from what was a really demoralizing bottom of the 7th inning, to put four runs up on the board in the 9th, was a testament to who they are. Those kids have really good character, and they always believe they can win a ball game. Sometimes it works against them, and they'll give up an early lead, but with the confidence to come back. We're trying to battle against that mindset right there. They can win 'em."
Following the doubleheader versus the Lethbridge Miners, the Spurs hosted the Lewistown Redbirds at Jets Stadium in Vauxhall for another doubleheader on Saturday.
"Game 1 we had a huge inning in the middle of the game," said Deck of the 14-4 Spurs win. "We were down 2-0, and we got back to back homers from (Reed) Odland and Brett Gray, and then we went on that same inning to score 10 more runs."
Game 2, however, saw the Spurs fail to capitalize on their initial win, dropping the game 9-3.
"The second game, we just weren't there," said Deck. "We got down 6-0. Lewistown got an early lead, and they tacked on with a couple of runs in the middle innings. We tried to rally again late, but just couldn't do it. We lost that momentum and got down too far and didn't have enough outs at the end of the game to really make a run at it. So we split, but that second game we were just dead. It just wasn't our game, one of those days."
The Vauxhall Spurs now currently sit with a very respectable 14-5 record on the season, and Deck is seeing many improvements in game play, both mentally and physically.
"We're just getting better defensively, every day, and it starts with the mentality. These guys are learning how to approach each pitch mentally, whereas before I think we took some pitches off, in between games, early in games, whatever — we're mentally into playing every pitch. I think that's shown — obviously the offence is continuing to do what they do, that's the strength of our team, but the defence is coming along, and we're finding bright spots on the mound, guys who can get people out in key situations."
In an all-around team effort, players are coming up big in positions that aren't their traditional core, added Deck.
"In Game 2 of that doubleheader in Lethbridge, Hayden Mack, who is not called upon a lot to pitch came in and gave us two scoreless innings. It's just the little unexpected elements like that, that continue to show up, because all of these guys have bought in to doing what they can do to help the team win. And I think it's that attitude that's helping them improve every day in spots where they might lack a little bit. At the beginning of the year, they were not a very good defensive team, where I would say now they're at least average, they compete on every pitch, and they give the offense a better chance to pull away with games."
The Spurs played a make-up doubleheader on Tuesday evening versus the Fort Macleod Royals, taking the first game 12-3, but dropping the second 13-7. The Spurs next host the Havre Northstars on June 29 in Vauxhall for a doubleheader.
Exhibition play will be in store for Canada Day at Jets Stadium versus the Spurs alumni, and Deck is hoping for an "instructional" match up.
"I want to see a lot of ex-Spurs come back to town and teach these young bucks how to play baseball."
On July 3, the Spurs will take on the Tri County Cardinals on the road in Conrad, Mont. in more doubleheader action. Commenting on recent game play, Deck targeted praise for the team as they push for a chance to challenge for championship status.
"I'm just really proud of how this team has started off. Now that we're mid-season, I think that they're set up to make a run if they stay dedicated to the process of just getting themselves prepared every day. They're a joy to watch because they're so together in everything they do. Myself and my assistant, Connor Parcells, we try to instill the fact that every day they come to the park to play games. It should be fun — the more fun they're having, the more their abilities should come out. And I think they're buying into that."