Spurs take tourney title
Posted on July 13, 2017 by Vauxhall Advance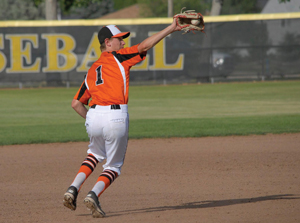 (Photo Submitted) SNAGGED: Vauxhall Spurs won a tournament in Kalispell, Mont., this past weekend thanks to an all-around game with thunderous bats, strong pitching and improved defence as Blaise Unruh (pictured) showed making this snag recently at the Vauxhall Spurs Alumni Game on Canada Day.
By Greg Price
Vauxhall Advance
gprice@tabertimes.com
Vauxhall Spurs continued their winning ways with an offensive barrage once again, recording double-digit runs in all of its games in a 5-0 run at a tournament in Kalispell over the weekend.
"We had a really good tournament in all aspects. In the five games we played, we played pretty clean baseball except for maybe our one game against Fort Macleod with neither team playing that well, but we were able to come out on top," said Ronnie Deck, head coach of the Vauxhall Spurs baseball club. "We didn't play as clean as we did in the other games, but we were able to over come our mistakes."
The Spurs victories included Mission Valley (13-2), Ferris Saxon (17-2), Strathmore Cardinals (14-3), Fort Macleod Royals (14-8) and Medicine Hat Knight sin the championship game (10-0).
"It was two Canadian teams from our district in the final. It was a tight game for four innings and we got a tremendous performance from Blaise Unruh on the mound. He gave up one hit through six innings and threw 62 pitches," said Deck. "Needless to say, he gave our offence every chance in the world to score some runs for us. All we needed was one run that day, but all those insurance runs we put up late always helps a pitcher with how they attack hitters. Blaise was locating his pitches and forcing contact early in the count which is what kept his pitch count down. He was changing speeds, having good use of the breaking ball and he got some strikeouts when he needed to."
Plating 68 runs over five games showed the hallmark the Spurs have shone all season with a mammoth offence, having now recorded double-digit runs in 18 of its games on the regular season. It has been the Spurs' team defence that has contributed to the team's six loses on the season, a facet Deck has said has improved as the Spurs head down the homestretch to districts in Havre starting on July 20.
"The hitters came in with the approach that we always preach of just hit the ball hard every at bat. Put the personal me goals aside, substitute we for me in the team approach, and the boys look like they are having fun at the plate which the other coaches commented on. It's great to see where they are playing up to their potential offensively without any tension, pressure or anxiety which is the goal," said Deck.
"Defensively, we were way behind our offence at the start of the year. But as of late in the last few weeks, I think the guys are sensing the district tournament is coming where it's the end of the year where you win or you go home. Defensively we are working on some things to get better both physically and mentally, but these guys are keenly aware of what time of the year it is and they've turned it up a notch defensively. Our hitting has always been our strength and it showed, but the defence was sharper, it was better and we overcame our mistakes a lot faster."
The tournament win pushes the Spurs' record to 24-6 on the season the regular season.
The Spurs played the Tri-County Cardinals yesterday in a doubleheader at Jets Stadium with results unavailable at press time.
This weekend, the Spurs travel to Montana, first for a doubleheader against Havre Northstars on Friday and then a doubleheader against Lewistown Redbirds on Saturday.