Spurs make early district exit
Posted on July 27, 2017 by Vauxhall Advance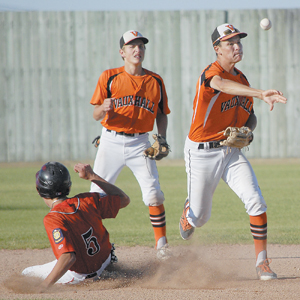 ADVANCE FILE PHOTO
By Greg Price
Vauxhall Advance
gprice@tabertimes.com
It was not the ending to a storybook-season the Vauxhall Spurs were wanting, but given the full body of work the Spurs had, it was an impressive season nevertheless.
The Vauxhall Spurs exited districts early with a 2-2 record in Havre, Montana, after coming in with plenty of momentum on a 16-game win streak.
The Spurs had beat the Medicine Hat Knights all American Legion 'A' season long, but found themselves on the short end of an 11-7 loss on the weekend to send the Spurs home early, and with it, dashing a chance to go to State.
"You got to give credit to Medicine Hat with how they just continued to swing the bat. We were up 7-3 in that game and (Carson) Troidl was pitching great, he was actually cruising," said Ronnie Deck, head coach of the Vauxhall Spurs baseball club.
"Then in a blink of an eye which happens in baseball, Medicine Hat got two or three hits in a row, we made an error. The momentum swung faster in that game on us than it did all year. We look up and it's 7-5 and they have base runners all over the place."
Deck added the Spurs' play was OK with the necessary work ethic, but with a powerhouse July heading into districts, the skipper added the Spurs reverted to some habits that were afflicting them in June.
"We were getting back to some of the mistakes we were making defensively and we didn't get the timely hits that we did in July," said Deck.
"But you got to give Medicine Hat credit for sticking with it. Being 7-3 in the fifth inning, they easily could have hung it up. They just kept coming."
The Spurs started off its tournament run with an 11-1 win over Tri-County Cardinals that was called early, with Darian Simmons pitching the complete-game victory.
"Those games are tough to play given our record and Tri-County's record. Darian came out throwing the ball exactly like we needed him to, he got ahead and didn't give them anything for free with walks or wild pitches," said Deck.
"He kept us in control of that game where momentum never left us because of what he did on the mound."
The Spurs were pushed to the loser's bracket after dropping a 7-3 decision to Lethbridge Miners, with Brady Howg taking the tough-luck loss on the mound.
"It was a another game where it was a tough game and in the middle of the game we made a few mistakes. We didn't get the ball caught, we didn't get the ball stopped in the outfield and we did not get the timely hit. We've prided ourselves on running the bases very aggressively all season. We got picked off at big time in both games (including the season-ending loss to Medicine Hat). It was something we were doing in June where we were making better aggressive decisions in July," said Deck.
"We didn't make the plays when the momentum was at stake. The guys that started against us, all-district pitcher Scott Jensen did a great job against us. His walks total was pretty high heading into the game, but he didn't really give us much for free. The guys he walked were at the right time and he threw the right pitch at the right time battling. We put rallies together, but we couldn't finish innings like we had all year."
The team's second win came with an 11-7 win against Great Falls Electrics. Blaise Unruh earned the pitching win.
"We were down early 4-0 with some mistakes in the field. There was a really rough first inning defensively that Blaise had to pitch around and he left in the fourth inning. He gave us a lead and I can't speak enough about what he gave us, keeping us in that game," said Deck.
"After getting that lead, we never relinquished the momentum. Great Falls is a scrappy team that is not going to quit."
Solid relief was provided by Brett Gray and Kaden Fujita shutting the door.
It all made for a bitter-sweet moment for the Spurs who ended its season with a loss at districts, but still managed an impressive 32-8 record.
"We are very happy with the body of work we put together for the whole season. This is one of the more memorable seasons I've ever had in baseball. I told the guys, it was one of the better 40-game runs I've ever seen and that includes a 2007 year where I was hitting coach for a team that went 74-30," said Deck.
"I understand what districts is. Every mistake is magnified just because of the tension of it with everything on the line. But, I'm a firm believer that every time you go out to play, it counts. We had more than our share of success in the season as a whole. I was happy with the kids on how they absorbed the baseball stuff that I and Connor (Parsells, assistant coach) threw at them throughout the summer."