Jets flying in new memorial tournament
Posted on September 7, 2017 by Vauxhall Advance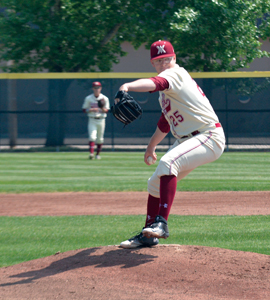 ADVANCE FILE PHOTO
By Greg Price
Vauxhall Advance
It is a tournament format that epitomizes the very spirit of the person it is memorializing.
The Keith Jorgensen Memorial Tournament goes Oct. 5-8 with a very unique format that helps conclude the fall baseball season on a high note. The Vauxhall Academy of Baseball Jets will be one of the teams in the inaugural tournament.
Jorgensen passed away late last year with his battle with cancer, but his memory will live on in the tournament of a man who, when saying he was influential in the sports arena in the province, would be an understatement.
"Keith was a tireless worker when it came to baseball. He did a lot of work with youth baseball in Coaldale and also in high school and Legion baseball," said Dale Tilleman, high-performance co-ordinator of Alberta Amateur Baseball. "It was under his guidance that made the Prairie Baseball Academy the success that it is today. Behind the scenes he was the ultimate worker in trying to get something done."
The former general manager of the PBA helped give birth to Lloyd Nolan Yard in Lethbridge which helped house the academy. Involved in officiating, Jorgensen also helped mold many young coaches over many sports. Jorgensen was also the commissioner of the Western Major Baseball League at one time along with being a board member of countless local committees.
As lofty as the posts Jorgensen had achieved in the sports world in the province, he was a man according to those who knew him best, that never lost sight of the basics that needed sport to run. He would roll up his sleeves to help clean the bathrooms at Lloyd Nolan Yard or tend to the grill to cook hamburgers and run the concession, all while assigning officials and scheduling tournaments.
"He took on so many leadership roles and was involved in baseball since the mid-1980s," said Tilleman. "Part of the mantra of Alberta Amateur Baseball is to help out baseball at various levels in the province. This is one way (the memorial tournament) that we can contribute to the fall baseball programs and also academies."
Jorgensen as a visionary was seen as anti-establishment by some, who stood his ground for the little guy, and encouraged inclusion in sport at all levels, along with increased diversity.
"One of the things I appreciated and admired about Keith was if there was a time he thought some city school administrator or official was being a little pompous, Keith was quick to take him down a step," said Tilleman with a chuckle. "He was a guy who thought the Tier III championship was just as important as the Tier I. For him to maneuver through the waves sometimes was a credit to his diplomacy and perseverance. He could certainly get around road blocks better than most of us. If he asked you to do something, he was an awful hard guy to say no to."
The Keith Jorgensen Memorial Tournament certainly fits that bill of inclusion and diversity with a double round-robin involving five-inning games with no championship round, as the tournament will be played at three different stadiums including Vauxhall Jets Stadium.
"It is a pretty big tournament with 12 teams. We look at the teams' records from this past year and make sure the three tiers are competitive. There is no championship round, it's just playing with your own tier with champions from each tier," said Tilleman. "Keith was a guy that made sure every kid had a chance to play."
"He thought a high school program in Milk River or Vauxhall was just as important as Legion baseball in Lethbridge. That's one thing I also appreciated about Keith was he was always supportive of the smaller locations and their programs. This tournament with its three tiers will ensure it's competitive and give all kids a chance to play."
The Vauxhall Academy of Baseball Jets will be competing in the Turin Division along with the PBA JV squads and Edmonton Prospects. Other teams are coming from Calgary, Edmonton, Medicine Hat and Fort McMurray.
The Jets will be playing on Oct. 5  at 3 and 5 p.m. at Spitz Stadium in Lethbridge with games at Jets Stadium on Oct. 6 at 1 and 3 p.m. Jets games shift to Lloyd Nolan Yard in Lethbridge on Oct. 7 at 2 and 4 p.m. Opening ceremonies for the tournament go prior to the Jets 5 p.m. game at Spitz Stadium on Oct. 5. Games will be played by Southern Alberta High School Baseball rules which include pitch counts, tie-breaker, eight-run rule after 3 1/2 innings and substitution.
"Keith was a tremendous worker and we want to do this tournament right and do a good job of it. If Keith was involved, it would definitely be done right," said Tilleman. "Keith had great organizational skills and had a diligence to detail. Kids benefited in so many ways in southern Alberta regarding baseball. I can't think of anybody else with maybe the exception of Lovell McDonnell, who has done more for baseball in southern Alberta and the two of them would be a tie."