Vauxhall Queens looking to reclaim tournament title on home court
Posted on October 5, 2017 by Vauxhall Advance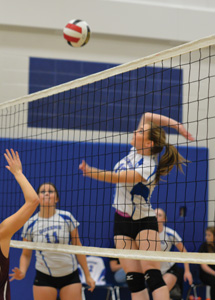 TIMES FILE PHOTO.
By Greg Price
Vauxhall Advance
Different Vauxhall Queens girls volleyball team, same consistent excellence in its program.
That excellence will be on display as the team hosts its home tournament this weekend.
The Queens have played in four tournaments so far, winning two and having solid showings in the other two.
"It's been pretty fun right now. We seem to be mauling or manhandling a lot of teams right now," said Scott Reiling, head coach of the Vauxhall Queens girls volleyball team. "We are playing really well again this year. We have a good mix of our ball control which has been really good. Offensively, this is as talented of a team that I have had in a really long time."
The Queens won the title in Fort Macleod, not dropping a set along the way.
The Queens competed in the Lethbridge College tournament, winning every match until they faced Catholic Central in the semifinal.
"We lost a tough one. I thought maybe we didn't put our best foot forward there. We let them dictate the pace and we hung in there," said Reiling of its 4A opponent that has been an upper-echelon team in the category for awhile. "The girls didn't think that way (playing a higher tiered team). They were quite grumpy feeling they left one out there. We got a little tight out there, we missed three serves in the first set to end the game and ended up losing 28-26."
Playing the Who's Who of what the Queens will see at zones and provincials, Vauxhall also made its way to Didsbury in its tournament run, including Kate Andrews and Picture Butte.
"The south showed really, really well. Again, we didn't drop a set and then played Spirit River in the final and we lost in three, but all super-tight games," said Reiling. "They are the 2A defending provincial champions and they only lost one player. It was fun to play them."
This past weekend, the Queens were in Black Diamond, running the table to the championship, never dropping a set along the way.
"It's one of those years where I knew I had the pieces being a pretty young team last year. I had the pieces back, a lot of the girls showed up and they have far exceeded where I thought they would get to by the end of this year. Things have just clicked for them where the game has gotten easier for them," said Reiling, adding the team's motto of 'Outwork Them All' can be found on the team shirts as each player has accepted their role. "I have some great leadership both on and off the court which is a good start. We have character where we don't have those battles that can sometimes brew between players. This is a group of girls that just love playing the game. It's not that they are just good at it, they love playing it. They are in the gym after school playing, they are getting the keys for the weekend and want to come in here on Sunday, where I'm actually pulling the reins back so they don't burn themselves out."
The offence Reiling talks about is a varied attack that comes from all sides where the hit velocity is as high as he as ever seen as a collective.
"Teams aren't quite ready for that type of velocity. We are running it all and it's a fast attack. I honestly have five girls that are out there all the time, that if any of them get the ball, they can put them away. There really is no soft spot," said Reiling. "The middles pull on the ball pretty hard, the outsides are as strong as any team we've seen in the province," said Reiling. "I have a left-handed right side that is long and crushing balls. Some years we've been one or two-hitter dominant and this year everyone is getting lots of kills."
The Queens kick off its invitational tournament with a 4 p.m. game on Friday against County Central. Match play continues at 5 p.m. against Magrath, with Friday's play for the Queens ending with a 7 p.m. match against Kate Andrews.
Saturday's slate for the Queens starts with a 10:30 a.m. match against Chinook JV followed by a 2:30 p.m. match against F.P Walshe. The championship final goes Saturday at 7:30 p.m.
"Home tournaments are a different breed. There's a different level of expectation. We are excited and they love playing in their gym," said Reiling. "Last year we didn't win it for the first time in a long time and the girls are looking for redemption. We have very good teams coming again and we are going to have to play well the entire weekend. There's not a lot of soft teams coming and that's by design. It's a good weekend to play a lot of matches and go out and battle midway through the year and reflect on where we need to get to."