Queens prove to be royalty
Posted on October 12, 2017 by Vauxhall Advance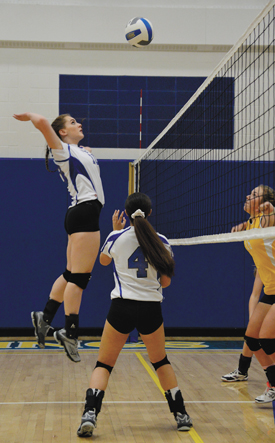 ADVANCE FILE PHOTO.
By Cole Parkinson
Vauxhall Advance
The Vauxhall Queens volleyball team walked away from their home tournament this past weekend as champions.
After dropping last's years home tournament, the team reclaimed their home court in front of their friends and families.
The team doesn't get many home games throughout the year but the coaching staff say that the home tournament is their best opportunity to demonstrate what they are capable of.
"The girls played well, it's one of the those things where they have been playing well all year and we've been on a pretty good roll as we talked about last week. But your home tournament is a different breed, we don't play in a league so we don't get a lot of home games. So it's really our home tournament that we can get the community out and showcase what we're doing so it's an important weekend, for them. They get grandmas and everybody out and they didn't disappoint," said head coach Scott Reiling.
"They played well all weekend and really played well in the finals and we bullied most of the teams we saw. We had good teams there again and I take that approach to try and get some of the better teams around, if we're going to give up a weekend especially Thanksgiving weekend, we might as well be playing good volleyball. The teams we played really struggled with the pressure that we put on right from service to hitting to how well we play out of system and we dig balls."
The team faced plenty of good teams from around the area but they didn't seem to have much trouble dispatching them.
Throughout the round robin, they did something that Reiling hasn't seen in quite some time.
"It was a great weekend, we went 10 and 0 and won all of our sets in the round robin which it's been awhile since I've done that at our home tournament, usually we drop one there. We played the Chinook JV team in the final and I think the scores were 25-15 and 25-16. I think they were very excited and I look at Aimee Kondor who is captain of our team. There was a situation where last year we played well but we lost and she wasn't going on to her Grade 12 year without winning her home tournament."
As the team doesn't play in a traditional league, they aren't given many opportunities to play in their home court in front of people they know.
With the tournament being played on Thanksgiving weekend, they were in a perfect spot to have tons of friends and family come out to support the team.
With the added pressure of playing in front of them, there is a concern with nerves playing a part in the game but Reiling didn't see any of it from his team.
"No, actually, and sometimes we do see that, especially when I put my younger players out there. They feel like the eyes are all on them and it wasn't that at all, it was more calming. When they showed up for the finals it was all business sort of like 'okay let's just get this game started and let's play it.' So very rarely did I feel as though they were hitting the panic button at any time and that's one of their strengths this year is they are pretty calm and collected even when a team runs a couple of points on us. There's nobody going 'oh my goodness' they just take a deep breathe and do what they need to get a side out and try and get control back," said Reiling.
The home tournament may be wrapped up but the Queens still have plenty of work to do before the end of the season.
"What makes this team really as good as they are is they practice really hard. Set to set, match to match from tournament to tournament, I'm taking notes all of the time of things we need to get a little better at and we get back into the gym to hit practice hard. There's lots of communication in between the girls and myself so we know what we need to work on and we reflect at the end of the weekend. So far it's been pretty good, we look back at the end of the weekend and look at it and say we were better at this so where do we go next? They're sure trying hard to get better and they're really focused so at the start of the year there were some big things and now it's those little things that we're working on to clean stuff up," said Reiling.
Tournaments are still on the horizon for the Queens as they start to prepare for the upcoming zones.
"We're in the Double Blue tournament this weekend so we'll be in Taber and then we are in Picture Butte the following weekend," said Reiling.
A couple of tournaments that are good to play some of the southern Alberta teams and a setup before we go into zones as we see some 2A teams," said Reiling. "Hopefully we keep playing with confidence and stay real aggressive."