Taber region hosting 2018 SASG
Posted on October 19, 2017 by Vauxhall Advance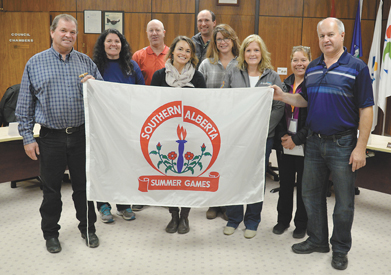 SUMMER DAYS: M.D. of Taber Reeve Brian Brewin (far left) and Mayor Andrew Prokop (far right) hoist the Southern Alberta Summer Games flag while surrounded by dignitaries from the Southern Alberta Recreation Association in town council chambers. Both municipalities will be hosting the 2018 SASG. TIMES PHOTO BY TREVOR BUSCH
By Trevor Busch
Vauxhall Advance
The Town of Taber and Municipal District of Taber are back in the saddle for the 2018 Southern Alberta Summer Games (SASG), which were officially awarded to the municipalities last week.
The region was awarded the Games by the Southern Alberta Recreation Association (SARA), and will mark the fifth time the event has been hosted by the municipalities, as well as the 49th anniversary of the Games themselves.
"The Town of Taber and the M.D. of Taber have hosted the Southern Alberta Summer Games five years since 1977, and the last time was in 2013," said Bonnie Ellis, co-chair of SARA, during the announcement in town council chambers last week.
"Each time over 2,000 athletes attend the community, and bring their families and friends with them to enjoy the Games. Over the years, it's been a credit to the town and the M.D. of Taber how well these two organizations have worked together to bring the games to your door."
The Southern Alberta Summer Games brings together communities throughout the region who compete in sports ranging from archery, swimming, soccer, trapshooting, and many more. All levels and ages compete in the Games.
"We are beyond excited to host the Games again," said director of recreation Aline Holmen, in a press release. "The facilities within the Municipal District and town are first-rate and we look forward to welcoming everyone throughout southern Alberta to our incredible community. When we last hosted the Games in 2013, we had over 300 volunteers from both the town and M.D., and we are very thankful to those who have made and continue to make these Games a success when we host them."
M.D. of Taber Reeve Brian Brewin was sure to point out that without the contributions of countless volunteers in the region, the Games would be a difficult prospect for the area.
"Thank you volunteers for the work that gets put into these summer Games in the past, and obviously into the future. It's a key part to making these Games work, is the volunteer base."
Ellis seconded those sentiments.
"The volunteers are truly what makes the Southern Alberta Summer Games so special," said Ellis in a press release.
"The incredible generosity of their time and talents showcase who we are as southern Albertans. That the Games have reached their 49th milestone is evidence that the Games wouldn't be what they are without the support of the volunteers and the communities."
According to the Town of Taber, details regarding the Games will be released in the coming months.
"I'm just glad we got it," said Taber Mayor Andrew Prokop.
"Thanks for all of our administration's work on that. All the way around, it's great that we were successful. So we're happy to have it, it will be great to participate."