Home tourney for basketball Queens
Posted on December 7, 2017 by Vauxhall Advance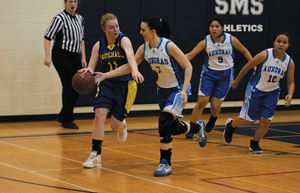 ADVANCE FILE PHOTO.
By Greg Price
Vauxhall Advance
Youth will be served this year for the Vauxhall Queens girls basketball team which will be going 10 players deep.
There will be two returning players from last year as the other seven possible returnees are focusing on club volleyball. Two seniors will be providing the leadership for eight Grade 10s.
"We went from having some fairly good size to being quite small," said Allen Matthews, head coach of the Vauxhall Queens girls basketball team with a chuckle.
Sculpting the youth movement, Matthews added the team will have its bumps to start off the season, but he is excited about the potential.
"You go in knowing there's going to be a ton of mistakes at the beginning, whereas if you had nine returners, you would be expecting a lot more right from the beginning," said Matthews. "We got some girls who are excited about the season where four or five of them, the sport is their first love which is hard to find in Vauxhall where volleyball is so big. We will make some mistakes, but in the same breath, I'm excited to see where these girls will be at, at the end of the season. The girls aren't afraid to work, they are a bunch of hard-working girls and fairly athletic which helps."
At the start of the season, the Queens will see how the pieces fit at its home tournament this weekend. The River Ridge Basketball League season officially started this week, but the Queens had a first-week bye, making the tournament the first time they have live action for the 2017/2018 season.
"I'm sure some of the Grade 10s will be a little nervous having their first game of their high-school careers at their home tournament. But they, want to do well," said Matthews.
The Queens kicks of fits hardcourt season on Friday with an 8:15 p.m. game against Vulcan to open its tournament run. The Vauxhall Queens home tournament officially starts at 3 p.m. on Friday.
"We are going to be young, but if you are going to be young, this is the group you want to work with. This group is a team, they are the ones saying 'can we have another practice' and are always wanting more," said Matthews.
"It will be exciting to watch to see how this group grows over the years."