Hornstra to be remembered at Vauxhall academy fundraiser
Posted on February 15, 2018 by Vauxhall Advance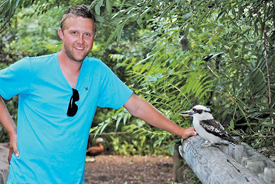 SCOTT HORNSTRA
By Greg Price
Vauxhall Advance
gprice@tabertimes.com
The 12th Annual Vauxhall Academy of Baseball Award and Fundraising Banquet is ready to take flight on Saturday, March 3.
Many esteemed former Blue Jays have been the guest speaker over the years like Jesse Barfield and Devon White, but there will be a new twist this year with honoured guest Pat Tabler.
The 12-year Major League Baseball veteran was an all-star in 1987 and won the World Series with the Blue Jays in 1992. Tabler joined the broadcast booth the following year in which he has been a colour commentator for the Jays ever since.
"From the speaking side, he comes really highly recommended and I'm sure he'll be tremendous. He had a tremendous playing career," said Les McTavish, head coach of the Vauxhall Academy of Baseball. "What is exciting about it, as much as the broadcasting part, is he has more relevance to the today Blue Jays than anyone we have had before. He is involved in the daily operations of the Blue Jays. We have had some tremendous speakers as always that we have really enjoyed, but with Pat he is still involved with the Blue Jays on a daily basis."
While the awards night will be celebrating Blue Jays present, it will also be celebrating the Vauxhall Academy of Baseball Jets past.
The Jets tragically lost one of its alumni on New Year's Eve in 2017, when Scott Hornstra succumbed to his injuries in a snowboarding accident in Whitefish, Mont.
Hornstra played for the VAB Jets in its inaugural year before moving on to a have a tremendous college career at Colby CC in Colby, Kansas, then Mississippi Valley State.
Hornstra was a huge part of the Jets success in 2006/2007 as a standout shortstop and closer.
At Colby, Hornstra was a 1st Team All JayHawk, 2nd Team All JayHawk, First Team All Region VI and Freshman of the Year.
He was also a star basketball player that helped lead Vauxhall High School to the provincial championships.
"Several of our alumni stepped up and they sponsored the banquet in Scott's honour. They became the title sponsor. Part of the being the title sponsor, you get a lunch with Pat Tabler on the Saturday, which they have offered to the Hornstra family. They have also offered a table that is free to the Hornstra family for the banquet from the alumni," said McTavish. "It's an honour to recognize and cherish what Scott meant to our program. I'm proud of how thoughtful our alumni was to do this in his honour. Those first couple of years with the Jets are probably the most special years considering how involved the players were and how much they meant to our program as pioneers. If it wasn't for that first-year team having so much success on and off the field, we would have never of got to where we are today. Scott will never be forgotten in our program."
The fundraising aspect of the night will feature as always some high-end sports memorabilia items in both the silent and live auctions, along with a bevy of other surprises for people to bid on, along with raffles.
Signed jerseys from Dennis Eckersley, Curt Schilling, Wade Boggs, Reggie Jackson and Marcus Stroman are featured along with signed baseballs from Larry Walker and Justin Morneau.
"Just recently, I received some baseballs from an old friend in Pat Gillick with Rickey Henderson, Ryne Sandberg and Mike Schmidt — three Hall of Famers," said McTavish. "Those are some neat items. A former alumni is the photographer for Brett Kissel, and he's on tour, so he sent a Brett Kissel autographed guitar."
Other unique items include Yukio and Barbara Kitagawa having donated a John Deere pedal tractor and a Mercedes full-sized toy car.
"They are of course not life-sized, but you can sit in them and ride," said McTavish. "That is certainly something that is cool."
The biggest raffle item to date will feature a first prize of a $1,000 West Jet travel voucher to Houston, two Blue Jay games June 25-26, and three nights hotel at Westin Hotels and Resort.
Second-place prize is a signed Curt Schilling jersey with other prizes also featured in the same raffle.
Tickets are $20 for one, $50 for three or $100 for eight. Approximately only 300 tickets are being printed.
The evening will also once again be highlighted by the Reno Lizzi Scholarships as well as several other awards and scholarship presentations.
Tickets are available by calling Vauxhall High School at 403-654-2145. Tickets are $60 a plate or $450 for a table of eight. Cocktails are at 5 p.m. and the program starts at 5:45 p.m. at the Vauxhall Community Hall.