Vikings start zones today
Posted on March 8, 2018 by Vauxhall Advance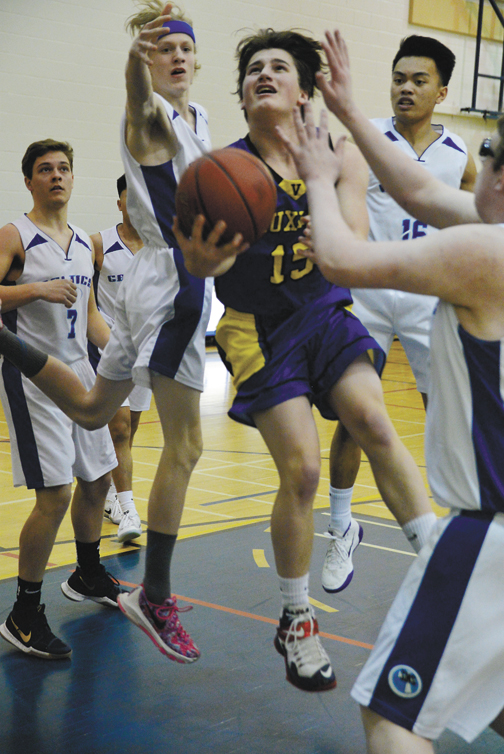 ADVANCE FILE PHOTO
By Greg Price
Vauxhall Advance
gprice@tabertimes.co
Vauxhall Vikings boys basketball team will be looking to make some noise as it starts its 2A South Zone run today.
In what looks like the most competitive game of the opening round, the Vikings will take on Kate Andrews Pride in a battle of the 4/5 seeds today at 8:30 p.m. at Lethbridge College.
"We played them the first game of the season (a win), so it's a long time since we've seen them. Both of our squads are a lot different since then," said Daryl Johnson, head coach of the Vauxhall Vikings boys basketball team. "Their coach always has the kids running and playing an in-your-face defence, so we will be ready for that. We didn't really perform that well in River Ridge (playoffs) in Taber, but nevertheless, I like our chances in that game."
It has been an up-and-down season for the Vikings on the year as the squad goes into zones as a dark horse as opposed to one of the favourites.
It suits the Vikings just fine as the team plays to its own expectations as opposed to those with bracketology as often found in March Madness basketball.
"You definitely have to win your first one to get a chance to make some noise at zones. But, that's the fun part of it, it's just one game and if you can beat a team, that's all it takes is that one strong game," said Johnson.
"The kids are pretty excited to go there and play in the big gym. I think we will be all right. One kid tweaked his ankle at practice (Tuesday) night, and I hope he'll be all right for zones. We always look forward to it. It's the culmination of the basketball year and just a chance to compete at the college is good."
Many basketball teams may not be as sharp as they usually are at zones as February saw the southern Alberta area gripped with numerous snowstorms that affected high school basketball scheduling.
"It's been a strange February with so much missed action. There has been canceled games, tournaments and practices, so we maybe didn't have as much gym time in the way the season went. Normally you are getting more games in the end as you look to improve for zones," said Johnson.
The Vikings play today at 8:30 p.m. at Lethbridge College. A win puts the Vikings in a Friday game against the Winner of top-seed Willow Creek and Matthew Halton at 8:30 p.m. Both the zone championship and bronze-medal game go at 6 p.m. at Lethbridge College.