Baseball academy continuing push towards indoor facility
Posted on March 15, 2018 by Vauxhall Advance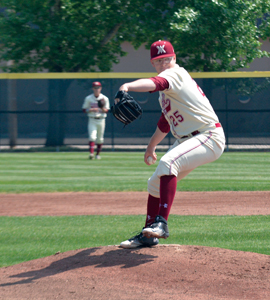 ADVANCE FILE PHOTO
By Cole Parkinson
Vauxhall Advance
cparkinson@tabertimes.com
As the Vauxhall Academy of Baseball continues to grow, the need for a new indoor facility becomes essential and Horizon School Division is throwing their support behind the program.
As the VAB continues to fundraise for the new indoor facility, the Horizon Board had a chance to talk about what would need to be done on their end at their regular meeting on Feb. 27.
Currently the Vauxhall Community Hall is used as an indoor facility for the academy but an actual facility suited to baseball activities would be hugely beneficial for the group.
"Most of you are aware that we operate a baseball academy in Vauxhall and partner with the society that oversees that project," said Horizon Superintendent of Schools Wilco Tymensen. "Over the last number of years the society has been fundraising and attempting to save funds for a future expansion within the program. They have a dream of creating an indoor baseball facility in Vauxhall. I'm sure most of you are aware that the academy is one of, if not, the best baseball academies in Canada for that age of students. There are certainly other jurisdictions in other parts of Canada that have come to visit it and see how we operate because they try it imitate it or create something similar."
While the facility would primarily be used for the Jets training during the winter months, the community would also be able to rent it out when not in use by the VAB.
"I think that this would be a huge asset to the community because it won't just be used for the ball program," said Jen Crowson, board member for Horizon.
With fundraising already well underway, plenty of questions still need to be answered before construction begins.
One of the biggest questions is where the facility will be placed within Vauxhall as the building will need to be of a decent size.
"What they're hoping for is to create an indoor facility that would house the infield of a baseball field. You're talking about a fairly large complex, they are hoping to apply for a grant and where the exact location of that facility has not been finalized. My understanding is they have half of the funds currently fundraised already," added Tymensen.
While there is plenty of available areas that could potential house the new facility, that may be a way off yet.
Right now, the program is looking for support in their quest of bringing the facility to Vauxhall.
"I think at this point what they are seeking is a letter of support from the jurisdiction that you would endorse or support the concept of an indoor field so they can apply for grants to help move towards achieving that dream."
The board voted unanimously to draft a letter in support of the VAB pursuing a new indoor facility.