Old Man Winter grounding Jets to start spring season
Posted on March 22, 2018 by Vauxhall Advance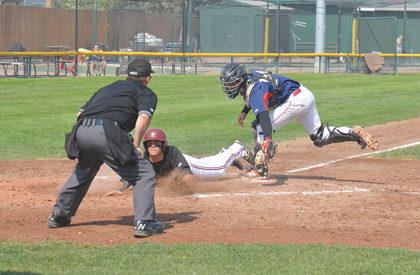 ADVANCE FILE PHOTO.
By Greg Price
Vauxhall Advance
gprice@tabertimes.com
Vauxhall Academy of Baseball Jets have not been cleared as of yet to get off the outdoor runway thanks to the snowy grip of hopefully the last remnants of Old Man Winter.
An extraordinarily snow-filled and cold winter has delayed outdoor training in 2018, where usually being able to hit the Jets Stadium field shortly after the Jets awards banquet in early March has scuttled those plans as of now.
"It has certainly been a challenging winter and the guys are ready to get outside, I can tell you that much. We are typically outside, training by now. We were fortunate in that we got some support from the M.D. to help us clear the field with some of the snow which is going to help us moving forward. It should help with some of the frost that's in the ground," said Les McTavish, head coach of the Vauxhall Academy of Baseball Jets.
The Jets are tentatively set to play the PBA JV/Prospects Academy at Lloyd Nolan Yard in Lethbridge for afternoon doubleheaders on Saturday and Sunday, but it will have to be wait-and-see to see if Mother Nature co-operates.
"It would be nice to get outside. At this point, it would just be nice to see some grass right now," said McTavish with a chuckle. "We don't even need it to be games, just see some grass and some sunlight. As much as we love the Vauxhall Community Hall, weight room and the residence, we just want to see some sunlight and some grass. The Prairie Baseball Academy is pretty close to Vauxhall in Lethbridge and they can see the grass. Now it's a concern of how much frost is coming out of the ground in the dirt. We will see in the course of the next few days, but our plan is to play."
Training can be ample inside the Vauxhall Community Hall, but in the end it is no replacement for the reps of swung bats, grounders taken, flyballs snagged and pitches pinpointed in the fresh spring air of Jets Stadium.
"It would be great to just get outside and run around. It's not about winning ball games, it's getting ready for when we depart to Las Vegas April 2," said McTavish. "Game action is important, but what's more important is getting outside and getting some work done. You get as many reps in as you can and we are as good as we are going to get inside right now. The biggest obstacle you face at this time of the year is the mental part. Lack of a better term, the Cabin Fever. We need to get outside to get over that mental hurdle of being frustrated of being kept indoors."