Jets three-peat at tournament
Posted on May 3, 2018 by Vauxhall Advance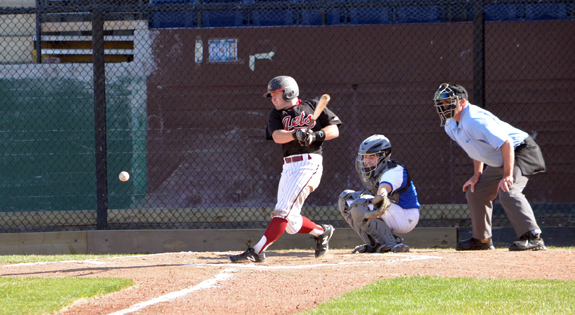 CRACK OF THE BAT: Vauxhall Jets infielder Liam Vulcano makes contact during the team's game Friday night at Spitz Stadium in Lethbridge, during the PBA Showcase Tournament. The Jets would go on to lose that game against the Prairie Sticks 8-5.
By Cole Parkinson
Vauxhall Advance
cparkinson@tabertimes.com
The Vauxhall Jets returned home from Lethbridge Sunday night as champions.
The Jets gained its third straight tournament win at the Prairie Baseball Academy Showcase after a solid showing throughout the weekend.
"It was a good weekend, it did have its challenges. We came out of the gate and played well and then in Game Two we didn't play particularly great. We faced a pretty good arm and that team played a good game and certainly deserved to beat us. We played pretty well on Saturday to put us into the semifinal and then in the semifinal, we played really well against the PBA team. In the final it was back and forth, it wasn't great weather out, so that has its challenges. The guys battled through it," said Jets head coach Les McTavish. "We were missing three players that were away with Team Canada at the time, so when you're missing three guys off your roster we had some other guys step up and it was good to see."
The team went 2-1 in round-robin play and they received solid outings from their pitching staff throughout the entirety of the tournament.
The first game saw the Jets roll over on the Saskatoon Diamondbacks with a final of 11-0.
Levi Abbot took the ball and gave the Jets four innings allowing only two hits while collecting two strikeouts.
The second game wasn't a great result for the VAB, as they walked away with a 8-5 loss.
Facing the Prairie Sticks, the Jets couldn't find a way to overcome the eight runs put on the board.
They would rebound in the third and final round robin game, as they collected a massive 13-1 win over the Saskatoon Giants on the back of a big Garrett Hawkins pitching performance.
Hawkins gave the Jets five innings of one-run ball, while also reaching nine strikeouts in the outing.
With pitching a big factor in any tournament, McTavish saw his team battle throughout the tournament.
"When we pitch well, we're tough to beat. When we don't pitch well, we're very vulnerable and I think that goes with any baseball team at any level. When we pitch well, we've got enough offence, it gives our offence confidence and helps when we pitch well. We did for the most part, pitch well this weekend, when we got into trouble it's because we didn't throw enough strikes, that's really what it was. When you don't throw enough strikes and get into hitter counts, the results usually don't go your way. When you do throw strikes, you put the hitter in defensive mode and good things happen," he said.
Pitching was once again a dominant force in the semifinal as the Jets sent Adam Macko to the hill to face the PBA JV squad.
He had the PBA's number all game long, as he logged nine strikeouts over six innings of one-hit ball.
The offence was once again balanced as they outscored PBA 8-0. The offence was lead by Kaiden Cardoso and Dayton Peters who each collected two RBI. John Vulcano went 2-for-2 with three runs plated and Evan O'Toole hit big a three-run home run.
With the offence firing on three of four games, the coaching staff thinks the pitching contributed to the overall output of the Jets hitters.
"It was very well balanced, we had different guys step up at different times. We had some younger players, over the course of the last two or three weeks, we've had our younger players clearly step up and continue to get better with our 10th and 11th graders. Not taking away from the 12th graders, but there is more expectation there. The younger guys have grown and matured over the last month which has been fun to see, because that's what you hope. They're going to take their lumps at some point in their career and they did early on, but they've really came on strong lately," added McTavish.
For the final game, they once again matched up with the Prairie Sticks.
Even though they dropped their first decision in round robin, McTavish says the team didn't deviate from their approach at the plate or on the mound heading into Sunday's cold finale.
"No there wasn't. We faced two completely different arms, we just had to be ready to play. We were down early in that ball game and then we came back," he said. "They made an error and we had five consecutive hits right after that error, so that's a sign of a good ball club. On their side, we faced a soft-throwing left hander that changed speeds in the round robin. In the final, we faced an arm that was up in the upper 80s, 88, 89 and he threw the ball harder. Our offence is usually more effective against that kind of arm."
The final was a back-and-forth affair that saw the two teams trade runs throughout the game.
Thomas Little got the start, and went four innings, allowing two runs on four hits, with two strikeouts and five walks.
The relief core was effective throughout the game, as Matt Wiggins gave them two innings, Jared Arnold provide one-third of an inning, while Reece Keller finished the inning for the save.
The Jets hitters were well prepared for the rematch, and they were alive throughout the game.
Liam Vulcano was extremely effective at the dish, as he went 1-for-3 with four RBI. Shayne Campbell went 2-for-33 with a double, and an RBI.
With the 11-9 win in the championship final, McTavish was complimentary of the Prairie Sticks team.
"Prairie sticks have a good ball club and they gave us a good run," he added.
As the team leaves the tournament win in the rearview mirror, they have plenty to look forward to as they near the end of the spring season.
"The next month can be a lot of fun, we've got a home-and-home with Okotoks this weekend which is always a good series.We have graduation weekend which is a lot of fun because some of these kids' parents haven't been here since they dropped them off, maybe they've never been here. We got our home tournament which is a great event mixed in with the golf tournament, then we're in Missoula and then the memorial game," said McTavish.
With a month left of games to go for the Jets, the coaching staff is stressing rest for their players.
With the rest though, they still want players to bring razor-sharp focus when they hit the field.
"I think overall as a group we're trying to keep an eye on making sure we get enough rest, taking a day off here or there. Sometimes more isn't always better, so we're trying to watch bodies and make sure we get ample time to recover so we can continue to climb the ladder. We're certainly a better ball club now then we were a month ago and hopefully we can take that next step. Some of that comes with experience and I think our big message from the past weekend was when we prepare to play and we have good preparation, meaning the night before, two hours before and then 10 minutes before a game. When we have good consistent preparation, we have a good ball club," said McTavish.
Next Jets home action comes this Saturday when they square off against Okotoks in a home-and-home doubleheader series.
First pitch is noon with Game Two following at 2:30 p.m.