Jets fuelled with plenty of heart
Posted on June 7, 2018 by Vauxhall Advance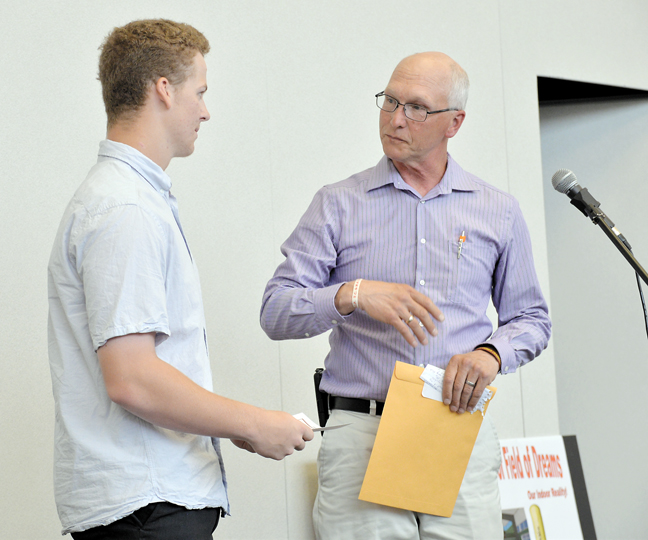 IN MEMORY: Robert Hornstra presents the Scoot Hornstra Heart and Hustle Award to Shayne Campbell on Tuesday evening. ADVANCE PHOTO BY GREG PRICE
By Greg Price
Vauxhall Advance
gprice@tabertimes.com
In an evening filled with plenty of emotion, some tears were shed at the Celebration of Achievement for the Vauxhall Academy of Baseball on Tuesday, to help wrap up its 2017/2018 season.
Some of those tears were from Robert Hornstra, the late Scott Hornstra's father.
Scott played for the Jets in its inaugural year before moving on to have a tremendous college career at Colby CC in Colby, Kan. then Mississippi Valley State. Hornstra was a huge part of the Jets' success in 2006/2007 as a standout shortstop and closer. At Colby, Scott was a First Team All JayHawk, Second Team All JayHawk, First Team All Region VI and Freshman of the Year.
He was also a star basketball player that helped lead Vauxhall High School to the provincial championships.
The 28-year-old was tragically killed in a snowboarding accident in Whitefish, Mont. on Dec. 31, 2017.
A memorial award was created in Scott's name which an emotional father presented.
"I struggled to think of what I was going to say tonight about Scott," said Robert as he collected his thoughts before giving out the Scott Hornstra Heart and Hustle Award. "I struggled with what I wanted to say because I didn't want to say all the cliché things about heart and hustle. So I thought about what it meant to me and I still couldn't come up with anything. So then I thought about what it meant to Scott."
Robert recalled back in 2007 when alumni were invited by Jets head coach Les McTavish to put some greetings on a wall around a TV in the dorm area of the high school. Scott's note was…'No Warm Up, No Problem.'
At first, Robert did not care very much for the quote, thinking it was sort of trying to fast track the baseball process on the field.
"As a father I thought, man, are the coaches going to love that one," said Hornstra to a chuckling crowd. "It came across to me as being somewhat selfish. Something that maybe lacked commitment and desire. I questioned him when he told me about that."
Scott's answer to his father was 'you take it for what you get out of it.' A response at the time Robert still found odd. In a grieving father's search for further meaning in the message Scott left behind to the Vauxhall Academy of Baseball, Robert came back to the school once again to view the inscription. Then he had an epiphany in knowing what the spirit of the Celebration of Achievement was.
"It suddenly dawned on me that that was Scott's mantra. It was his anthem. It didn't matter what he was called on to do, even if he wasn't ready, he was going to do it," said Robert. "No warm up, no problem."
Getting feedback from the Vauxhall Academy of Baseball Jets coaches and players on who best showed heart and hustle and the spirit of Scott, the award was presented to Shayne Campbell.
For a full wrap up of the 2018 Jets season, and a full list of award winners, please see next week's issue.