Jets enter the hangar
Posted on June 14, 2018 by Vauxhall Advance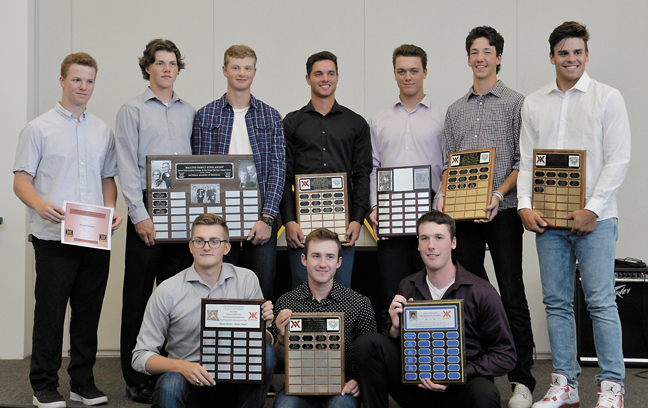 GREAT NIGHT: Several members of the Vauxhall Academy of Baseball show off the various awards they won during the 7th Annual Celebration of Achievement earlier this month at Vauxhall High School. ADVANCE PHOTO BY GREG PRICE
By Greg Price
Vauxhall Advance
gprice@tabertimes.com
Vauxhall Academy of Baseball Jets reached its final landing pad of the season with its 7th Annual Celebration of Achievement earlier this month.
"My mind actually drifted back over 70 years since I experienced life in a small town," said Yukio Kitagawa, a philanthropist for the academy, to kick off the evening. "Like the incoming players each year, particularly but not exclusively, those from urban centres, all appreciating the acceptance, generosity and the genuine-ness of the people here in Vauxhall so willing to embrace in giving us the opportunity to do what we think is best."
In putting a wrap to the successful 2017/2018 Vauxhall Academy of Baseball season both academically and athletically, Kitagawa also tipped his hat to the academy family that have helped nurture both the academy and its players.
"At the beginning they were volunteering to billet our student athletes and after the dorms were completed, willing to take on the role of surrogates in the unique Adopt-a-Jet program," said Kitagawa. "This program was instrumental in enculturating our players to a small-town farming life."
Jets' head coach Les McTavish gave a recap of the season which he noted had its share of ups and downs. While the beginning of the season had its challenges, the Jets finished its year as strong as a program could for a spring season that eventually finished at 28-10.
"We as a group had some low points at some early parts of the season. It's not an excuse, but I think we would all agree, we had some tough breaks when it came to the weather," said McTavish. "We thought we were ready when we went down to Vegas and we figured out really quickly by the third inning of the first game that we were not even close to being ready to go."
But a positive McTavish grew from the event and it showed the team's resiliency to bounce back.
"They could have ran away from things in Vegas with all the excuses in the world and they didn't," said McTavish.
After a rough series against Okotoks, the Jets had a team meeting, with every player and coaching staff getting an opportunity to speak about how they felt.
"From that point on, the season changed. Were we great the next weekend? No, but we were pretty good. As we continued to go forward, we played good at our home tournament, but not great. By the time we got to Missoula (Mont.), it was the first time in a few years with the academy where I just felt like posting a lineup, and we were missing a few guys playing for the national team, that we posted a lineup where we felt like we were going to win and we knew we were going to win. We played confident and we played loose."
Along with the Missoula tournament, the Jets were also victorious in tournaments in Vauxhall and Lethbridge.
"It is the first time in 12 years we have finished with three tournament wins and beaten the Lethbridge Bulls. It's a testament to these guys in being able to bounce back," said McTavish. "It's not how you start, it's how you finish and it's carrying over into the summer with guys traveling with the (Lethbridge) Bulls."
All nine graduating seniors are set to move on to college baseball programs, including three to NCAA Division I programs. Three Jets spent time throughout the year with the Canadian Junior National Team.
McTavish likes to read some inspiration to the players during their first day at the academy in what the VAB means. The words were framed approximately five years ago and McTavish wanted to share it once again to the crowd on hand at the Celebration of Achievement.
"When you make the decision to become a Jet, you are making a sacrifice with so many dreams and goals ahead. I cannot define the sacrifices we all make nor can I tell someone who has never donned the Jets jersey what it is like. I do know that the select few who have gone through the program have come away with a favourable impression," said McTavish.
"The Vauxhall academy is a passion. Being a Jet is a passion. While it is hard to define, one thing is for sure, being a Jet is something special. Our time in Vauxhall will help us mature and grow into young men who respect and honour the hard work and sacrifice of the student athletes who have come before us. We all make sacrifices. Some big, some small. But we will always remain a Jet if we stand by these principles: loyalty, integrity, excellence in leadership, selfless service and respect. You can choose to define each term as you wish, but keeping in mind, once a Jet always a Jet in becoming a better person and a better player."
The Celebration of Achievement also involved several awards being given out which are as follows:
Reno Lizzi Ring Presentation – RHP Garrett Hawkins.
Jet of Year presented by Don Groves – OF/INF – Ty Penner $1000 scholarship.
Inch by Inch presented by Don McPherson & Yukio & Barbara Kitagawa – $1000 scholarship – RHP Garrett Hawkins.
Scott Hornstra Memorial Scholarship – Heart & Hustle – $500 scholarship – C Shayne Campbell.
Wanda Stober Memorial Award – Volunteers of the Year $1000 scholarships – INF Kaiden Cardoso.
Kalvin Odland Memorial Award – Leadership/Dedication $500 scholarship – INF Damiano Palmegiani.
Doug Stevenson Memorial Award – Best Teammate $500 – INF Liam Vulcano.
Jan Tolton Memorial Award – Best in the Dorms $500 – RHP Matt Wiggins.
McLeod Family Scholarship – Excellence everyday that doesn't require talent – $1000 scholarship each – OF/RHP Evan O'Toole, OF – Cooper Jones.
Schwartz Insurance Assistance Program – $3000 scholarship – LHP Adam Macko (Coach Mac accepted on behalf of Adam).
The evening was capped off with a special thanks to Garrick and Bev Blaine for being the residence managers at the academy, bus driver and voice of the Jets for the last 12 years. The Blaines had been the residence managers for the last six years as they set off for retirement.