Fall season brings many successes for academy Jets team on diamond
Posted on November 1, 2018 by Vauxhall Advance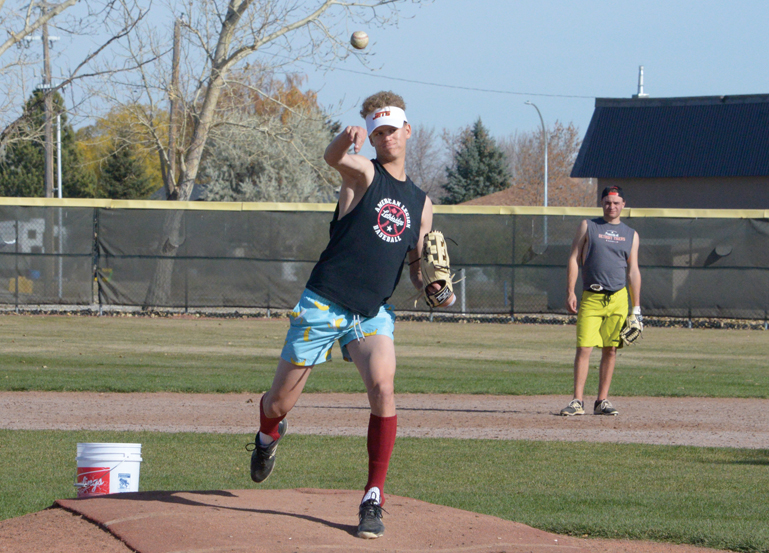 WHIP IT: One of the final outdoor events the Vauxhall Academy of Baseball Jets participated in was their annual 100 Inning Game which went down at Jets Stadium last month. ADVANCE PHOTO BY COLE PARKINSON
By Cole Parkinson
Vauxhall Advance
cparkinson@tabertimes.com
After a cold and wet fall season, the Vauxhall Academy of Baseball Jets have transitioned to their winter training regiment.
While fall seasons can never be predicted, this year the Jets saw sunshine, rain, wind and snow throughout the start of their year.
For the first portion of the Jets campaign, they faced off against teams from Lethbridge, Calgary and Oyen, though more games were scheduled but were cancelled due to the weather.
Even though they had some challenges in regard to weather, the Jets coaching staff liked what they saw from the group.
"My first thoughts are the weather was terrible. I'm happy September and October are over with," said Les McTavish, Jets head coach with a laugh. "Past the weather, I think we got out of it as much as we could. We were showing some glimpses of playing really well. It's always a challenge in the fall for our program because we have some guys away with Team Canada, we had 17 guys go to the Tournament 12. We had very little time to have team practice overall as a group. I thought we got better as the fall wore on but at the same time, we were certainly ready to get into the winter. We're happy with where we are at and now, the real works begins." 
Even with the nicer weather over the past few days, the Jets have moved to their indoor facilities, which they will remain in until the spring thaw.
"We shut it down last Wednesday, it was our last day and games for the Fall World Series. We probably could have continued a bit longer but you have got to plan. We're inside now with full weight room and winter training starting," said McTavish.
As with any start to the fall season, the Jets have acquired quite a few new players to round out their roster which also sees some returning players.
With the mix of new and old Jets, there can be an adjustment period especially for the first-year players but the coaching staff has seen a lot of good development from their roster on and off the field.
"I think it's been good overall as a group. Everybody develops at their own pace and I think, for the most part, our group has done a really nice job of following the leaders and following some of the older guys. For a lot of kids when it's your first year in the program, you're just trying to keep your head above water. There are so many new transitions, you are living on your own, you're in a new town and sometimes a new province. There's lots of obstacles that get in their way but I always find the fall is a whirlwind for guys and then when they get to this point, things start to get a little clearer for them. They start setting up a goal system and figure out how they want to get better and what they want to do," continued McTavish. "The winter time is difficult at times but at the same time it's what separates players in our program, for sure." 
The winter portion of the Jets program is a different mindset compared to the fall and the spring as individual player development becomes the main focus.
Defence, hitting and pitching are all worked on during the winter and the coaching staff is hoping to see development growth from their players, though the results aren't directly in front of them as there are no games.
"Everything becomes individual. Coach (Joel) Blake and coach (Jim) Kotkas, they concentrate primarily on the hitters, catchers, outfielders and infielders. They will have a plan in place for each guy, at the end of the day it is about getting individually better each day and you are trying to tackle things because there are no results on the field. You are trying to tackle everything individually. That's the same thing with the pitchers, which I handle the pitchers. We try to take a little time off their arms and then it's about individually trying to get better so when we get outside it becomes about the team again," added McTavish. "It essentially is about each guy trying to get better. Getting physically and mentally stronger and ultimately their skill set on the baseball front too but the weight room is a big part." 
While the team won't be on the baseball field for the next few months, there are still lots of things to be accomplished over the winter.
Even with no games over those months, the coaching staff doesn't necessarily see it as a challenge to keep the team's compete level high.
"I don't know if there is a challenge, I think the best ones don't need that challenge. Jim and Joel do a really great job with the hitters keeping it interesting with different games and events and they've always done a really great job with it. Is there challenges? Yeah, there are challenges. When you are a baseball coach in Canada there are always challenges in the winter but I think ultimately, it is up to us as coaches to keep it as fresh as we can," explained McTavish.
The Jets are also still chasing a few grants for their planned indoor facility that would be located across the street from Jets Stadium.
McTavish says there are no updates on if they will be receiving funding as they still haven't heard back if they are approved.
"We are still waiting to hear back from the government so hopefully we get a yes and then we can start planning accordingly," stated McTavish. "It's an exciting thing but at the same time we are still a long ways away from getting it 100 per cent going."