Vauxhall High School hopes to be double threat at provincials
Posted on November 22, 2018 by Vauxhall Advance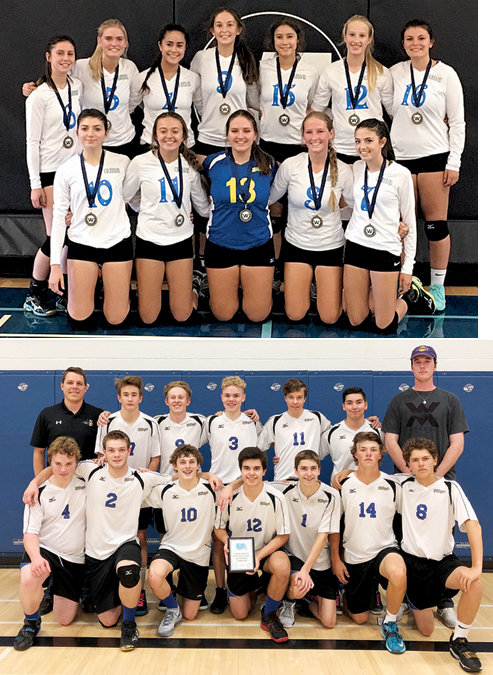 TEAM EFFORT: In a rare bit of Vauxhall High School volleyball history, both the boys and girls programs have qualified for provincials thanks to their solid play at 2A zones this past weekend.
By Trevor Busch
Vauxhall Advance
tbusch@tabertimes.com
Departing from previous seasons which saw a dominant Vauxhall High School girls volleyball team advance solo to provincials, following a good showing at zones, the boys team will be joining the girls this weekend for the 2018 2A Boys and Girls Volleyball Provincial Championships.
Hosted in Camrose at Our Lady of Mount Pleasant Catholic School, the tournament commences today and concludes on Saturday with 12 teams vying for top honours. For Vauxhall's Vikings boys volleyball team, the opportunity is an exciting one.
"Super exciting for the boys. I don't know the exact numbers, but I know the last time there was a zone banner at our school was 1988," said head coach Jason Schellenberg.
"That doesn't necessarily mean it was the last time our school went, but at any rate, it's been a long time. The boys are really excited about the tournament. It's kind of a lot of grandeur around it, they put on a big show for the boys and make it a really exciting weekend for them. And it's all new — I'm really encouraging the boys to soak in the experience, to learn from it, and when you play good teams you can't help but get better."
Schellenberg reports the team played well at the 2A South Zone Championships this past weekend at Lethbridge College, and has high confidence heading into the provincial tournament.
"Going into the zone tournament, we had won three tournaments on the season — our home tournament, the tournament at Kate Andrews in Coaldale, and just a couple weekends past Nov. 2-3 in the Crowsnest Pass — and so we were kind of building momentum as the season progressed, and it seemed like going to the zone tournament our boys were pretty confident that they'd have a good tournament there, and they kind of see themselves as a team that shouldn't be taken lightly."
The Vauxhall boys team takes on Mayerthorpe at 11:30 a.m. Thursday to kick off the tournament, and then plays La Crete at 4 p.m. On Friday, the boys will challenge Penhold at 12:45 p.m. before facing École Maurice-Lavallée at 3 p.m. Finally on Saturday morning, Vauxhall takes on West Island College before potentially advancing to the tournament finals.
The gold medal match is scheduled for 7:15 p.m.
"All of these teams are teams we haven't seen, so a name doesn't mean too much to me at this point," said Schellenberg. "Our mindset is just to get there and play good volleyball. We know what we're capable of, and so just play our game, and hopefully we have some good matches. I'm hoping that getting a taste of volleyball at this level will kind of just breed that desire to get there again, and kind of get that ball rolling when you go into next season."
The Vauxhall girls volleyball team has more experience in facing opposition at the provincial level, and head coach Scott Reiling is confident of the esprit de corps of his team.
"We're excited to do it. Going into it, we've had a great season, and we still haven't lost this year. We went into zones with the little bit of pressure — I think we're 63-0 now, and we've won 10 consecutive tournaments — and so you could see going into zones there was kind of that quiet pressure that a few of my stars hadn't been feeling all year, they were just going out and playing loose and having fun, and I could really feel that it was weighing them down in zones, enough that I was even a little concerned."
The girls' strong zone finish wasn't unexpected, but Reiling believes it has lifted some of the edge of tension that might have existed prior to last weekend's tournament.
"Vauxhall has represented the south — this is our ninth consecutive year — so of course there's a streak that the girls don't want to end, and we hadn't lost yet this year. You start to hear everybody talking about you, and sometimes that can take them out of the moment of just playing the game and having fun, and adds that — when you talk about 16 and 17 year olds — little sense of fear. So I was extremely proud of the girls that they really handled it well. I wouldn't say we played our best volleyball there, partly because of that tension, but we never got ourselves into trouble where we were in a situation where we had to hit that panic button."
Reiling highlighted a dominating zone win that saw the team beat out their opponents in one set by more than 20 points.
"We controlled zones from start to finish, and again being 63-0, we were never in jeopardy of losing a match, and actually even won one of the sets in the zone final 25-4, and absolutely did nothing wrong for about 15 minutes, which was quite fascinating to watch. I think it really took a lot of the air out of the gym. There was a significant number of fans — and I think our fans felt guilty cheering, and of course Magrath fans really didn't have anything to cheer about. From a coaching perspective that's the ideal final for me. It adds years onto my life when it's not tight."
Reflecting on his years in the head coach role, Reiling believes he has witnessed some of the finest team play in his career after observing the talent and calibre of his current girls team.
"I've coached for a lot of years, and you start to reflect on what some of these girls have done, it's going to be a really sad day for me when the season ends — regardless of how it ends — because they've been just an unbelievable group. The group went to Hawaii for a tournament as well, so we've done a lot of things together. When I look back to last year, we actually won 106 consecutive sets, so it ended up that in our last 117 matches, we've only lost one, and that was in the provincial final last year. To just have a streak like that, when you're talking about high school girls volleyball, to be 117 and one over the last year and a half, is just a ridiculous number to me. I don't have 30 more years of coaching in my life, but I will never coach another team that plays that consistent, and plays that hard, and loves the game as much as this group does."
Kicking off their tournament play at 10:30 a.m. this morning versus Sexsmith, Vauxhall next plays Strathcona-Tweedsmuir at 1:45 p.m., a challenging team the Vauxhall girls have encountered in the past.
"Our first game is right after the opening ceremonies, so 10:30 a.m. on Thursday against Sexsmith, which is a northeast team," said Reiling. "And then we play again at 1:45 p.m. on Thursday against Strathcona-Tweedsmuir. Sometimes they're a powerhouse, they're the other team that we quite frequently run into at provincial championships."
The Vauxhall girls next take on St. Augustine at 10:30 a.m. on Friday, followed by Notre Dame at 1:45 p.m. On Saturday, the girls will challenge Millwoods Christian at 9:15 a.m. before potentially advancing to the tournament finals. The gold medal match is scheduled for 7:15 p.m.
"I think getting past the zones for my girls was that relief, I feel like they're so confident right now because you're in that situation where we've gone for eight straight years, and we're 63-0, and if we lose a game at zones then our season's a failure," said Reiling. "I think them winning that zone banner kind of solidified our season, and now they're just going to have fun. As a coach, I'm super excited to see what we're going to do up there, and how we're going to compete."
For those interested in tuning in online, the tournament is being livestreamed through the Alberta Schools' Athletic Association website and can be found through the link http://www.asaa.ca/championships/site/2018-2a-volleyball and then click on "Watch Live!".