Queens reign over 2A opponents
Posted on November 29, 2018 by Vauxhall Advance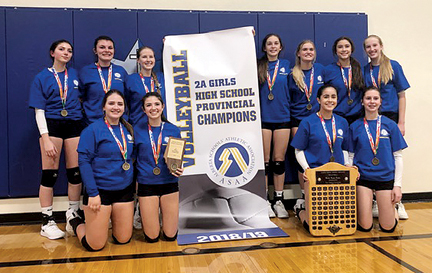 ADVANCE FILE PHOTO
By Greg Price
Vauxhall Advance
gprice@tabertimes.com
It was mission accomplished for the Vauxhall Queens girls volleyball team in its 2A provincial run in Camrose this past weekend, culminating in a 24-26, 25-23, 15-9 win over Rundle College in the gold-medal match.
"Any time you are going to provincials, every team there has had their good seasons, so you don't get any matches off. Even the teams that don't get out of their pool are still good enough to beat you if you don't show up," said Scott Reiling, head coach of the Vauxhall Queens girls volleyball team.
"This year, there was a different level of confidence going up to provincials. The girls weren't worried about streaks or records. They were just confident about their own abilities."
Over such a long volleyball season that saw the team start off things early with an exhibition tournament in Hawaii, worries are that a team will peak too soon before provincials where other teams catch up to you. But the learning curve remained consistent for the Queens where Reiling noted the team was getting increased confidence with every match.
"The girls were confident that they were getting better understanding the game and learning to score points easier and in different ways," said Reiling. "The stats weren't the same after every game with new names popping up at the top. That allowed us that when certain kids got tight, another one would step up and fill the gap."
Reiling admitted the team was feeling tight in its championship match, constantly falling behind early against Rundle College.
"I think the final was our weakest- played match in a while. I felt that was the only time during the weekend where you could see the pressure getting to us," said Reiling. "The girls were telling me what I wanted to hear. But, deep down, they were thinking there's a big difference between going 70-0 and provincial champions and 69-1 and getting the second-place trophy the second year in a row, so there was some tension there."
Down as much as 5-14 in the first set, the team was able to claw back to make it close to 23-25. But, being able to bounce back from that, gut through a second set 25-23 to make it a winner-take-all third set, it showed the mental fortitude of the Queens in being able to bounce back from adversity.
"These girls in their mind believed they should never lose. They just sort of worked through it and worked through it and built momentum. To even have a chance to win that first set after being down so much says something," said Reiling.
"Even being behind the second game, it goes back to the girls being so mentally strong. We took control at around 18 or 19 points where other teams start panicking. Even that last match, we are tied 9-9 and we win 15-9."
As tight as the Queens' championship final was, the Queens dominated against Peace River 25-16, 25-12, against a squad Reiling felt was the stronger opponent in a semifinal.
"We absolutely hammered them to the point where they quit, and they are a really good team. We executed every part of our game and at no point did we fall asleep," said Reiling.
"We gave them no room to execute. We had them on their heels the entire time. We never put them in a situation where they could run the system that they wanted — we were on top of them the entire time."
Reiling was proud of how his players built each other up when they were down instead of tearing each other apart when they trailed and were not playing their best volleyball.
"When people start to fall apart, teams can turn on each other. That's not what these girls did at all. They were each other's biggest cheerleaders and would try to take the load off of someone who was struggling," said Reiling. "They didn't want to dig a grave for their teammate and bury them out there. One would step in and pass when another shanked a ball. They would give each other points to let them take that deep breath. I never had to sub someone off the floor because they were getting picked on, they've had each other's back the whole year and found ways to take the pressure off of each other."
Running the table for tournament wins for the 2018 volleyball season, Reiling cannot recall ever having this deep of a team from top to bottom.
"This is a very different team. Some years I've been loaded with CIS or U.S. college-bound players. I could say 'oh my gosh, I had six or seven players that played college' That wasn't this group here, but time will tell," said Reiling. "This team was hard-nosed, refuse to lose and did everything right type of players. Most teams we played against had better talent in terms of height and strength, but they didn't have the grit and the heart that we have. We didn't dodge anyone this year and I'd say we were in more difficult tournaments this year than I had eight or 10 years ago. It's tough for me to argue anything other than this is probably the best team Vauxhall has ever had from top to bottom."
The Queens concluded its season 70-0 in match play, dropping a mere four sets along the way, with half of them coming in the provincial tournament in Camrose.
Reiling viewed Addi Wolosuk as his best player in the provincial tournament, but the depth of the Queens made the opposition pay when she was focused on defensively.
"Because they were focused on her, it created a lot of opportunities for my other players. That is created by having that impact player on the floor," said Reiling.
As the Queens continue to make its presence felt on the provincial court on a consistent basis, Reiling admitted there is that consistent feeling of finality that seeps in where a fantastic season has come to an end, causing a bit of sadness.
"It was a sad moment for me for the season to end. When your team puts in as many hours and as many weekends in with the practices, sometimes you feel like you may need a weekend off," said Reiling. "But I'd follow these guys to the end of time if I could. There's always next year and I've been doing this long enough, but what a fun year with a bunch of fantastic kids. Those are my girls and I'm going to miss not being in the gym with them five days a week."