Peewee Sabres slicing way to provincials
Posted on February 28, 2019 by Vauxhall Advance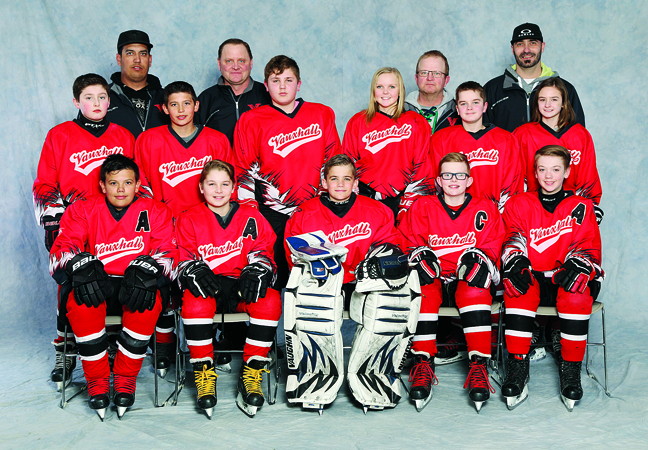 HOSTS WITH THE MOST: With many of its players together since novice, the Vauxhall Sabres peewee team is now preparing to host Tier IV provincials, with a team that may be small in numbers but is big in heart. ADVANCE PHOTO SUBMITTED
By Greg Price
Vauxhall Advance
gprice@tabertimes.com
Vauxhall peewee Sabres hockey team will be front and centre in late March, when the town is set to host peewee Tier IV provincials.
"There was quite a bit of leg work. To tell you the truth, we didn't even think we'd get it when we first applied for it back in December. But, we are pretty fortunate that we have a good group of parents and board members who have been together for the last few years who have some great chemistry working together," said Mike Broderson, coach/vice president of Vauxhall Minor Hockey. "We did it, and when it came out (that we won the bid process), we were like 'oh boy, here we go.' The group we have is fantastic. We had just started to get sponsors to help it out and it has been quite easy actually. Easier than we thought, we've got a lot of great support."
A squad of 11 dedicated players, it is a Vauxhall and district team made up of players also from Scandia.
"It was actually a lot of work to build this team, but for the most part, it has been together for forever and a day," said Broderson.
Since first lacing up the skates, these peewee Sabres players have won a couple of Central Alberta Hockey League banners in the Tier. This year, the peewee Sabres have been placed in a higher tier with still plenty of positive results.
"It's been making the kids work and learning how to win and lose," said Broderson, adding the team had gone 8-4-4 in its regular season at the time of the interview with The Advance. "It will make the kids battle tested for provincials. There's no taking games off this year which they have learned. Getting four ties out of 16 games, teams are usually used to only playing 60 minutes of hockey to even get a win or a loss. It's really going to help going into provincials — the best are coming."
There may be some tears shed of fond memories at provincials for this dedicated team given the struggles of attracting numbers in small-town rural areas for Canada's game. The Vauxhall peewee Sabres are sure to savour every moment when provincials roll around.
"I hate to say it, but going forward with small-town hockey, it comes to an end when you can't get enough people with both girls and boys on the team," said Broderson. "Once the year is over, next year we don't know if we are going to be back, so it's a good way to finish the year. This group, going from novice to peewee, you can make a team go with 10 to 12 kids barely. But once bantam starts you start to run into trouble (with low numbers). The majority of this team, it's their last year of peewee so we can finish up strong at provincials and next year, it's hard to say, we may not be together again. Getting a chance to host provincials, these are going to be good memories for the kids."
The way Hockey Alberta set up provincials this year, all games will be able to be played at the Vauxhall Arena.
"They increased the Thursday (slate) for us. We thought we were going to have to use some ice in Taber or elsewhere. They packed everything in our home rink for us," said Broderson.
The Tier IV provincials in Vauxhall will be under the microscope for Hockey Alberta, as it is a pilot project of sorts with format with the peewee level. In the past you would have 'A', 'B', 'C', and 'D' town sizes competing against each other for a spot at the provincial table.
"With a lot of feedback for the past four or five years, they are trying the tier system now. They are taking league champion banners out of the CAHL that Taber and Vauxhall play in, and the Northern Alberta Interlock, the All Peace League and the North Eastern Alberta Hockey League. It's a first where Calgary and Edmonton will be joining. They are taking the city Tier IV champions," said Broderson. "Hockey Alberta will be watching these provincials pretty closely. It is the first time ever that they have done it in this format. If this has some success, they will look to do some expanding. They are doing the Tier IV champions province-wide instead of town zone winners at 'A', 'B', 'C' and 'D'."
Having numerous hockey teams and their families make their way to Vauxhall brings with it the boost economically as teams compete for three or four days.
"We have had a lot of good response from the town and businesses, so I hope they benefit from it. They are pretty excited we are doing this," said Broderson of the provincials which will feature eight teams.
Tier IV peewee provincials go in Vauxhall from March 28-31. Opening ceremonies go on Friday at the Vauxhall Arena at 4:30 p.m. Game times for the Vauxhall Sabres are March 28 at 7:30 p.m., March 29 at 5:30 p.m. and March 30 at 2 p.m. Provincial semifinals go at 8 a.m. and 10:30 a.m. on March 31 with the championship at 4 p.m.
"We are hoping we are ready to play some competitive hockey. Being the host, it's always a wild card. Some of these provincials I've seen in the past, the host is one of the strongest teams and sometimes the host isn't so strong," said Broderson. "We're just hoping that when everyone comes down to play this tournament that we can give them a run for their money."