Vauxhall atom Sabres win CAHL banner
Posted on March 21, 2019 by Vauxhall Advance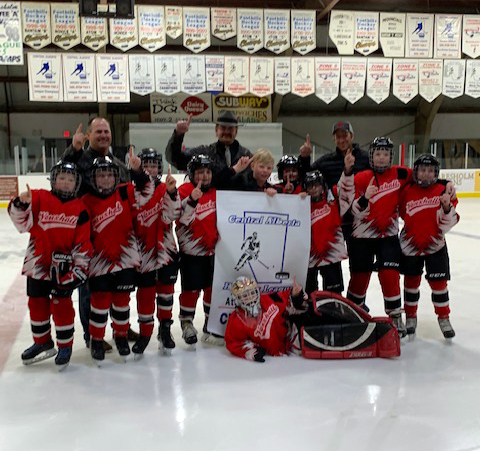 By Cole Parkinson
Vauxhall Advance
cparkinson@tabertimes.com
The Vauxhall atom Sabres had a banner moment over this past weekend.
In the Central Alberta Hockey League Atom Tier 5 Red championship, the Sabres reached the peak after defeating Rockyford in two straight games and Bassano in three during the semifinal.
With that, the top team in Claresholm was waiting for them to play for the banner.
The first game went Vauxhall's way as they walked away winning 8-3.
Greyden Pedersen had a massive game with four goals and three assists while other goals came from Landon Mcewen with two and singles from Daxten Pedersen and Blaise Odland.
Jasper Sidam and Ty Van Hal chipped in three assists each, while Nathan Rijkens had one.
Friday night saw the team come home and battle to try and close out the series.
Unfortunately, the team couldn't grab a win as it needed three overtimes to find a winner and the Sabres came out on the wrong side.
Greyden Pedersen once again had a night as he scored six of the team's goals, with the other coming off of Landon Mcewen's stick.
Mcewen would also draw three assists while Daxten Pedersen found the score sheet with a single assist.
Even with the loss at home, the team was still in good spirits heading into game three.
"I think the boys were pretty good, they knew they had another chance," said parent Dawn Van Hal. "There were a few that were sad, but overall everyone was excited for another shot."
After losing a heartbreaker in overtime at home on Friday night, the team travelled back to Claresholm for the third and deciding game of the series.
Like Game One, the team travelled into enemy territory and won, but this time they brought home a banner.
"All of the parents were on the edge of their seats the entire time," said Van Hal of the feeling in the crowd during the final game.
With the 5-3 victory, Greyden Pedersen had four of the team's goals, with the other coming from Sidam.
The Pedersen boys and Odland also chipped in an assist each.
A big reason for the win came from goalie Daxon Van Hal who faced 41 shots and stopped all but three in the win. Sidney Pedersen and Kylan Odland were also instrumental for the team's success throughout the year.
"They were a very small team and every single player worked their butt off. There wasn't a whole lot of legs on the bench," added Van Hal.
With the season now over, the team is turning their focus to celebrating a successful season.