Spurs pile up the wins to start season
Posted on June 6, 2019 by Vauxhall Advance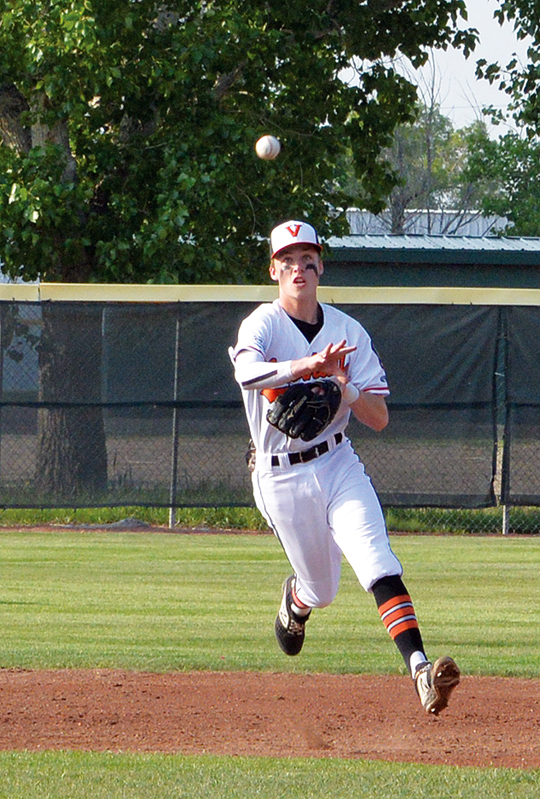 ADVANCE FILE PHOTO
By Greg Price
Vauxhall Advance
gprice@tabertimes.com
Vauxhall Spurs started off its 2019 American Legion 'A' Baseball season solidly, with the kickoff of a 5-1 record.
The team split its home opener at Jets Stadium last Wednesday, with near identical scores, opening with a 9-3 win, before falling 8-3 in its second game.
The opening day starter for the Spurs was Vauxhall's Dallas Cummins.
"Game One, we came out and hit really well and we put a lot of pressure on the basepaths. Dallas Cummins gave us a quality start, going five innings and giving up one earned run," said Dru Sebastian, head coach of the Vauxhall Spurs."
Adam Vulcano had a strong start in the Spurs' tail end of their doubleheader, but was undone by the defence behind him in the 8-3 loss.
"He ran out of steam near the end where maybe I made a mistake and I left him in a little too long. But, we gave up way too many free bases. We had a lot of walks and we made four errors where we were missing some pop ups," said Sebastian. "In Game Two we gave up too many free bases and they took advantage. They had a guy that was pumping strikes that was disguising it pretty well, throwing a lot of breaking balls. We had some some good ABs (at bats), but they tightened up defensively and didn't give us much."
The Spurs used off days to its two-game road doubleheader in Montana to tighten up its defence in practice, which seemed to work in a sweep of the Tri-County Cardinals in 8-5 and 6-0 victories in Conrad on Saturday.
"Brady Howg came out the first game and did a hell of a job for us gaining control of the game. He ran into a little bit of trouble at the end of the game, but finished the game well," said Sebastian. "It was the first time we had Johnny Vulcano this summer coming off his academy season and he was an excellent spark plug for us. He has five hits for us on the day, some extra-base hits, plus he brings an extra element for us defensively at shortstop."
The shutout for the Spurs came with the help on the mound of the combined efforts of the Brooks duo Caleb Anderson and Alonso Tapia.
"They both threw strikes and only gave up three free bases that entire game," said Sebastian. "We were great defensively. Overall in our first games, it has been solid and has given us a chance to win every game. When you have pitchers out there attacking the zone and the defence is making plays behind them, it'll give us a chance to win every game."
On Monday, the Spurs travelled to Spitz Stadium to battle the Miners and put the boots to them in dominating 13-4 and 10-0 victories.
The Spurs travel to Billings, Mont. this week for a three-day tournament which starts on Thursday. The team returns to league competition with a road doubleheader against Medicine Hat on June 14.