Spurs top seed for districts
Posted on July 18, 2019 by Vauxhall Advance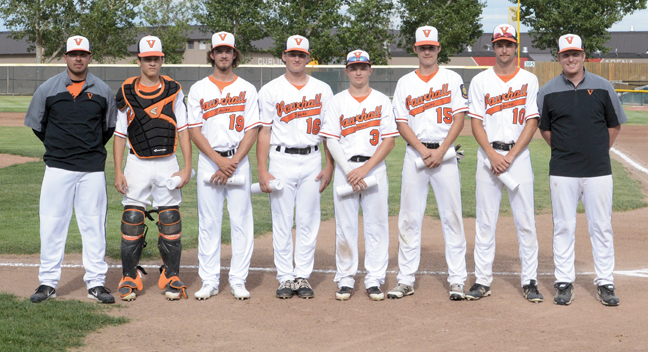 VETERAN PRESENCE: The Vauxhall Spurs coaching staff honoured seniors and over-agers at the Spurs last home games of the season last week at Jets Stadium before the team was set to take on the Medicine Hat Knights. ADVANCE PHOTO BY GREG PRICE
By Greg Price
Vauxhall Advance
gprice@tabertimes.com
A strong homestand sewed up top seed in the upcoming district tournament later this week for the Vauxhall Spurs baseball club, although a tough American road trip has kept the team grounded.
The Spurs officially wrapped up first-place seeding early in the district tournament with a doubleheader sweep (5-3,15-5) over Tri-County Cardinals last Tuesday at Jets Stadium.
The Jets would continue padding its record with another sweep of Medicine Hat Knights the following day with 15-5 and 14-6 victories over Medicine Hat Knights last Wednesday at Jets stadium.
Nevertheless, the Spurs were shown nothing will be handed to them at the district tournament as it suffered a 9-7 loss to Havre Northstars on the road, before bouncing back for a 7-5 win in the twin bill on Saturday.
Traveling to battle the Redbirds in Lewistown on Sunday, the Spurs fell 8-4 in the first game before the second game was washed out in the fourth inning and was called due to it having no affect on the standings.
"Happy post-season play will be starting soon here. It's tough for the kids to keep them motivated with us clinching first place so early in the season with six games to go," said Dru Sebastian, head coach of the Vauxhall Spurs. "Havre and Lewistown punched us in the mouth a few times that gave us some good lessons and feedback in what we need to attack in practice for the few days before districts. In Game One against Havre, they put up a seven spot on us to start the doubleheader and in Game Two we had a 5-0 lead and we gave up five in the sixth to pull them back in it. Besides those two innings, we played well, but those two innings were able to teach us a lot. I'm happy those two things happened to keep us focused for districts."
The Spurs four-game homestand last week at Jets stadium had the Spurs post double-digit runs in three of its four contests, where Vauxhall made its opposition pay with timely hits when free passes were issued by the opposition.
"It's always nice to play well at home, especially for those guys where it might be their last game at Jets Stadium," said Sebastian.
The Spurs travel to districts which start today in Medicine Hat and go until Sunday.
"With us having things locked up, we were definitely able to manage our pitching rotations to make sure everyone would be fresh 100 per cent. We do still have Aaron Vulcano coming off a sickness, but that's our only concern at this point health wise in him being able to go or not," said Sebastian. "We are keeping the guys motivated. We got 10 new guys on this roster and only six guys have the districts experience which can be a good thing and a bad thing. It will be interesting to see how the boys react and how that mentality comes out for us."
SPURS JANGLE: The Vauxhall Spurs last home games of the season last Wednesday had the coaching staff pay tribute to graduating players.
Along with a photograph session of seniors at the beginning of the doubleheader against the Medicine Hat Knights, the second game had some interesting tweaks to the lineup.
"With the league wrapped up, we wanted to make sure our seniors had some great lasting memories," said Sebastian. "They weren't going to remember we were 18-2 at that point. We wanted memories for them past just trying to win a game."
The always versatile Carson Becker played all nine defensive positions in the Spurs second game of its doubleheader against Medicine Hat Knights last Wednesday at Jets Stadium.
Kole Fujita and Brady Howg hit one and two in the batting order, much like their dads did when they played Spurs baseball before them.
"We gave the older guys some more playing time too. It made for a really fun time the last couple of days at home," said Sebastian.
Given the Spurs had 10-runned the Knights the game before in 15-5 victory, Sebastian had a contingency plan in place to ensure Becker would play all nine positions incase of another shortened game.
But the Spurs did not find an easy game, but instead a battle where the Spurs were clinging to a slim lead in a 14-6 victory that was only broken wide open late in the contest.
"It was actually a two-run game going into the sixth and people were saying 'you still going to catch him.' We had to roll him out and he actually did a great job (at catcher). We sort of rolled him out in all nine positions as a joke, but he played all nine positions well. He had three put outs and three assists and no errors playing nine positions," said Sebastian, adding his surprisingly clean play at catcher proved useful for the team's road trip to the States this past weekend. "We put him in at catcher and said we are going to trust you. He was receiving balls and framing pitchers for us. He ended up catching a game against Lewistown just because one of our catchers has been out sick and I was trying to give Kole Fujita a rest. Becker is a phenomenal athlete. You put him anywhere and he will succeed for you."