Locals help Bisons stampede way to Little League World Series
Posted on August 8, 2019 by Vauxhall Advance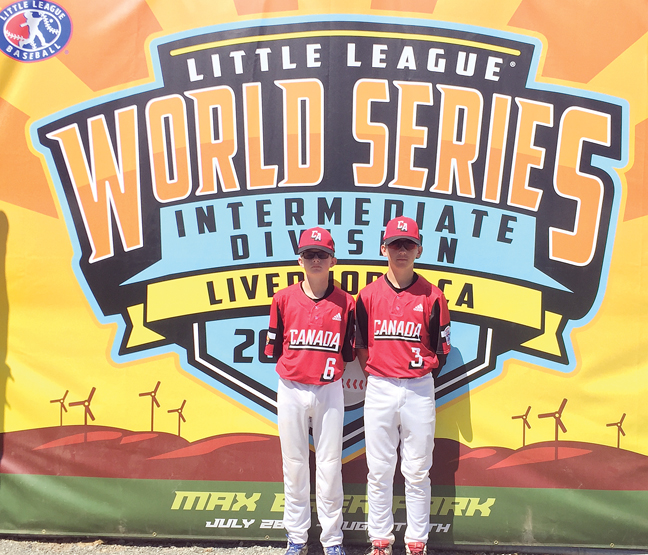 DYNAMIC DUO: Eric Reiling and Landon Howg (pictured) were California dreaming late last month, as the Vauxhall-area baseball players helped the Lethbridge Bisons to the Little League World series after becoming provincial and national champions. ADVANCE PHOTO SUBMITTED BY SCOTT REILING
By Greg Price
Vauxhall Advance
gprice@tabertimes.com
The Lethbridge 'AAA' Bisons roamed to many different places this baseball season, with two Vauxhall-area athletes helping get them there in Eric Reiling and Landon Howg.
The Bisons were both intermediate provincial and Canadian champions, punching their ticket to the Little League World Series in Livermore, California late last month.
"It was hard to know at first if we had something special. We knew we had the pieces to win big games if we got to that point," said head coach Denny Puszkar, head coach of the Lethbridge Bisons. "And we knew we had some really good bats beyond that, but you never really know until you play the games."
That something special manifested itself in Vauxhall's Eric Reiling, who pitched a gem against British Columbia in a 10-1 semifinal smackdown in the Canadian championships in Langley, followed up by a 6-2 victory over Ontario, with an equally-stellar pitching performance by staff ace Joseph Seo, to earn their appearance at the Little League World Series.
The Bisons were able to avenge losses to both teams earlier in round-robin play in which the Bisons went 3-2.
"Reiling out of Vauxhall has been one of our big-game pitchers and one of our best hitters since Day One," said Puszkar. "Once you get to the national level, I've been fortunate enough a couple of times with my older son, I had an idea of what to expect on who historically has been a little stronger."
Puszkar knew there was a window of opportunity upon learning that powerhouse Quebec would not be there, in a program that had a leg up on other competition by not following your traditional Little League formula.
"Quebec, the last three or four years, had been sending a program called the Diamond Baseball Academy to national tournaments. It's more a year-round program and not really your Little League model necessarily," said Puszkar. "When we found out they weren't going, I thought if we get to the point in the provincial tournament late that we have Eric and Joe available (to pitch), we had a chance. And really, that's all you really ask for as a team, is a chance. We got the chance and our boys really took advantage of it."
With a few players on the team who had played major nationals the year before in Quebec, Puszkar was pleased at how the kids stuck to the process, not getting too down or too up in the ebbs and flows of the game where many call baseball the game of failure, where at its highest levels, you reach base far less than the times that you do.
"We preached following the process and just play baseball. All of us will strike out and all of us will make an error and you have to learn to rebound. The kids across the diamond are dealing with the exact same things," said Puszkar.
Pitching and bat helped power the Bisons to the Little League World Series, but where Puszkar saw the team take its biggest strides was with their gloves in improvement.
"Our team defence, early on I thought we had our struggles, and then all over the place, the kids really bought into committing to the defensive side of things," said Puszkar. "It's hard sometimes, especially this young of kids, to talk about the importance of defence. Even at this age (13 years old), there's kids that don't want to play outfield. But we have kids who have committed to it, and they start to see, once you play better and better baseball, the importance of having good defence everywhere. All these boys were the catchers, the pitchers, the shortstops in their house-league team, now they get to this team and they have to accept a role they weren't familiar with before, and players embraced it."
One would think a team which made it to the Little League World Series would have cruised through its provincial round, but Puszkar highlighted how the Bisons were in a battle right from the very start.
"Even getting out of Alberta wasn't easy. The team out of Medicine Hat in particular was really strong and we knew that. We played them four times leading up to provincials, and they beat us three out of four," said Puszkar. "We knew we hadn't played our best baseball either, but we still knew they were a good team."
Indeed, the Bisons saved their better baseball for provincials in Lethbridge, where they shut out Medicine Hat 11-0 in its opening game and would face them once again in the final where Seo was one out from a complete game and struck out 16.
The provincial win would mark the start of a grueling travel schedule to the Canadian championships and the Little League World Series for the Bisons.
"It was a really, really quick turnover. We won on the Saturday (provincials) and on Wednesday we were meeting at the Safeway parking lot on the west side to drive to Calgary to catch our plane to Langley. And trust me, it got worse from there," said Puszkar, adding the lag between the Canadian championship and the Little League World Series was even less.
"It was sort of crazy, you win the Canadian championship and 10 minutes later people are telling you 'OK, here's all your paperwork and binders and there's going to be a bus picking you up at 5:30 a.m. tomorrow morning to drive to Vancouver to fly to California. There was an incredible turnaround. We celebrated with the parents and the boys who were so excited. Our parent group as a whole has been fabulous and so supportive."
The quick turnaround made for tough sledding for the Bisons at the Little League World Series, where neither Reiling or Seo was available to pitch to start.
"We knew every single team was going to be really, really good so we knew we would be in tough. With Little League pitch count rules, we didn't have Eric or Joseph available to pitch (the first game) because they didn't have enough rest and it hurt a little bit," said Puszkar.
Nevertheless, the Bisons hung tough against the powerhouse Latin America team in its opening game, trailing 4-1 after four innings, before the wheels fell off in a 14-2 loss.
"It's something else to watch the Latin America team play. It's almost like it's a whole other level with absolute incredible players down the line," said Puszkar.
The Bisons did manage to bounce back in a must-win game in the double knockout format, by beating Czech Republic 6-4 in extra innings, where Reiling got the win in two innings of relief.
Not having their top three to pitch the following game, the Bisons battled Mexico and had its Little League World Series run end in California with a 9-0 loss, but it was 0-0 after four innings.
"There was one missed called third strike that we should have got and even when you watch the video replay you say 'it was right there', and the next pitch it's a two-run double. It stings you a little bit, but that's baseball, you get some calls and some other calls you don't," said Puszkar. "The whole experience was incredible. We arrived in Langley and we are in dorms in Trinity University and it was a great opportunity for the kids to be together and bond. Then we get to (California), they pick us up at the airport and people are greeting us and giving the kids loot bags. The next day they are getting fully outfitted from head to toe and the kids ate that stuff up, being treated like a professional. The hosts were incredibly gracious, it was an unbelievable experience from start to finish."
It capped a season to remember for the Bisons and its incredible run in which Vauxhall-area players Eric Reiling and Landon Howg were vital cogs.
Reiling pitched and played first base.
"Eric is certainly our big bat and has got clutch hit after clutch hit along with being one of our best pitchers. A left-handed pitcher who throws pretty hard, he changes speeds and locates pretty well. His arsenal is pretty good for a 13-year-old," said Puszkar of the Bisons' two-hole hitter. "We wanted him to be a little higher in the lineup incase it got to the end of the game, give him the chance to get extra at bats. He's a good player with a really level head on him as a great teammate."
Puszkar had only seen Howg a couple of times during the house-league season, where he was a pleasant surprise for the Bisons during the tryout process that had 26 kids try out and 12 make the team from the areas of Lethbridge, Coaldale, Taber, Vauxhall, Picture Butte and Magrath.
"We really liked the bat, he has a really natural, smooth left-handed swing. Primarily outfield for us, but he's one of those kids who played shortstop in house league every game and capable of doing that," said Puszkar. "He's a kid who is so versatile, he could probably play anywhere. An absolutely fabulous kid to have on the team, always laughing with the other kids. He did anything we asked him without any question or complaint. He's your prototypical team guy who got us some big hits and big catches in the outfield."