POUNDing to the beat of a different drum
Posted on August 22, 2019 by Vauxhall Advance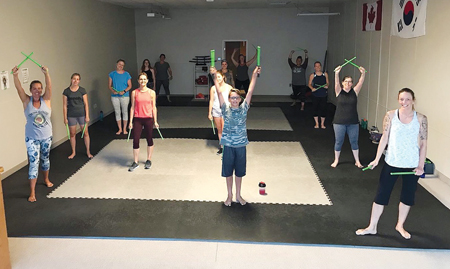 DRUM BEAT: POUND with Angie Higa is continuing to gain steam as they prepare for a Cornfest demonstration this weekend. ADVANCE PHOTO SUBMITTED BY ANGIE HIGA
By Cole Parkinson
Vauxhall Advance
cparkinson@tabertimes.com
If you're looking for a new way to get active, an unconventional fitness class in Taber may be exactly what you need.
While it may not be a traditional looking fitness routine, Taber's POUND with Angie Higa has been picking up steam as she celebrated her first year of providing classes in late July.
"The short answer to what is POUND is, they call it the world's first cardio jam session. It is inspired by infectious, energizing and sweat-dripping fun of playing the drums," explained Higa. "We use drum sticks called Ripstix and they are specifically geared for exercise. They weigh a quarter of a pound each and so they help transform drumming into an infectious way of working out. For example, in a 45-minute class, you can have 15,000 strikes with your Ripstix. As far as who it is geared towards, it is designed for all fitness levels and any age range. I think our class age ranges from 12 to 66, so we cover a broad range of people."
Due to the unconventional fitness routine of POUND, it isn't something a lot of people know about. 
Higa herself only came across POUND by sheer luck but once she did, she was completely hooked.
"I literally stumbled on it. I wish I could remember the year but I kind of caught wind of someone doing a POUND in the park class here in Taber. I grew up running and being a part of the fitness world in all different groups and classes over the years," she said. "I took one class in the park and took my kids and niece and nephew with me. Pretty quickly I saw it was pretty adaptable to any age and ability. I fell in love so I searched out training. It took a few years to find one close by but last April, I found one and got it off the ground. July 31 last year was our first official class." 
Since beginning in July of 2018, classes have continued to grow in size. 
And with a year of classes under Higa's belt, reception of the first go-around has been positive.
"I think it has been very good. I almost had no expectation because I had never done anything like this before but I knew it was going to work. One of the things in this town that I fell in love with was that they aspire to change minds before bodies and I love that logic," said Higa. "This first year in review has been incredible, and it brought forward stories of weight loss and strength building, increased confidence, new friendships, and stronger family bonds. POUND, and all the people surrounding it, especially my family, have already given me far more than I could ever give them."
One of the challenges Higa experienced in the first year was establishing a home for the group. 
After some back and forth between a bunch of different places, Higa finally found a home for POUND. 
"We bounced from place to place for a little bit but we have settled into a studio that we share with the tae-kwon-do group. It is the Kodiak Martial Arts. We run around six regular classes a week, it is a little less in the summer. Just before summer holidays, we were averaging two six a.m. classes, two 8:30 a.m. classes and two 6 p.m. classes a week," she said. 
While describing what POUND entails is difficult to do in print, the group has been given a chance to showcase what they are all about at this year's Cornfest.
On Cornfest Saturday (Aug. 24) starting at 3:45 p.m on the Cornfest Stage, POUND will take over Confederation Park to show people what the program is all about. 
"I feel very fortunate and thankful for the opportunity to showcase it is what we do. I think until you see it, it may be hard to understand how it actually works. We have a group of about 18 from our class that will hit the stage at 3:45 p.m. on the Saturday (Aug. 24) and do about a 12-minute routine. We'll show how it works and what POUND is all about," said Higa. "We are sharing a time slot with Billie-Jo Ferguson's group who will be demonstrating her awesome group fitness class Total Body Tabata. They'll immediately follow our group."
From that, Higa is already looking forward to the rest of Year 2 of POUND. 
Big plans are in the works and she is hoping to continue to bring more to the Taber community.
"Our class has been good and been picking up steam. I work as a registered nurse and so that is my main job. Our POUND schedule rotates around my shift work. With the increasing group of POUND people, I have some really big goals for this next year so we can have more regular scheduled classes," continued Higa, who also stated she has been exploring introducing a class for kids aged six to 12. "We did some classes at D.A. Ferguson and I am really excited to see if we can find some time to start a class for the youth." 
Above everything though, Higa will be continuing to instill the same mentality to those who come to classes.
"My value system aligned immediately with POUND's, in the importance of creating an environment that elicits confidence, enhances unity, and above all — inspires us to inspire others. As a POUND community, I believe we must take care of ourselves by being active, and the trickle-down effect of that is huge. We become less stressed and better able to care for our families and other obligations."