Vauxhall Queens continue to win
Posted on September 12, 2019 by Vauxhall Advance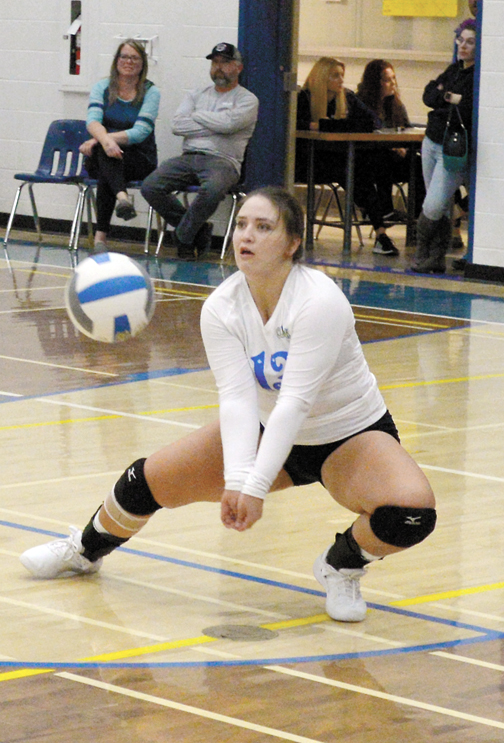 ADVANCE FILE PHOTO
By Greg Price
Vauxhall Advance
grpice@tabertimes.com
Vauxhall Queens continued its winning ways from last season by starting off 2019 with a bang by dominating its way to the tournament title at F.P. Walshe in Fort Macleod this past weekend.
"I've got a lot of experience on the team. Yes, every year I lose some really good players, but I got a loT of experienced players coming back. I have eight players who know the game really, really, well," said Scott Reiling, head coach of the Vauxhall Queens girls volleyball team. "It just seems early in the year, our volleyball knowledge in how to play the game well is ahead of other teams. It wasn't that we weren't making mistakes, it's just we were figuring out how to score points easier than the teams that were struggling."
The Queens did not drop a set on its way to the title, with no team able to get past the 17-point mark according to Reiling.
"We were able to get everyone in pretty much every match and they all went out and did what they needed to do," said Reiling. "At this stage, you want to remain healthy and see what you need to work on."
Reiling admits this year's team lacks the height that last year's squad had which culminated its season with a 2A provincial title with a 24-26, 25-23, 15-9 victory over Rundle College in Camrose last November. But the Queens have plenty of tricks in their bag to compensate for that.
"The girls are eager. We are much smaller, so we will have to play a different style. We have to be fast, play great defensively and serve tough — little things like that. The girls are really excited and the season is going to be a lot of fun," said Reiling.
The Queens are 10 players deep with two Grade 12s, five Grade 11s and three Grade 10s.
"It's a little smaller than I have had in previous years where I usually float around that 12-player range. But, I felt with seven players returning from last year's team and them having such a good grasp of who they wanted to be and how to be successful, I didn't want to go larger than that," said Reiling. "I have kids that have really put the time in to get better and didn't want to feel like trying to get kids in and making those substitutions. I wanted to let the kids play."
A shorter bench perhaps has depth come into play if injury were to strike, but Reiling added he has numerous girls able to play multiple positions.
"One of our strengths is we are extremely versatile. Our powers can play middle and our middles can play outside and our setters can hit. We have kids who can set who are not setting," said Reiling. "I'm not as panicky about that as I've been in previous years. If I got an injury, I'd roll someone over there."
The Queens are off to a tournament at Lethbridge College this weekend.