Golfers take home zone title
Posted on September 19, 2019 by Vauxhall Advance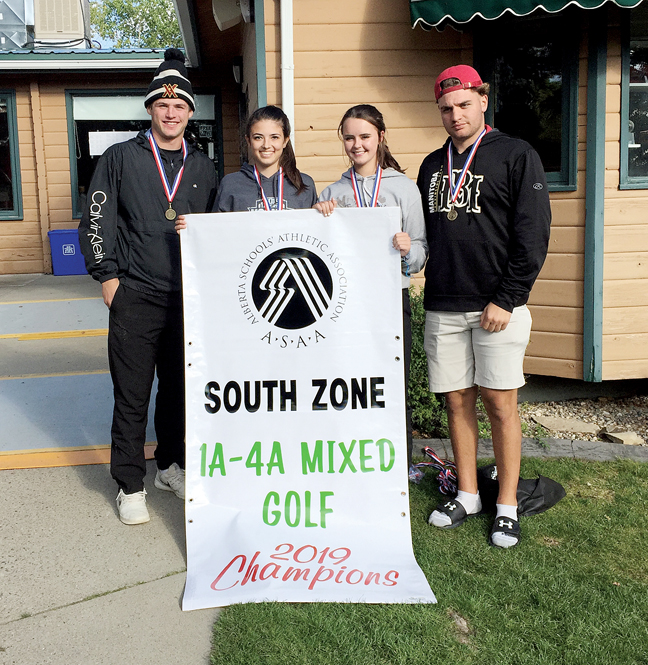 TEAM EFFORT: Max Grant, Brittney Kambeitz, Ashley Wickenheiser and Maddux Mateychuk earned a golf zone banner for Vauxhall. ADVANCE PHOTO SUBMITTED
By Greg Price
Vauxhall Advance
gprice@tabertimes.com
With a school regularly known for other athletic pursuits, Vauxhall High School made some history by winning mixed golf zones in Vulcan earlier this month.
"It's the same format for boys and girls, they take the best three low gross scores out of the four. It's beneficial to have that fourth golfer, because if you are stuck with three, you are stuck with whatever the score is," said Ben Finlayson, head coach of the Vauxhall High School golf team. "If someone hits a huge number on a hole, hopefully the other three team members did better on that hole, so the score is knocked out."
For mixed teams, you are required to have two male and two female golfers, if a smaller school can only get three golfers, there has to be a mix of some genders either way with a 2-to-1 ratio.
Mixed golf zones are new this year, where Finlayson personally proposed it last year.
"For girls especially, it's hard to form a full team, especially the smaller schools. Usually, most schools will have enough boys to play. This gives them an opportunity to play as a team," said Finlayson. "It's an option for the smaller schools where girls can play in a team event instead of individual scores. If they are just recreational golfers, it's tough to do that when you are going up against the Alanna Makarchuk's (zone champion) of the world and there's no way they are beating someone like that. For someone like that, it's their primary sport and success has followed her around. This is an option for two girls to play together with the boys and play for a banner for the school."
Finlayson used to coach golf at St. Mary School in Taber before making the transition to Vauxhall.
"Vauxhall I knew would be a little tougher when I first came here. The girls are in volleyball country with Scott's (Reiling) program being so strong. It's volleyball first, and if they have room for golf, they will fit it in," said Finlayson. "These girls have been really good. When they have time, they have spent it out on the course with me and they've worked on their game and they've worked hard. I know first priority for the girls is volleyball and for the boys it's the same, except it's baseball."
Regardless, the team of Max Grant, Brittney Kambeitz, Ashley Wickenheiser and Maddux Mateychuk did indeed put the work in and earned the school a zone banner where each golfer had time to shine and contribute to the squad's overall score.
"We spent a lot of time prepping for the tournament the week beforehand. I mapped the course the weekend before, so they kind of had an idea of what the course looked like," said Finlayson. "I didn't have any overall expectations, I just wanted them to have fun. The goal really wasn't to win, but passing off the game for the kids to enjoy."
The pilot project for mixed golf zones had seven teams competing in it from 1A to 4A school allowed.
"I think we surprised people. We were facing schools that had 500-600 kids to choose from," said Finlayson. "We played schools like CCH. I had a boys team and a girl who played individually as well, and it was a good day all around."
Vauxhall High School managed a team score of 229, with silver going to McCoy and Raymond getting bronze.
"They all contributed. There was one hole that one of the members blew up really bad, but the other three shot par. You knock that one score out, that's basically what won it for us," said Finlayson. "This is really big for Vauxhall, it's the first golf banner since I believe 1994. You go to Vauxhall and it's drenched with volleyball and baseball banners. It's been a long time since they've had a golf banner."