Vauxhall volleyball heading into 2A zones on a high
Posted on November 7, 2019 by Vauxhall Advance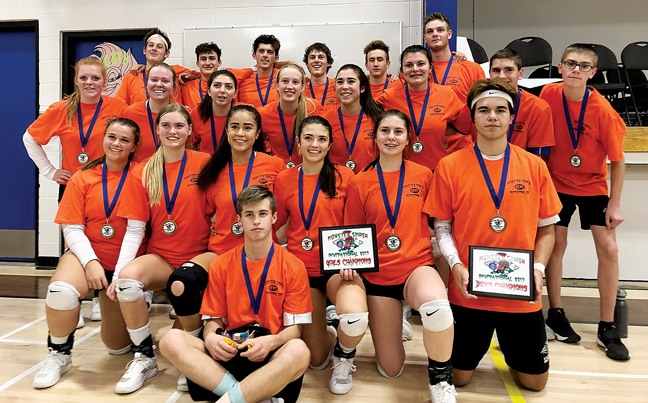 CHAMPIONS: Both the Vauxhall Vikings and Vauxhall Queens volleyball teams show off the plunder they got by winning their respective championships at the Monster Smash Volleyball Tournament in Vulcan. ADVANCE PHOTO SUBMITTED BY JASON SCHELLENBERG
By Greg Price
Vauxhall Advance
gprice@tabertimes.com
It was a clean sweep for the Vauxhall High School volleyball programs at the Monster Smash tournament in Vulcan over the weekend, as both the Vauxhall Vikings and Queens teams earned championship titles.
"As the year goes on, you are trying to improve and you don't want to get stale, level out, or even move backwards. Watching the competition that was there, we are getting really close," said Scott Reiling, head coach of the Vauxhall Queens girls volleyball team. "We are playing really well. It's been a long time since we've lost. The girls are playing tight. We are limiting our unforced errors and we've been passing really well. We've always served well and we are playing smart, smart volleyball. Teams are having a hard time scoring points against us which has sort of been our MO. We pride ourselves on making teams work, where eventually they will make a mistake."
The Queens have now won their sixth consecutive tournament and have not dropped a set in a really long time. The Queens have won eight out of nine tournaments they have played in, coming in second in the only tournament they have not won.
"We'd probably be going back three or four tournaments with that," said Reiling of remembering the last time the Queens have dropped a set.
The Queens were a bit of a David to Acme's Goliath in the championship of the Monster Smash, with Acme having more height and multiple players getting college looks. But, the Queens were able to handle them thanks to the depth right down the bench.
"A lot of the time with volleyball, it's not about your best player, but your weakest player. If you can expose the weakest player and let them dictate the speed of the game, sometimes very good teams just look average," said Reiling. "We come up with a game plan and the girls are executing it very well. We work well as a team. We weren't creating unforced errors on our end for them, we weren't giving up easy points. We knew where we had to go to create easy points. Their stars were going to score points, but when you break down a volleyball game, a great game is when someone ends up plus-6. For their best two players, that's 12 points, so where are the other 13 points coming from? We try and make sure the rest of their team isn't scoring the other 13 points. What we do well is you can't really concentrate on one player when teams play us."
The Queens now prepare for 2A zones at Lethbridge College on Nov. 14-16.
"I like the idea of just practising where we are not worried about winning games and who is on the floor. We aren't showing anything, so I think it's a big advantage that we have the weekend off. We can rest our bodies and go to zones refreshed with a clear vision of what we need to do," said Reiling.
While tournament wins have not been as plentiful for the Vauxhall Vikings as their Queens counterparts, it is all about peaking at the right time and the Vikings seem to be doing that after sweeping the St. Mary Celtics in the championship final in Vulcan.
The Vikings were able to avenge an earlier round-robin loss to the Celtics with what Vikings head coach Jason Schellenberg noted was the Vikings best match of the season in the Monster Smash championship.
"We've had really tight matches against St. Mary all year. They are a talented team that we know is tough competition heading into zones," said Schellenberg.
"Being able to beat St. Mary in the final after losing to them early, I think it helps with confidence heading into zones. Knowing you can beat a team you know is going to go deep into the zone tournament helps with your confidence."
St. Mary was the only team the Vikings lost to in the whole tournament and Schellenberg likes how the Vikings played with extra swagger and consistency when the playoff rounds came along.
"In the final, it seemed like all six guys were engaged and it wasn't one guy carrying the team. We were getting offence and defence from all six guys on the floor. More than any other match this season, that was the best I've seen them come together as a group and as a team on the court where every player was contributing. It looked good when it was all put together."
The old cliché in sports is peaking at the right time, and for Schellenberg, he hopes the Vikings don't rest on their laurels as they head into 2A zones at Lethbridge College next week from Nov. 14-16.
"I hope we can carry this momentum into the zone tournament. One of my biggest fears is to just win this past tournament and be satisfied. Our goal is zones and grab one of those (provincial) spots and proceed to the next tournament. There's a lot of good teams at zones, and if we don't play our best, we'll definitely lose to them."
While the 2A girls side looks to be more top-heavy with the Queens as a favourite, the boys side looks like there is plenty up for grabs as two extra spots are available to proceed to provincials, with Immanuel Christian getting the automatic berth as hosts, who also happen to be the No. 1 seed heading into zones.
"The zone is deep. One through four, talking Immanuel Christian, St. Mary, us and W.R. Myers, it's really anyone's game there," said Schellenberg, adding even the darkhorses in the lower seeds have some gallop in them if they catch the contenders on a bad day. "There's favourites for the banner, but once you go to the five, six, seven seeds — teams like Kate Andrews and Picture Butte, they've won sets off of us and St. Mary. It's an exciting tournament. Really, at the end of the day, any team going into that tournament has a chance at winning a game at the right time."