Vauxhall zoned in for volleyball
Posted on November 21, 2019 by Vauxhall Advance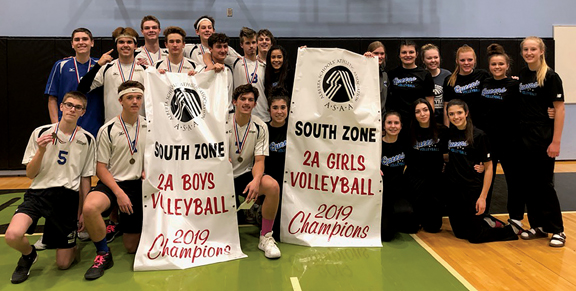 TOP TEAMS: Both the Vauxhall Vikings and Queens volleyball teams were able to win zone championships at Lethbridge College on Saturday, after tight three-set victories over their opposition. ADVANCE PHOTO SUBMITTED BY JASON SCHELLENBERG
By Greg Price
Vauxhall Advance
gprice@tabertimes.com
Vauxhall High School was golden at 2A South Zone Volleyball championships at Lethbridge College last week, as both the Vikings boys and Queens girls took home the banner and earned a trip to provincials.
Familiar foes faced off for 2A zone bragging rights as the Vikings squared off against St. Mary Celtics, the same team they faced in the championship final of their last tournament before zones, the Monster Smash in Vulcan.
The two teams split the first two sets, before the Vikings eventually won 15-10 in the deciding set to earn the gold medal in a match where there was no give by either team.
"As a coach I was proud of how the guys played defensively — it was pretty gritty defence. There were so many times I thought the rally was over and there was no way one of our players or one of the St. Mary players was bringing the ball back," said Jason Schellenberg, head coach of the Vauxhall Vikings boys volleyball team. "Somehow, not only were these volleyballs brought back, they were turned into good attacks going the other way. It was really good volleyball."
As the cliché goes in sport, to peak at the right time, the Vikings have been doing just that, winning the Monster Smash tournament before winning zones, as the Vikings head into provincials which start today at Immanuel Christian in Lethbridge.
The only set the Vikings dropped at zones was in the championship final — a run which included sweeping top-seed Immanuel Christian, who would eventually earn zone bronze and earn an automatic bye into provincials as host.
"We rolled through pool play fairly easily which was nice, but we knew our tough games were coming ahead," said Schellenberg. "I think everyone would probably think Immanuel Christian was the favourite to win the tournament. Our guys played their best volleyball of the year on Saturday (against Immanuel Christian and St. Mary). We beat Immanuel in straight sets, but they were both close sets. Every guy on the floor was contributing offensively and defensively, we were firing on all cylinders."
The Vikings' mental game was helped with seeing St. Mary beat Immanuel Christian earlier in the tournament, a team they had earlier vanquished at the Monster Smash.
"I think our guys looked at that and said if St. Mary can do it, there's no reason why we can't do it, too. They aren't invincible anymore, that crack in the armour gave us that extra push," said Schellenberg, admitting he had to calm some nerves on the bench. "As a coach, I was constantly trying to remind the guys that you can't control the outcome, all you can control is the attitude and effort. If we start worrying too much about scores or what's going to happen afterwards, we started deviating from thinking about the wrong things. Control the things that you can control. If there's an opportunity to dive for a ball, are you going to do it? Do the things that are in the realm of your control. We knew we had a team that was capable of winning this tournament, it was a matter of putting it all together."
The Vikings kick off its 2A provincial run today with a 12:45 p.m. match against Rundle College at Immanuel Christian in Lethbridge, with matches also being played at Winston Churchill. Vauxhall also plays J.R. Robson today at 3 p.m. at Winston Churchill. Vauxhall's pool also includes OLMP, Strathcona-Tweedsmuir and Immanuel Christian.
The Vikings play Tweedsmuir on Friday at 11:30 a.m. at Immanuel Christian and OLMP at 4 p.m. at Winston Churchill. The Vikings conclude round-robin pool play on Saturday at 10:30 a.m. against Immanuel Christian in its home gym. The bronze-medal provincial match goes at 5:30 p.m. on Saturday, followed by the gold-medal match at 7 p.m. at Immanuel Christian.
"We are going into this tournament pretty blind. The only team we have seen is Rundle College, we faced them in Picture Butte and they beat us, but Immanuel Christian beat them. At provincials, every team is going to be good, they are there for a reason," said Schellenberg. "It's realistic for us to say we can finish well in round-robin and give ourselves a shot to advance in the playoffs. It was nice to see so much fan support for every team at zones. I know our guys appreciated the fans and you talk about the seventh man. Having enthusiastic fans was an advantage and it gave us an energy boost. We are hoping to see a lot of fan support at provincials as well."
For the Vauxhall Queens, it was second verse, same as the first, as the team continued its dominance in its tournament season, having won every tournament of the year it played in except for one, it which the Queens placed second.
But this time around, nothing came easy in the zone win, as the Queens gutted it out not playing its best.
"We struggled a bit at zones the entire weekend. We were doing enough to get by. It was probably the most inconsistent we've played in a very long time," said Scott Reiling, head coach of the Vauxhall Queens. "I don't know if it was nerves, and the depth of the teams at zones was really, really good too. I'd say it was a nail biter the entire weekend. We were getting by with a lot of 20, 21, 22-type games that could have gone either way down the stretch."
Play did start to improve on the playoff Saturday as the Queens beat Kate Andrews in a semifinal, winning two straight sets.
Then came the Magrath Pandas in the final, where the Queens were shell-shocked in the first set 9-19, before eventually falling 21-25. But, the close comeback from the first set gave the Queens the momentum to take the next two sets and zone banner.
"We executed quite well. It still wasn't our best volleyball, but we stuck to the game plan. The parts we wanted to expose and the parts we wanted to really push the Magrath team with worked perfectly," said Reiling. "After that first set, we didn't miss any serves and we didn't pass a single zero. With those little things, we stopped giving away free points. On top of that, we hit the places we wanted to and exposed some weaknesses we knew ahead of time."
While other tournaments may have come easier for the Queens, Reiling was proud of the resilience his team showed in finding a way to win despite not firing on all cylinders all the time.
"They can fall behind and they don't really panic. They don't let the outcome of a game before affect their next game. I don't think any of the girls had their best tournament, but they never quit," said Reiling, adding the two seniors on his team have only lost a handful of matches out of 200-plus games. "They find a way to score positive points and when things aren't going their way, they still find a way to help the team. We drop sets all the time, but it doesn't rattle them. Maybe they didn't play well (the first set), but next game is 0-0, let's do this."
That attitude is aided by a volleyball IQ that Reiling added is off the charts with his players, where sometimes he is just along for the ride in a time-out, where the girls already know the areas they need to tighten up on.
"There's communication going on all the time and I don't feel like it's coach directed all the time. I've found out afterwards and they were making jokes with some of my time-outs and they would walk back on the court and say 'thank you Captain Obvious'," said Reiling with a chuckle. "I'm saying things where they are like 'no kidding.' We know, and we'll fix it. That's really powerful when you can feel that happening one court with different players taking on those leadership roles."
The Queens kick of fits provincial run in Three Hills today, where Reiling knows full well it's going to be a grind every match.
"If you are going up there looking for an easy game, you are probably the easy game," said Reiling. "There's teams we are going to see up there that we've beat. But the games have been tight, having to beat them in three (sets). It's been a dog fight. I don't know how it's going to look right now, but I know we are going to be in the mix."