Vikings looking to tighten up game on both ends of the floor
Posted on December 12, 2019 by Vauxhall Advance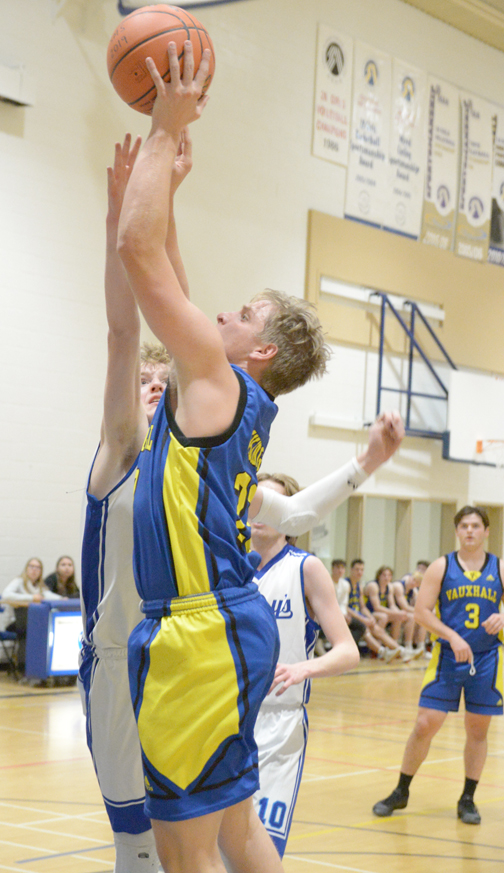 JUMP STREET: Ty Wevers of the Vauxhall Vikings boys basketball team goes up strong in the paint for a basket against St. Mary Celtics in River Ridge Basketball League play in Taber on Tuesday. ADVANCE PHOTO BY GREG PRICE
By Greg Price
Vauxhall Advance
gprice@tabertimes.com
All Vauxhall Vikings' boys basketball team head coach Daryl Johnson wants for Christmas is more attention to defence, as his team nears entering the holiday break.
The Vikings fell 82-80 on a buzzer beater to the St. Mary Celtics to open up its River Ridge Basketball League season on the road on Tuesday.
"(Tuesday) night was about as bad as I've ever seen us play. But, it's good to lose at times so the kids don't think they are the best thing that came to earth," said Daryl Johnson, head coach of the Vauxhall Vikings boys basketball team. "It was a wake-up call game."
The Vikings were down by as many as 20 in the third quarter, but roared back in the fourth to make a game out of it.
"The third quarter was just awful. Our defence was decent, it wasn't great, but we didn't score our first bucket until six minutes into the third quarter," said Johnson. "The Celtics were hitting their shots and playing some good basketball. We couldn't hit anything and we weren't giving the effort defence-wise. By the time the fourth quarter showed up, we started playing some ball, but we dug ourselves a pretty big hole."
Earlier, the Vikings were in a tournament in Brooks that saw them win all three of its games on the weekend, two of them quite handily.
The Vikings beat St. Joe's by 15 and then trounced Rosemary and Holy Cross by 40-plus each.
"I got to see everybody, and everybody got to play. But we sustained an injury and so we are going to be down a guy (for a few weeks) that's going to be key for us," said Johnson.
The Vikings are off to a tournament in Coaldale which starts today. The Vikings host Erle Rivers on Tuesday at 7:45 p.m., with the Vauxhall Queens girls basketball team playing earlier at 6 p.m.
"It's hard to implement things without practices. We just have to get in the gym and get down what we want to do on offence and some defence. We'll be all right. We got enough shooters and enough athletes to make things happen," said Johnson. "Defence is our biggest thing we need to work on. Yeah, we didn't score (against St. Mary), but 80 should be enough. We were too lazy, giving up too many rebounds and too much stuff inside that you just can't give up. But that game can be a turning point, too, to showing where you need to go after that."