Vikings earn silver in Claresholm tourney
Posted on January 16, 2020 by Vauxhall Advance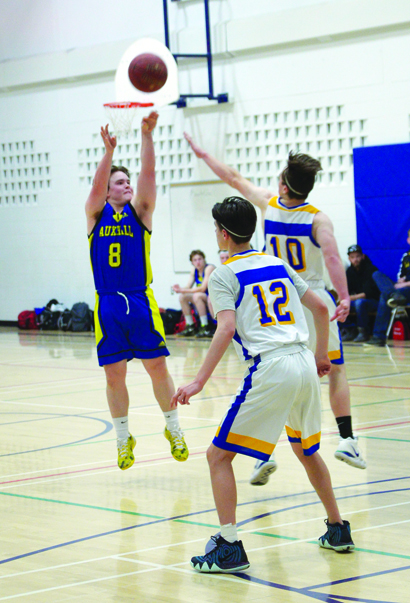 ADVANCE FILE PHOTO
By Greg Price
Vauxhall Advance
gprice@tabertimes.com
Vauxhall Vikings boys basketball team faced off against a provincial powerhouse in J.R. Robson from Vermilion in the championship final of a tournament in Claresholm over the weekend, eventually falling in a 15-point loss.
"It was back and forth for a lot of the game. They were up and then we were up, but they kind of blew us out in the fourth quarter," said Daryl Johnson, head coach of the Vauxhall Vikings boys basketball team. "They shot really well. We couldn't handle it. We played zone and man against them and neither seemed to slow them down much. They are a team who made the provincial final last year."
The intensity and tone the Vikings needed to earn a championship berth was set early with a 98-93 overtime win to upend opening opponent West Island College from Calgary.
"They are big and they rebounded hard to keep themselves in it. It was probably one of our better games of the year. We were hitting what we wanted to, but they were killing us on the glass with second-chance points," said Johnson. "I don't think we were ever behind in that game, but they would make runs. It was a good back-and-forth close game. We didn't know how we'd look being it was the first game off our (Christmas) break, but the boys looked good."
The Vikings easily made the championship final with a dominating 35-point victory over Livingstone from Pincher Creek.
"They are an average to above average 1A team. Everybody got good minutes. It was nice not having to burn a lot of energy for the final, but it didn't help us anyway," said Johnson with a chuckle, who gave praise overall to Carlin Dick who had a strong tournament overall at point guard. "He was able to score when he wanted to while running our offence."
The Vikings returned to River Ridge Basketball League play on Tuesday at home, and trounced Senator Gershaw Gators from Bow Island 96-48.
"We were still able to execute what we wanted to at the start, but it just sort of turned into fast-break central after awhile, where you try and pull things back, but at times you just can't," said Johnson. "We went with two lines, with starters and the second group and gave them minutes as groups with full lines to try and give them that chemistry. I rarely do that, bring five for five, but I tried that (Tuesday) to see how things would go."
The Vikings did have a game scheduled last week with the St. Mary Celtics at home, but the game was canceled due to poor weather. It has been rescheduled for February. The Vikings are off to a tournament in Stirling this weekend.
"Our first-round game won't be great, getting Livingstone again, but after that it will hopefully be Kainai who is playing Eagle Butte (in the first round)," said Johnson. "They are 2A and those are the teams we want to play to prepare for zones."