Vikings take bronze in Stirling
Posted on January 23, 2020 by Vauxhall Advance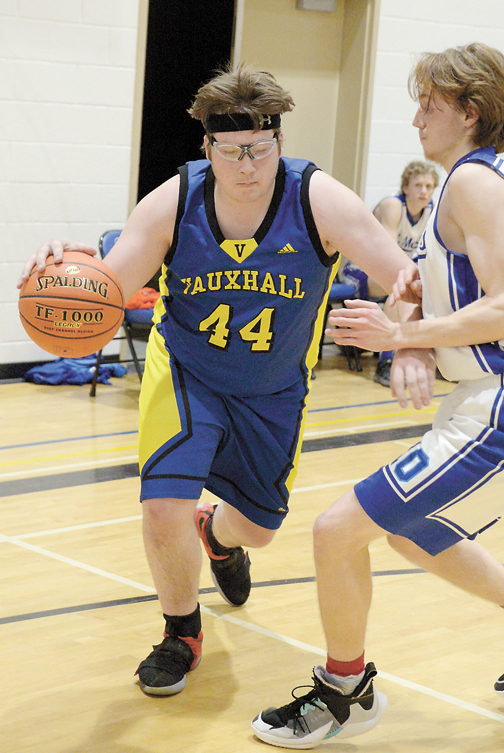 ADVANCE FILE PHOTO
By Greg Price
Vauxhall Advance
gprice@tabertimes.com
The charity stripe wasn't so charitable for the Vauxhall Vikings boys basketball team, who eventually would go on to take bronze at its tournament in Stirling.
The Vikings were pushed to the third-place game after falling to Kainai Warriors 91-87 in the semifinal, a team they may cross paths again with at 2A zones at Lethbridge College in March.
"We wanted to see Kainai. It came down to free throws. We were down 40-28 at half-time and we probably missed 15 free throws in the first half alone," said Daryl Johnson, head coach of the Vauxhall Vikings boys basketball team. "It was just a really bad half. Our defence held us in it. By the time the fourth quarter came around, it was all tied up. The free throw shooting got a little better in the second half, but it was still below 50 per cent."
A seesaw fourth quarter eventually had the Vikings big man fouling out with six minutes left, making for a thinner paint presence that the Warriors exploited to edge out the win.
The Vikings other two games were lopsided victories over Livingstone and Coaldale Christian.
"It was the third time we've played them. Everyone got minutes, rolling people throughout the game. They are ranked in 1A, so they must be winning some games," said Johnson of Livingstone, a team which the Vikings have had their number. "We seem to have an easy time with them. Their coach has said 'you guys always intimidate us' when we play against you. You just get in some team's heads."
The Vikings were wanting to play Stirling, who are declaring 3A this year, to see how the Vikings would match up, before narrowly getting beaten by Kainai.
"We got one out of the two teams we wanted to see going there. Those (Kainai and Stirling) are both three-point shooting teams. We watched a little bit of their game and they shot six three two minutes into the game. They were bombing from everywhere," said Johnson. "Zones are going to be interesting this year with teams switching around."
The Vikings will be participating in the Rebel Classic in Taber on Jan. 31-Feb.1. The Vikings opening game goes at 7:45 p.m. on Jan. 31 against Bert Church at D.A. Ferguson gymnasium. A win puts the Vikings at a 12:30 p.m. game on Feb. 1 at W.R. Myers gymnasium.
The Vikings will be part of opening ceremonies and a team skills competition p.m. Jan. 31, staring at 4 p.m. at Myers gym.
"We are coming along, we've done a lot of team stuff with offence and defence, but now we are getting back to fundamentals (in practice) because we haven't been sharp on some things at a level we need to be. Practice is going to be player based in the next little while. Once we get back into February, it will be more team-based systems. We'll see if we can get our free-throw percentages up a bit, the little things will make a difference," said Johnson.
"We are happy to go (to the Rebels tournament). Looks like there's going to be some solid 3A teams. We want to play teams that are doing good and are going to give us a test."