Talks continue with curling club agreement
Posted on January 30, 2020 by Vauxhall Advance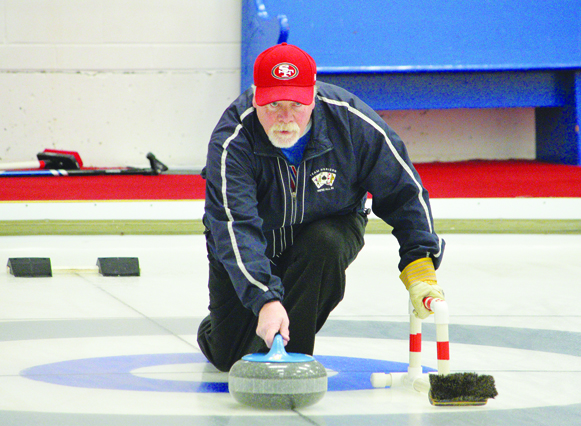 ADVANCE FILE PHOTO
By Cole Parkinson
Vauxhall Advance
cparkinson@tabertimes.com
With the Vauxhall Curling Club and town council extending their previous rent contract to the end of February, talks about their new deal have begun.
As council set a date for Feb. 28 to have a new contract in place, the curling club was in council chambers during the town's regular meeting on Jan. 20.
Council was presented with a draft copy of a new contract that was presented by a delegation from the Vauxhall Curling Club and discussion first started in closed session before being moved into open session.
"What I tried to do was highlight parts that are different from our existing contract," explained Lori Doerksen, club president.
Several issues within the current contract were brought forward for preliminary discussion including insurance and emergency response plans.
"I think something that has been concerning for us, and with the firemen coming in the other day, it highlights that concern and that is do we have a very good ERP (Emergency Response Plan) in place for the curling rink? And what do we do in an event of an emergency, particularly with an ammonia leak? I think the problem, outside looking in, we can get Brian (Schafer, M.D. regional fire chief) more involved, but how do we get notified? How do we know? There is no lights, or sirens, or bells, or whistles," continued Doerksen.
The possibility of an ammonia leak was one of the biggest concerns highlighted by the group.
"I could be wrong but I was told that if there was a leak, he (Brandon Loewen, Town of Vauxhall arena manager) has to go around and tell everyone. But if there is a leak, and he is the man down, that is very scary," said Kim Egeland, secretary. "The thing is, for me, I have a key so if I'm going in and the call hasn't been made, I don't know if there is a leak."
Administration explained the process of what happens when there is an ammonia leak within the entire complex.
"If there is an ammonia leak, (a call) goes to me first, then it goes to Curtis, then it goes to Cris (Burns, CAO) and then it goes to Public Works. We had an ERP put into the building last year for provincials. Brian (Schafer), looked at it and likes it for the entire building, not just for the rink. We have fire alarms in the rink that once you trip one, they are everywhere in the entire building. That's protocol to trip the fire alarm and it goes everywhere in the building, the hall, curling rink, arena, swimming pool, everywhere," explained Loewen. "We know very quickly, I think it is 0.01 (seconds) and we know there is an ammonia leak and it calls everybody. We figured this out already. It doesn't stop calling until someone acknowledges it and nobody can acknowledge it because I am the only one with the code. I let it ring over and over."
"Is it the safest way that it is a phone call?" asked Egeland.
Council was understanding of the concerns brought forward.
"I think the only time you would have a concern, I would say, is if you went in and Brandon is not there and say there was a leak. If they got the phone calls and they haven't been there and you beat them to it, that would be the only time you would be unsafe and unaware there is a leak," stated Coun. Kim Cawley.
Administration brought forward another option to make it more apparent there was a leak.
"At council's direction, we could add an alarm on the other side so they do see an alarm or light," said Burns. "It's not free, probably close to $2,000 to install."
Another issue discussed in more detail was around upkeep inside and outside of the curling rink. In the draft contract, it states both parties would have to agree to any alterations to the building. Some of the language concerning this section of the contract was questioned by council.
"Some of these things I think have to be tweaked, and I'm sure they aren't reading the way you expect them because some are extremely favourable to the curling club while being potentially problematic for the town. For instance, 5.B 'Any damage to the structure shall be the responsibility of the town.' Now, further on you are allowed to rent it out. So let's say you rent it out and you are serving booze, and someone throws a bottle through a window or whatever. As this is written, it is now the town's problem to fix. I'm sure that is not your intent, but that is what this says. We would need to tighten up some of these things," said Coun. Richard Phillips, who also pointed out another potential problematic entry. "As it is written, if you request something, we have to do it no matter what. Again, I'm guessing that is not your intent, but how I read it, if you request we must act and we must act within 30 days with no option for us not to act. There may be something that you would request can't be done."
"I agree with you. What are the right words? I'm don't know but I definitely agree with you," replied Doerksen. "It probably is one-sided but we have always felt that about the town contract, so how do we get in the middle so that we are both benefiting?"
Doerksen also pointed out some issues from the club's point of view that they have been dealing with.
"When the ice plant was put in, there were damages to the curling rink and we've had to live with them or repair them. You guys were great in helping us out but we are still recovering from that."
The contract also details how the town would have to give the club notice when they are entering the building to do any significant work within.
"The town still owns the building and under any landlord-tenant agreement, the landowner always has access to the building but they have to give notice. I would suggest for any normal maintenance, notice wouldn't be required but for any abnormal situation, 24-hour notice would be (fair). I don't know how that would work in writing but I think there has to be some recognition for the town to have the ability, in an emergency, to get into that building," added Coun. Ray Coad.
With a little less than a month until the agreement comes to an end, administration recommended having a lawyer take a look at the contract.
"Let's have council meet to do our budget discussions (Jan. 28) and then Cris and I will present information to you," said Mayor Margaret Plumtree. "We can go from there because if we can present to you at the end of (this) month, then we would have time for that deadline on February 28."