Curling club asking M.D. for help
Posted on February 20, 2020 by Vauxhall Advance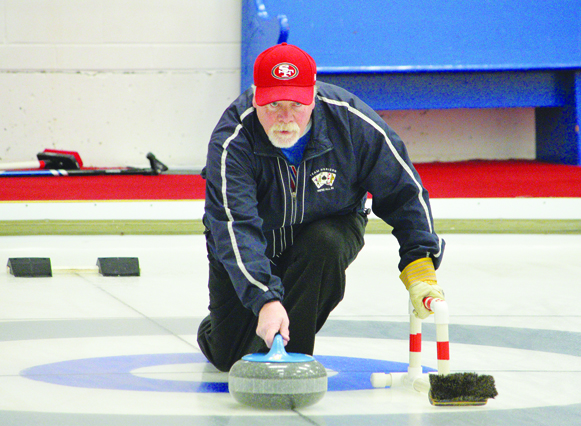 ADVANCE FILE PHOTO
By Cole Parkinson
Vauxhall Advance
cparkinson@tabertimes.com
In a continuing effort to secure a new rent agreement between the Town of Vauxhall and the Vauxhall Curling Club, the Municipal District has been brought into the fold.
During M.D. council's regular meeting on Feb. 11, a delegation from the club was present to ask the M.D. for more money from their recreation grant to Vauxhall or to help with negotiations in the rent agreement.
"We are currently under negations with the Town of Vauxhall for renewal of our rental agreement and have been over our last three seasons in hope of having a long-term agreement in place. The Town of Vauxhall have been continuously been increasing our rent," explained Kim Egeland, secretary for the Vauxhall Curling Club. "The most recent offer is the club pays utilities which range from $25,000 to $35,000 per year, depending on usage and carbon tax."
One issue the club has continued to point to was their lack of funding from the M.D. recreation grant the town receives.
"Out of that grant, the Vauxhall Curling Club only received $5,000, the arena received $75,000. From 2014 to 2018, the curling club has received $17,000 of the M.D. grant out of $628,000. That is only three per cent over five years. We have asked the town to allocate more of the M.D. grant to the club to help with the less than $5,000 deficit for the curling club but the town has stated the M.D. determines where to allocate the grant. We are here in hopes to ask for more funding from your generous recreation grant," continued Egeland.
Council questioned why the group was told the M.D. controls where grant funding goes.
"You mentioned a couple of times that the M.D. determines how they spend their recreation. I don't remember having any conditions around that," stated Coun. Brian Brewin.
"It's a conditional grant. It is up to the Town of Vauxhall to determine who gets the money. It's the same with any recreational group," added Reeve Merrill Harris.
At a November Vauxhall town council, Mayor Margaret Plumtree stated that while town council controls where the M.D. recreation goes, in the past, M.D. councillors had expressed interest in where it was going.
"If you recall, the last (M.D.) council, they were very much into what the Town of Vauxhall did. And they were very much into recreation and how we ran things with recreation. So they had input but those councillors are no longer part of the M.D. (council). That doesn't mean this is all set in stone," she answered when questioned if M.D. councillors tell them where to put the money.
No changes since have been made and the curling club has continued to receive $5,000 each year for funding from the M.D. rec grant.
Egeland further explained they had around 80 members, most of which are M.D. residents, and memberships cost $225. Another big cost for the group was from them hiring and training their own employee for ice maintenance.
"Our expenses are only what we need. We don't buy anything else," added Egeland.
With the agreement coming to a close at the end of this month, the group was requesting an increase of $10,000 from the rec grant.
"With our current financial situation, partnered with the Town of Vauxhall's unwillingness to compromise, we fear for the future of our club. The vitality of the economy and the new carbon tax are just too unknown for us to base our future on," stated Egeland.
"We are not trying to be difficult, we are not trying to cost everyone a bunch of money, we are just trying to go out and play a game for a couple of hours and socialize with our community members. It is frustrating that in order for us to do that, it has taken hours and hours to hammer out an agreement. It feels like it is one step forward and 10 steps back. We know the M.D. appreciates how important recreation and volunteers are to the community and we hope you can help us seek a solution."
One area that M.D. council questioned was if the club could only pay rent for the months they need the facility instead of year-round.
"I think we could but the same factor would come into play. Other user groups would come in and we're responsible for things like carpets, windows, chair, tables and all the things we have purchased. What happens with that?" asked Egeland. "(We're responsible for) anything that moves. So if it is a wall, it's up to them, electrical is up to them."
The item was tabled for further discussion in closed session.