M.D. of Taber approves $25,000 for Taber Golf Club
Posted on April 30, 2020 by Vauxhall Advance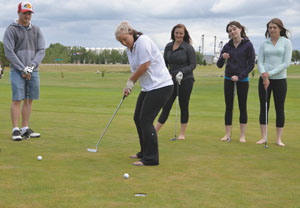 ADVANCE FILE PHOTO
By Cole Parkinson
Vauxhall Advance
cparkinson@tabertimes.com
With warmer weather gracing southern Alberta, the Taber Golf Club is hoping to finalize funding for their two new mowers.
While the Town of Taber approved $55,000 to purchase two new mowers for the club in late 2019, the Municipal District of Taber had told the group at a September meeting they would have further discussions of contributing during budget talks. With the club hoping to receive $55,000 from each municipality, the group still had not received any indication from the M.D., which led to a written letter forwarded to council.
"We are in a transition time at the Taber Golf Course as indicated, we are building our memberships and supports, in anticipation of a strong future business model. However, this year we are struggling financially. We humbly inquire if the M.D. of Taber has discussed our request at the budget committee? The financial support will have a much needed positive impact and allow us to operate and maintain the course. Historically, the Taber Golf Course has not asked the M.D. for funding. A one time grant would be ideal but we recognize the M.D. also has financial strains," reads a portion of the letter.
In turn, council brought forward discussion at their regular meeting on April 14. With an option of a one-time grant or yearly contributions similar to other courses in the area, councillors had a range of opinions on how they wanted to approach the situation.
"I think if we were to go ahead and it would be a grant similar to Enchant and Vauxhall. At the same time, I know we are going to review all of our grants so I would hate to commit if we are going to be switching how we do our grants for recreation," stated Coun. Leavitt Howg.
Council asked administration about the grants other clubs receive in Enchant and Vauxhall.
"We are just in the process of looking at our grants and going out cheques for the recreation grants to the organizations who submitted financial statements. For those golf clubs, it originally started at $1,500 and I believe two years ago, it was increased to $3,000 a year for each," explained Bryan Badura, director of corporate services.
With $55,000 still needed for the club's purchase of mowers, it was asked if there was an availability to draw some additional financial resources from other groups who typically receive grants from the M.D.
"I'm wondering if we reach out to some of these groups and see if they actually need the funds, and if they don't, maybe some of that can be redirected to the Taber Golf Course. If we were to do something, I wouldn't want it to exceed what we are already giving other golf courses," said Deputy Reeve Jen Crowson.
It was explained by administration that a vast majority of grants given by the M.D. are used by those groups to pay for needed services.
"A lot of our recreational funding, especially to our hamlets, is geared towards ensuring they have the funds to pay their utility bills as well as their insurance. Even with the current environment out there, those costs will likely need to be paid in 2020 and they may be in a situation where they do see less revenues in order to pay some of their other costs as well. To check with them and to see if they need the money, the money we give them is more geared towards utilities and insurance," responded Badura.
Crowson asked about other non-recreational groups and if there would be money left over in that regard.
"A lot of the groups that we give funds to, they do have facilities as well that require insurance and utilities. We can definitely send letters out or ask about their situation," replied Badura.
In terms of a lump sum payment, council asked if there would be a possible resolution in that regard, as long as the M.D. had enough in reserves.
"How are we financially? What do you really see happening this year? Do we have excess funds where we can make a donation or do we see some serious trouble in front of us?" asked Reeve Merrill Harris.
With council getting a chance to view their 2019 audited financial statements earlier in the meeting, it was further explained a one-time payment would be doable, even with current COVID-19 conditions in place.
"It is still really early to give an accurate assessment of where we would be at the end of the year besides reflecting on our budget. As far as our assessments, we figured we would be losing much more on assessments than we actually have come to realize. Our live assessment is a little better than we estimated. The only item we don't know for sure is where tax collection will be at the end of the year," continued Badura.
Administration also stated it would be more favourable from their perspective to do a one time grant.
"I do think this can be somewhat answered independently of an overall recreation grant strategy, just given our current circumstance," explained CAO Arlos Crofts. "From an administrative perspective, you wouldn't necessarily want to see a list of annual contributions growing year after year. Just given the context of mitigating annual spending year over year. Depending on your perspective, one could look at a one-time contribution as favourable of not putting another permanent or semi-permanent recipient on the list."
Other councillors chimed in on how they wanted to proceed with the funding.
"I would like us to give some consideration to this. It's a one time ask in looking for a specialized mower," stated Coun. Tamara Miyanaga. "I know they were asking for $50,000 and I don't know that we have that amount."
"I would be in favour of a yearly grant to pay this mower off. The town has given them similar grant funding," added Coun. John Turcato.
A suggestion came about contributing $25,000 and if that would be doable in the current budget.
"If you did approve a grant, we are coming up to final budget discussion so we could bring it forward to include in the final budget or at this time, make a motion to draw from an operating reserve," said Badura. "As far as the monies for it, we went through the financial statement and as Derek Taylor said, the M.D. is in fairly good financial position right now. It is at council's discretion to authorize a grant."
"I'd be more in favour of a one time grant than putting them in the normal recreation funding. I'm not so sure of the $25,000. If we do that, some of the other courses may want us to fund their mowers, too," added Coun. Murray Reynolds.
A motion to provide the Taber Golf Club with $25,000 was carried 5-2 with Crowson and Reynolds providing the opposition.