Vauxhall Spurs anxious to hit the diamond for 2020 season
Posted on May 28, 2020 by Vauxhall Advance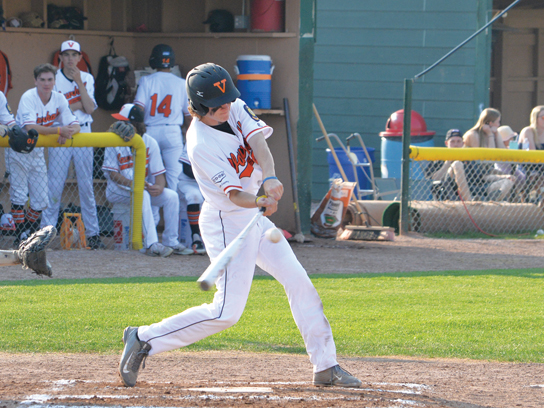 ADVANCE FILE PHOTO
By Cole Parkinson
Vauxhall Advance
cparkinson@tabertimes.com
While COVID-19 has delayed and altered the usual schedule, the Vauxhall Spurs are still confident they will be hitting the diamond this year.
With original tryout dates scheduled for April and May, those plans had to change with the global pandemic slowing everything down.
"What they have done is, the Montana American Legion, the division of Montana State, was trying to get things on the go, they started about five weeks back. About a week ago, the National American Legion, which is the governing body for all legion baseball across the United States, they came in and officially cancelled their season," explained Cam Cleland, president of the Vauxhall Spurs. "Now, Montana State is just going to run an independent year of baseball under the umbrella of what they are going to call Montana State Baseball. We will not have any conference play per se in our division, the north division, but there is one window we have left open. That will be for the district tournament which was Vauxhall's year this year but we have cancelled that and moved it to next year. So, Vauxhall will host again. This year they are hoping to run a district tournament in Great Falls in the last week of July."
A big obstacle for legion baseball for Canadian teams will be the opening of the Canada-U.S. border.
If the border does open and things work in terms of the short-term leagues, the hope is to have the Vauxhall Spurs down to Montana for the district tournament.
"We will send a team down there and participate in the district tournament, if we can cross the border and the governor of the state opens intake for recreational out-of-state baseball," said Cleland, who added the team is hoping to have players practice shortly. "What we are going to do, hypothetically, is we are hoping to get access to practice in some capacity. We are just using hypothetical windows here but I am relatively confident we can hit the practice field somewhere in early to mid-June."
As a soft date for tryouts, Cleland highlighted the beginning of June for players to hit the field.
"We have been in email contact with all of our identified potential camp kids so we are looking to run our camp, hypothetically, June 1."
With no access across the border at the moment, Western Canadian Legion teams are starting to set up their own exhibition league.
"We are also working with Alberta Legion teams, so Medicine Hat, Lethbridge and Vauxhall. Then we will include Cranbrook and Trail," continued Cleland. "We're going to try to run an exhibition season among those five groups. It will all depend on how much we can get in and how much it has opened up. It will basically be impromptu scheduling."
While no players have been named to the team as of yet, the coaching staff has been locked down for the 2020 season. After Dru Sebastian and Rolando Martinez took over last year, the two departed after taking the team on a deep playoff run but the Spurs are confident they have done a great job of replacing the two departed bench bosses.
"We hired a new coaching staff, which we are very excited about. Last year's coaching staff was excellent and with the way it worked out. Last year's staff took us through district state and the regional championships which is a very successful year. This year we have hired Ken Fuglerud as our head coach. His first assistant will be Tyler Penner and his second assistant will be Jim Vulcano," said Cleland. "We are looking forward to and are expecting to have a really good team again this year. We are losing some seniors, even some seniors that have eligibility for one more year but some of the boys are looking to get to work and things like that. We'll have lost pretty much all of our seniors and we had only one who couldn't come back so we had four potential seniors that do have one more year and it doesn't look like we will have any of them. With our 16 and 17-year-olds, we have a good core group from last year and we are hoping to find some good 15-year-olds this year. With that, the team looks pretty strong and it's disappointing because I think we would have had a good run to district state and regionals. It's unfortunate but that's what everyone is dealing with."