WHL unveils return-to-play plan
Posted on July 1, 2020 by Vauxhall Advance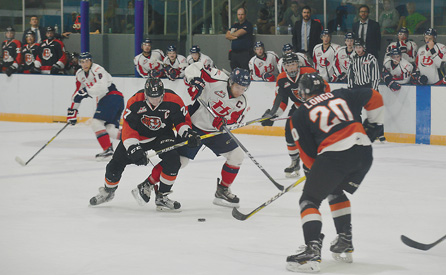 ADVANCE FILE PHOTO
By Ryan McCracken
Alta Newspaper Group – Medicine Hat
The Western Hockey League is aiming to drop the puck at arenas across Western Canada and the United States on Oct. 2, but commissioner Ron Robison says meeting that targeted date will require a lot of work, not to mention a bit of luck.
The WHL cancelled the 2019-20 regular season and playoffs in March as a result of the pandemic. While there are still moving parts involved in the plan to hold a 2020-21 campaign, Robison says the Dub remains dedicated to providing a full schedule.
"Our objective is to play a full season of 68 regular season games as a first priority, then determine what our playoff situation would look like," Robison said in a Zoom media conference last month. "We have targeted Oct. 2 as our opening date, however that will be entirely dependent on the discussions that we have with government and health authorities in each of our jurisdictions. The position we have taken is that we need all six of our jurisdictions – the four Western provinces and obviously Washington and Oregon – to be ready to go in order to start our season."
In order to navigate a return, the WHL has appointed task forces in each of the league's six jurisdictions to work with authorities and help ensure a healthy and safe return for players, officials, staff and fans.
"We've been in consultation with all of our clubs, with our various committees, with Hockey Canada, with the National Hockey League and Canadian Hockey League, and working toward a document that we feel would be comprehensive enough to present to our various provincial and state governments," said Robison. "We have a plan that we are presenting in a way that is very respectful of, ultimately, the decisions that need to be made by the health authorities in each of these jurisdictions. Our discussions are ongoing and we hope that this will lead us to a position where we'll understand, what are the conditions in which we can return to play? From the point of view not only of playing the game itself, but also the accommodation of spectators."
Being a fan-driven league, Robison says the return-to-play initiative is contingent on fans being allowed access to every game at all 22 WHL arenas. Robison says the league is looking at 50 per cent capacity as minimum requirement. That number could be adjusted, but Robison was adamant that the WHL will not start its season without fans in the stands.
"In the event we can't get to a certain spectator level that will allow our teams to operate, we will not be in a position to start playing," he said. "We need that spectator capacity matter to be resolved before we can commence play, but we're confident we're going to get there."
It's far from an ideal situation, but Tigers head coach and general manager Willie Desjardins says teams and fans will need to be flexible.
"It's not going to be exactly the same as it was before, but we have to make it the best we can," he said. "I know for myself, being at home and that, I'm going to be excited getting back out, getting to play again, getting to coach, getting the excitement of the game again.
"I think there are always concerns. There are some unknowns here … If there's a setback that comes, we're not going to jeopardize our players or our fans over it."
Robison added there has been no discussion regarding cancellation of the 2020-21 season, and says the league would be willing to look at restructuring playoffs in order to accommodate a 68-game schedule. He added all 22 teams must be involved in the season in order to move forward. In the event that one jurisdiction seems to be a few weeks behind the rest, Robison says the league could look into altering scheduling for that region, or pushing back the start of the season entirely.
One of the biggest obstacles to overcome in that respect will be the issue of crossing the border between Canada and the U.S. As a result of ongoing changes to provincial and state guidelines, Robison says it could be until August before a schedule is released, and it could be structured to accommodate potential travel concerns and self-isolation guidelines.
"The border is a major issue for us, ultimately, but would we be prepared to contemplate a schedule that would start within our (U.S., B.C., Central and East) Divisions and then open up over the course of the season? That's something we would certainly take into consideration," said Robison. "We're going to need to certainly be flexible from a scheduling point of view."
COVID-19 testing and screening procedures will be determined in co-ordination with health authorities. In the event that a player, coach or staff member contracts the virus, Robison says it will be handled according to jurisdictional guidelines as well.
"We would take the necessary steps in accordance with provincial guidelines and state guidelines," he said.
The WHL will also be partnering up with the CHL for a new streaming service that will be launched with the upcoming season. The service will combine the WHL, Ontario Hockey League and Quebec Major Junior Hockey League and provide fans with a more accessible way to watch live.
"It would make the service that much more available to our fan base, and we think that's extremely important given the circumstances that we're going to be opening our season under," said Robison.
Training camps are scheduled to open approximately two weeks prior to an official start of the season.