Town council reviews 2020 arena rates
Posted on September 24, 2020 by Vauxhall Advance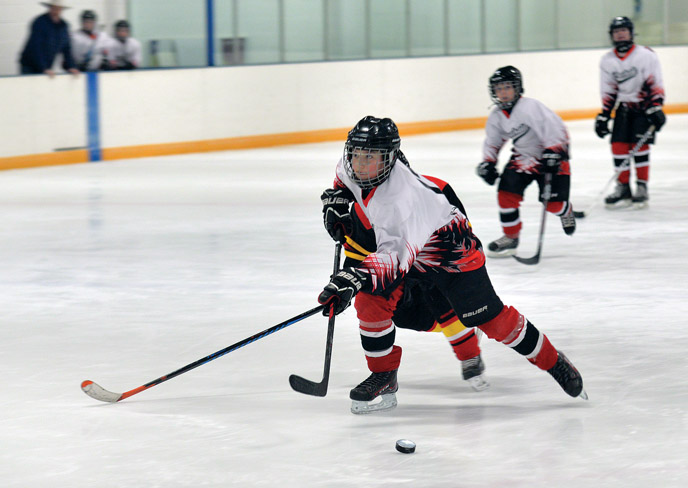 ADVANCE FILE PHOTO
By Cole Parkinson
Vauxhall Advance
cparkinson@tabertimes.com
As skates have started hitting the ice this fall, a concern around prices being raised for arena rentals has been brought forward.
With COVID-19 playing a part in smaller numbers across Vauxhall Minor Hockey, Vauxhall Figure Skating and Vauxhall Pond Hockey, a youth ice user group has formed and they came to town council requesting a minor decrease from the proposed rates.
"During COVID we have dropped our numbers of all teams. We're just asking for you to reconsider your rates. We feel this rate increase is pretty significant during these times right now and we looked at some other locations and we found it would put us in a pretty high spot, especially in small-town rinks that we are compared to," explained Tim van der Hoek, who also asked about potentially upping the cost for out of teams. "Maybe as an added source of income, an out of town rate to try and help compensate. That's what you see in other rinks, I think the majority of rinks that is how it is. If a team is based out of another town, even if there are participants from that town on it, it is a higher rate."
In terms of numbers so far, van der Hoek gave some rough numbers for each group including 35-40 for figure skating, 25-30 for minor hockey and 15-20 for pond hockey which is once a week.
"Everything is going up by $20, that's what your proposed bylaw was. That would give us a 23.5 per cent increase. I want to say 93-95 per cent of the money we make off of our rates goes towards our ice. The rest we are getting from casino funds. With this new proposed bylaws, that would put us at a deficit just off of our rates alone. It would be too low just to cover our ice and then we have our reffing costs and all of our other costs. Right now we have been using our casino to help cover our deficit on the minor hockey side of things. Same with figure skating, they use a casino as well to cover deficits. We were supposed to run a casino this spring but we have been pushed back," continued van der Hoek.
The group asked for a decrease from a proposed $105 for the youth groups down to $90.
"I like their proposal and I think the rate that they suggested is fair. For me, it is a priority to keep recreation affordable for youth especially," said Coun. Kim Cawley.
The only concern Cawley had was around raising the rates for visiting teams.
One team in particular who has been using the Vauxhall rink has been the Taber Golden Suns AA program.
"If we have other teams willing to drive out to Vauxhall to use our ice that otherwise would be (unused), that is a bonus for us," stated Cawley.
A motion to drop arena rates for youth groups down to $90 plus tax was carried 6-1 with Coun. Linda English opposing.
Second and third reading of the policy with amendments was also carried.