Local foodgrains project continues high level of support
Posted on April 25, 2019 by Vauxhall Advance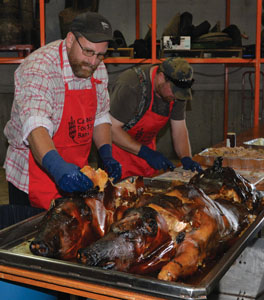 ADVANCE FILE PHOTO
By Greg Price
Vauxhall Advance
gprice@tabertimes.com
Spring is in the air, and with it, thoughts of the Vauxhall and District Canadian Foodgrains Project come as farming equipment is seen on the land with regularity.
The organizing committee met earlier this month to finalize the plans for its local project for 2019.
Van der Hoek Farms has agreed to rent the project a field about 2.5 miles east of Highway 36, on the Hays highway (Highway 524). Seed has been donated by Carl's AgVentures.
"We know that we'll receive many other donations of crop inputs, field work, time, and money to help bring this project through to harvest this August," said Kerby Redekop, a member of the Vauxhall and District Growing Project Organizing Committee.
A big draw of the project every year is the community pig roast where over $35,000 was raised in funding last year.
"Together with the money raised from growing the crop, after we paid all crop-related expenses, we were able to send a cheque for $111,460.54 to the Canadian Foodgrains Bank head office in Winnipeg," said Redekop.
Last year the Canadian Foodgrains Bank was able to distribute over $37,000,000 in assistance to more than 800,000 people in 34 countries around the world.
In 2018, the Foodgrains Bank was recognized as one of Canada's Top 10 "Impact Charities" for its stellar track record of getting resources to where they are intended (over 95 per cent) and for its low overhead administrative costs.
Of total assistance distributed, about 60 per cent is sent in the form of food, 37 per cent goes to agricultural development, and three per cent arrives in the form of nutrition supplements.
The Foodgrains Bank distributes its aid through the Missions and Development agencies of its 15 Canadian member churches.
"Currently some of its major assistance is being sent to help aid disaster victims in Mozambique, Malawi, and Zimbabwe," said Redekop.
In the local region in 2018, there were over 200 local growing projects like Vauxhall's across Canada. There were 39 in Alberta, of which only five were grown on irrigated land.
"Ours is one of those five, so we are somewhat unique. We are looking ahead to another year of great community support for this worthy cause," said Redekop.
The 2019 annual pig roast is scheduled for July 16 this year and organizers are encouraging people to mark the go-to social event on their calendars.
"We will also communicate our actual harvest date to everyone through our Facebook page sometime in August. Each volunteer project our community supports is a concrete demonstration of our values. This means that donating to the Canadian Foodgrains Bank isn't just about helping hungry people around the world, it also makes a difference right here in Vauxhall and area," said Redekop.
"That's our vision as a local organizing committee: to raise support for the worldwide mission of the Canadian Foodgrains Bank, and to build a healthy community here at home."
The Vauxhall and District Growing Project and Organizing Committee would be grateful for any volunteer help they can receive for the project. If interested, they can call or text Kerby at 403-593-1699 for more information.