Safety a priority with harvest in full swing
Posted on September 26, 2019 by Vauxhall Advance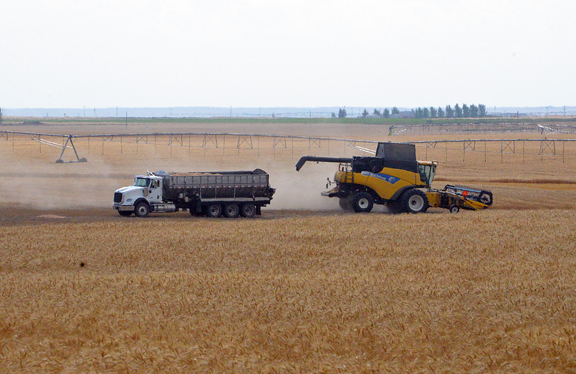 ADVANCE FILE PHOTO
By Nikki Jamieson
Alta Newspaper Group — Coaldale
Although harvest is a busy time for farmers, it is important to take the time to stay safe.
With heavy machinery moving about, weather considerations and a rush to gather crops, it is important to keep safety in mind.
"We have so many crops in the south…you've got people harvesting onions and potatoes and corn and sugar beets — soon, but not quite yet in the Taber area — and beans and then you got the more typical, when you think of cropping, you've got canola and barley and then you've got tons of hay being taken off and transported," said Laura Nelson, executive director of the Farm Safety Centre. "At the end of the day, at the end of the harvest, everybody is valuable, and the hope is that there won't be any regrets over things that where done or not done, and everybody just ends harvest and is safe."
Nelson notes that at this time of year, there is some big farm equipment travelling on the roads to get to different fields or haul the harvest around, and operators of those machines and of regular road traffic should exercise care around one another.
"There are all those points around safe travel on roads with farm equipment," said Nelson. "One thing that could be reviewed, is when you've got a big piece of tractor or something that is on the roads and you're travelling at high speeds is you should lock your break pedals together, because if you actually only apply one break on one wheel, going at speeds it can cause a tractor to skid. And heavy equipment probably should have its own breaks if you're towing it."
Slow moving vehicle signs should be in place on vehicles travelling less than 40 km/hr, and you should ensure that your lights work, as they help other vehicles detect slow moving vehicles.
Be sure to check your route before going anywhere, and try to do so during daylight hours when there's good visibility out.
"All those laws that apply to other vehicles, equally apply to farm vehicles," said Nelson. "This is the season, where if you drive around outside of Lethbridge, you'll notice how many big loaded trucks, whether it's loaded with corn or loaded with silage or loaded with grain or loaded with hay bales, we just have a lot of things being moved right now."
When farm equipment is in the fields, it is important to keep all the guards and shields in place to reduce the risk of entanglement.
"If you're in a situation where you're combining and you're plugged, you've hit a big heavy spot and you're plugged, just a reminder to shut things down," said Nelson. "You don't leave things running while you're trying to unplug. There are many tragedies that have occurred unfortunately from that. While it may take a few extra seconds, then you're never at risk of when you do get that plug moving of being pulled into moving parts."
You need to take care when loading or offloading anything around moving parts, when dealing with heavy hay bales and when around moving grain.
"If you've got grain wagons and other things loading, you just have to remember the dangers of drowning in grain," said Nelson."It just takes a few seconds. If a person is in grain, and it begins to be moved, unloaded and it flows in a funnel much like water does, you will be drawn down, and literally, in a few seconds, you are in big trouble."
As there is a lot of equipment and people moving about during harvest time, it is important to take precautions to help ensure the safety of everyone on site.
Nelson recommended holding a team meeting, so everyone knows what the plan is and who is doing what and where during harvesting times.
"Better communication makes everyone safer."
Fatigue is another big issue.
While the constraint of time around harvest time can make people feel rushed, Nelson says they also have to take care of themselves and take breaks, ensure they're getting adequate food and stay hydrated.
There is also a need to ensure that people involved, especially if they are younger, are adequately trained in what they are supposed to do.
"You can't get to that point where you're pushing so hard that you put corners on some of those things."