Sugar beet harvest terminated; financial losses expected
Posted on November 14, 2019 by Vauxhall Advance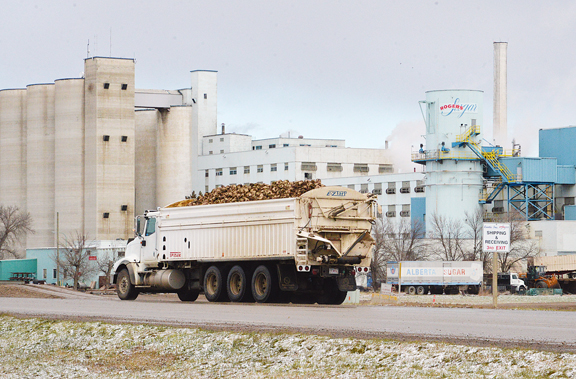 ADVANCE FILE PHOTO
By Trevor Busch
Vauxhall Advance
tbusch@tabertimes.com
Severe weather and frost has forced an untimely end to the 2019 sugar beet harvest, leaving regional producers to write off some 45 per cent of the crop that remains in the ground.
Last Thursday, Lantic Sugar announced due to the impact of recent severe and adverse weather in Alberta, a decision was made to terminate the beet harvest.
"This will have a ripple effect on the local economy," said Alberta Sugar Beet Growers president Arnie Bergen-Henengouwen.
"Growers will be impacted, but we also feel for the workers and ancillary businesses directly affected by the shortened campaign."
Roughly 45 per cent of the harvest will now be written off, or some 12,600 acres remaining unharvested. Cyclical cold on the heels of late September's early fall snowstorm which blanketed the area has played havoc with the quality of the crop remaining in the ground.
"We quite often do get a single cold temperature event during harvest, but this year there were three extreme cold events in October that caused the demise of the crop."
"The beets did survive the first event quite well, but the second and third allowed the frost to penetrate the beet as the canopy or tops had been damaged from the first cold weather events (which) had wind chills in the minus 20 range and lasted for multiple days," said Bergen-Henengouwen.
The decision was made following an exhaustive analysis by the Alberta Sugar Beet Growers (ASBG) and Lantic Sugar, which jointly determined that severe snow and frost damage has resulted in an inability to store or process the unharvested damaged sugar beet crop. 
"We have worked closely with Lantic throughout this difficult harvest," said Bergen-Henengouwen. "The decision to end harvest was made jointly after it had been determined that the beets were no longer suitable for short-term storage, or even immediate processing for that matter."
Lantic now estimates the current crop should derive a quantity of refined sugar ranging between 60,000 to 70,000 metric tonnes. 
"There will most certainly be financial losses by growers," said Bergen-Henengouwen. "Any time you leave 45 per cent of your crop in the ground, it will impact expected returns to growers. This represents about $19 million to growers. Most producers carry crop insurance to manage risk, but as with insurance, it will not cover all these losses."
Canada's only sugar beet refinery in Taber will also be impacted by the curtailed harvest, with the campaign at the plant expected to wrap up much earlier than in previous years.
"The plant's beet campaign is expected to last until Dec. 20 for this year, as opposed to mid-February as it has the past couple years," said Bergen-Henengouwen.
Rogers is reviewing "all available options to service its customers" which will include the supply of cane sugar from the Vancouver and Montréal refineries, which both have excess capacity."