Making Canadian history in cannabis
Posted on November 21, 2019 by Vauxhall Advance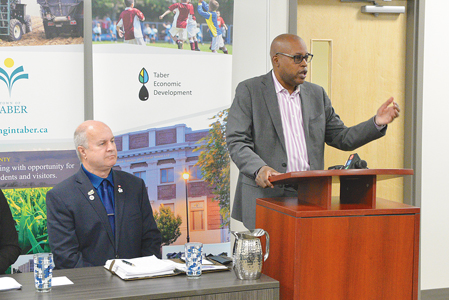 GREEN FUTURE: Grasslands Taber Collaborative CEO Lindsay Blackett (right) talks to media about the huge potential involved in the craft cannabis and hemp facility announced during a press conference on Friday. ADVANCE PHOTO BY TREVOR BUSCH
By Trevor Busch
Vauxhall Advance
tbusch@tabertimes.com
Taking advantage of the region's amenities for economic investment, the Grasslands Taber Collaborative broke ground last week on a facility designed to be Canada's first craft cannabis, hemp and agri-food premium supply chain.
Grasslands Taber Collaborative (GLTC) will be a craft cannabis and hemp cultivation, extraction and value-added premium supply chain housed on a 60-acre premium park in partnership with the Town of Taber. The park has been envisioned to become a "centre of excellence for the incubation and acceleration of cannabis, hemp and agri-food entrepreneurs."
According to GLTC CEO Lindsay Blackett, the new facility could represent a $100 million investment in the community with the potential for more than 200 jobs.
"We're pegging it somewhere between $80 – $100 million, $6.6 million to buy the land — the 10 acres for the development of our own buildings will cost about $3 million — and then the first three buildings that we're looking at will come in at about $48 million, because we're not only providing the buildings, we're providing all the equipment that goes inside those buildings, plus staff," said Blackett during a Friday morning press conference at the Administration Building. "Initially when we talked to council two months ago, we had a number of $20 – $25 million, as we started to plan and build it out, we're going to have in excess of that. That's what we're putting in, that's not those 23-25 lots that are available that other companies are going to come and reside in. That revenue will be in addition to that."
Originally, Blackett suggested the GLTC's job potential was being estimated on a smaller scale but those numbers have since been adjusted.
"In our park we have cultivation, we have extraction, we have processing, but we also have retail in there. We had said initially 20 – 50 jobs. I think we're closer to 200 jobs when we look at this two years from now. But we also want to embrace all those artisans, all those entrepreneurs, that are locally here that want to engage, so the numbers could be beyond that, but I would say safely 100 – 200 people."
The park will feature 10 turn-key cannabis and hemp EU GMP (European Union Good manufacturing process) and NHP (Natural Health Product) certified condominium bays for lease, a cogeneration power program providing a 15 per cent cost reduction in power, 25 lots ranging from 1.5 – 5 acres for sale for cannabis-based businesses, a hemp processing facility, and a retail mall for restaurant/catering, cannabis retail, a nursery and financial services tailored to the cannabis industry.
"We're not only focusing on cannabis and hemp businesses — $5 billion dollars a year in the next three or four years in Canada — we're looking at the $50 billion nutraceutical market, we're looking at the $500 billion natural products market," continued Blackett. "You've got all of these natural products here in the premier food corridor, so if somebody wants to make natural products that needs hemp, that needs canola, that needs corn, potatoes, sugar beets — you've got a plethora of those right here naturally. And you've got history in terms of distribution, being able to take those products to market. We're just going to piggyback on that, and we couldn't have a better partner than the Town of Taber."
Planning director Phyllis Monks explained how the town was approached by the GLTC and why they felt Taber was an attractive location.
"The town was approached in early 2019 with a project relating to the creation of a hemp and cannabis innovation centre of excellence to be located in Taber, and based on the Danish Food Cluster concept. The economic development office saw this an excellent opportunity for Taber to lead the way in regards to hemp and cannabis research and development. Not only will this make Taber a leader in the craft cannabis, hemp and agri-food industries, it will also provide growth opportunities to our existing business community that will continue to mature and benefit Taber for years to come."
The region's amenities played a big part in helping investors involved with GLTC to reach a decision regarding locating a facility in Taber's Eureka Industrial Park.
"Within our Eureka Industrial Park, we are fortunate to have serviced land available for sale, and we are able to provide a quality water supply and to treat effluent efficiently (through) our essential services, which businesses like GLTC require," said Monks. "Having these advantages in our community poises us to be the perfect choice for development of a facility like this. Taber is situated in a prime location on the high loads corridor of Highways 3 and 36, and our region is experienced with and well suited for this type of industry given our history with agriculture, irrigation and agri-food industries."
The town and GLTC have signed a Memorandum of Understanding (MOU) to jointly develop and promote the 60-acre park. Town council approved a land development plan on Oct. 28. GLTC's parent company is PeakTerra Ventures, an integrated holding company focused on creating opportunities in the emerging global cannabis and hemp industries.
"We've been in front of council a couple of times, and we talked from the very first day about bringing some small economic opportunity in terms of employment, and in terms of business taxes that will be generated here," said Blackett. "In the last three months since we've had that discussion, the project has grown in scope, mainly because people in the area have shown interest, people within Canada have shown interest, people in Alberta, and people outside the country. For the betterment of this community, we're going to attract businesses who focus on premium quality products, period. We don't need anybody here that's in a race to the bottom. We're here to create jobs — well paying jobs — provided by companies who are going to work on a high profit margin, because we're going to start with the best genetics possible, we're going to have the best cultivation process possible, and we're going to have the best extraction process possible that creates the best infused products."
The premium park will offer a state-of-the-art extraction facility that will be Health Canada, EU GMP, and NHP certified, for both cannabis and hemp. With cost-efficient municipal services and a co-generation power program, the cost of cultivation for these facilities will be reduced by 15 per cent.
"The Taber region grows approximately 15,000 – 20,000 of the 50,000 acres of hemp grown in Alberta annually," said Monks. "We're a founding member of Canada's Premier Food Corridor, which showcases that our region has a high potential for research capabilities and investment opportunities. Taber is a natural spot to invest in this industry."
Blackett anticipates having development permits in place by the end of 2019, with shovels potentially in the ground by April 2020 and a tentative start-up date in early 2021. The GLTC CEO even hinted at the possible repurposing of a mothballed beverage production facility in the community.
"We have a couple of agreements in place with some local business people. We have another building that we're looking at as a former beverage facility that we would like to convert into micro-spaces for beverages processing. We're looking at a hemp terminal, and we're going through the processes, because above everything else we want to be a hub here. Those hemp farmers, whether they're in southern Alberta, northern Alberta, Saskatchewan — a lot of them don't have anywhere to take their full plant for processing. We want here to be that place to be able to do that."
Lot sales are already underway in November, with GLTC ready to sell 25 lots and lease 20 turn-key micro-cultivation areas seeded with top cannabis genetics, and 10 turn-key micro-processing bays supplied with premium cannabis and hemp extracts.
"This is the first of its type in Canada, and I think it's very fitting that it's taking place in rural Alberta, and taking place in Taber," said Blackett.