New format for bean meeting a big hit
Posted on February 20, 2020 by Vauxhall Advance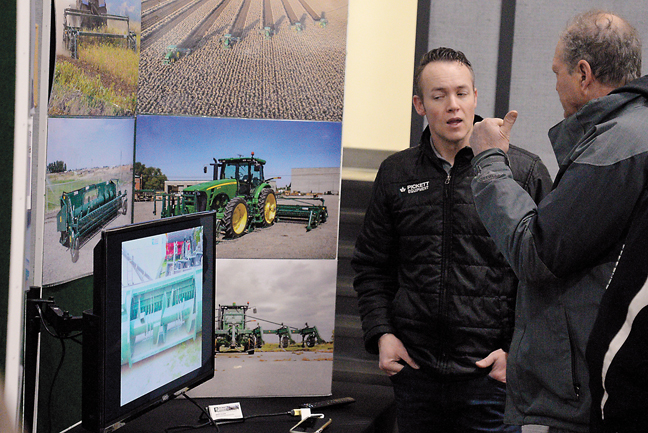 TRADING PLACES: The Viterra Alberta Bean Annual Grower meeting featured for the first time a trade show, giving even more bang for the buck for growers who attended. ADVANCE PHOTO BY GREG PRICE
By Greg Price
Vauxhall Advance
gprice@tabertimes.com
It was a first for the Viterra Alberta Bean Annual Grower Meeting and the result was plenty of positive feedback.
It was the first time the meeting was held at the Taber Community Centre Auditorium, and the extra space gave extra possibilities for the various growers from the southern Alberta region who attended.
"We would categorize it as a big success. Moving us into that venue allowed us to add a trade show to the meeting which gave more value to our grower base," said Keven Sawchuk, senior trader for Alberta dry beans and operations manager for Viterra. "Not only did they get an update on the goings on with the bean pool and the business unit, but it also gave them access to all those services providers as well. With the comments this year, I expect next year's attendance to even grow a little bit. We also had further interest from other vendors participating in the trade show portion as well. It was a hit. We would give it a 9/10 for sure."
The meeting attracted the southern Alberta dry bean grower base from all over southern Alberta in the irrigation districts, where Taber can serve as a more centralized hub.
"Because of heat units and fairly specific requirements in a short season, west to east, our growing area is for the most part near Lethbridge, Chin and Coaldale, to about Medicine Hat and Seven Persons. From south, it's the Chin coulee where the irrigation district sort of stops to north in Hays and Rolling Hills. It is sort of a confined area. Everyone is sort of within a 100 square mile radius."
It was a trying growing/harvest season for many producers of different crops, while beans had some challenges, they had a solid showing in comparison to other crops, at least in the southern Alberta region.
"I don't want to diminish it for the growers who were impacted by hail. Some guys had some significant losses. But, when we look at the total program, and we are able to harvest say more than 95 per cent of the acres, we would definitely call it a success," said Sawchuk. "But for those guys that were hailed out with that particular storm (in August) that went to the west of Taber unfortunately left a few of our growers with nothing to harvest, be it corn, potatoes, wheat or beans, I don't want to flower it up too much, because it was a wipe-out for them. Considering the amount we dealt with in late September and then taking a lot of work and patience from the growers the next four or five weeks when they normally wouldn't be harvesting beans, to stick to it and get the rest of the crop off, it was big effort, but it will pay off fairly well."
The pay off is from a bean harvest that struggled overall in the north American market, where with all the challenges the local region had, it was even more so south of the border.
"The effort is going to be well rewarded because the short supply means with a flat-price commodity like beans, prices are going up. So even if they lost some yield or little bit of quality or higher dockage, certainly the price is more than making up for that," said Sawchuk.
While the meeting last Wednesday served as a market update for growers, it also gave so much more with an update on Viterra, plant processing, seed/field updates, dry bean breeding, dry bean research, ABD production awards, soil moisture probes, and variety and agronomic updates.
"Growers place a tremendous value on this meeting. It also speaks to the history of our business and its collaborative nature. Back when the bean business first started in southern Alberta in the 1970s, it was a grower's pool and co-operative pool at that time, and over those decades, we've maintained that mentality. We have a grower advisory board who participates in our key decisions. They are closely tied to the bean business unity specifically. It's a great two-way street. They are great supporters of the program and likewise, we have the agronomic staff in place to support them so they can get the most out of their crop and share the most up-to-date information," said Sawchuk.