Potato growers unlikely to benefit from provincial/federal funding; Hochstein
Posted on May 21, 2020 by Vauxhall Advance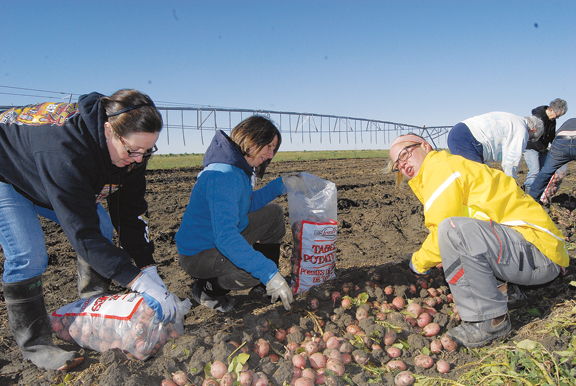 ADVANCE FILE PHOTO
By Tim Kalinowski
Alta Newpaper Group – Lethbridge
Recent funding announcements from the provincial and federal governments will do very little to help local potato farmers, says Potato Growers of Alberta executive director Terence Hochstein.
The province's announcement earlier this month that it would be increasing AgriStability payouts to help potato growers will not benefit the vast majority of producers, says Hochstein, because most are not eligible for AgriStabilty in any event, especially those who farm on irrigated acres and produce crops other than potatoes.
"For the majority of the growers in the province that will have no benefit," he confirmed. "Under the current AgriStability program most growers will not qualify for various reasons. My initial reaction on that is I don't see any financial benefit for the growers as the program is right now. As it stands right now there is no possible way for them to gain any benefit from that."
Hochstein says in order to benefit from the AgriStability program the province would have to change the definition of eligible expenses, but barring that the program will only benefit some dryland farmers and those who grow potatoes as their sole crop — which hardly any potato producers do, says Hochstein.
The federal government's $50-million surplus food buyout fund has the potential to be of greater assistance than the provincial program for potato growers, says Hochstein, but not as it is structured.
"The devil is going to be in the details on that, and I have yet to see the details," he said. "The federal government had hoped it could put that money into the food banks to purchase product. But the food banks are full. There is a lack of communication here right now. The federal government announced this program, but they never thought it through."
"You can't put whole chickens, whole beef or unwashed russet burbank potatoes into a food bank."
The fundamental problem both levels of government seem to have difficulty grasping, says Hochstein, is there is currently about $70 million worth of surplus potatoes sitting in bins on farms.
Those potatoes have nowhere to go to be processed, cleaned or packaged for consumer use.
Local french fry processing plants are full to the gills with frozen potatoes, he says, and their markets have dried up as restaurants and food service industries across North America have been closed due to the COVID-19 crisis.
Any program to address this problem must be targeted at finding new markets for those potatoes to go to, says Hochstein, and must pay the cost to transport and process the surplus potatoes, otherwise there will be no choice but for farmers to destroy and dispose of a large portion of these unmovable potatoes before the next harvest.
"We're sitting on $60 or $70 million worth of potatoes in our bins right now," he explained. "A lot of that will get used, but I am still anticipating we're going to be sitting on about $26 million we're going to have to figure out a different way of using. Right now the potato industry is working across Canada with food banks, and we're trying every way, shape and form to get potatoes into them and into fresh pack-houses. Wherever we can put a potato, we're trying to get it there."
"The processors are doing their best to find markets," he adds, "and continue to get product out to the consumers. But, there is only so many days you can run a plant until the new crop comes on. Nobody wants to waste food; especially a farmer. But we need to do something with this product. We would all be naive to not understand the fact that some of this product will have to be destroyed."
"We are working as diligently as we can to get this food to people, but this food has a shelf life and it won't keep forever," he stated.
Hochstein appreciates that both levels of government want to help, but says they have to intervene in a way which actually addresses the root problem of how do you move potatoes from the farm to consumers.
"I applaud government for wanting to step up," he says. "It's just they needed to have the conversation with industry first before they started making all these public announcements."