Retlaw Prairie 4-H members complete virtual events
Posted on March 4, 2021 by Vauxhall Advance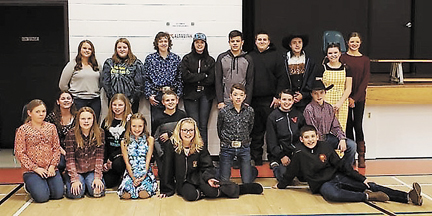 ADVANCE FILE PHOTO
By Shelby Lillico
Retlaw Club Reporter
So far the Retlaw Prairie 4-H beef club's year is going great despite the restrictions and these challenging times. The Retlaw 4-H Club recently had our annual public speak-offs but unfortunately, we were not allowed to do it in person. All the 4-H members had to create a video of themselves doing their speech or presentation. This year, once again was a success despite the restrictions and doing it all online we fulfilled our communications requirements for our 4-H year. This year all the members have the choice to send their video to provincials even if they didn't place.
For our junior speeches in third place Cooper Broderson and Josh Tolsma, in second place Shay Wilms, and in first place Ella Odland. The juniors did such a great job this year and their enthusiasm is contagious.
The intermediate speeches were well thought out and they did a great job. This year in third place Shelby Lillico, in second place Sienna Howg, and in first place Christopher Mills. We are hoping all intermediates decide to participate in the 4-H provincial speak-offs.
For the last of the speeches, the seniors did so well. They all well thought out their speeches and had the right amount of research and their own personal information. Their speeches were easy to understand and to listen to. We also hope all the seniors decide to send in a video of their speeches to provincials. For third place Theresa Cailliau, in second place Kalley Howg, and in first place Chelsey Mills. They all worked really hard and did great!
For the speak-offs, we don't just have speeches we have presentations as well. The presentations were well thought out and organized. For our junior presentations in first place was Austin Odland. In first place for our intermediate presentations is Torynn Plumb and in second place is Rayce Cawley. In first place for the senior presentations is Chase Plumb. They all did so great this year!
This year we had some fantastic judges who took their time to read all the speeches on their week off.  For our judges for the juniors, we had Nadine Schellenberg, Jason Schellenberg, and Lori Delanoy. The judges for the intermediates were Sharla Lindsay, Debbie Fettig, and Leslie Vogel. For the judges for the seniors, we had Garth Mouland, Lindsy Cummings, and Lynda Unruh. We would like to thank you guys for your time and volunteering.