Retlaw Prairie 4-H Beef Club is back for another year
Posted on November 18, 2021 by Vauxhall Advance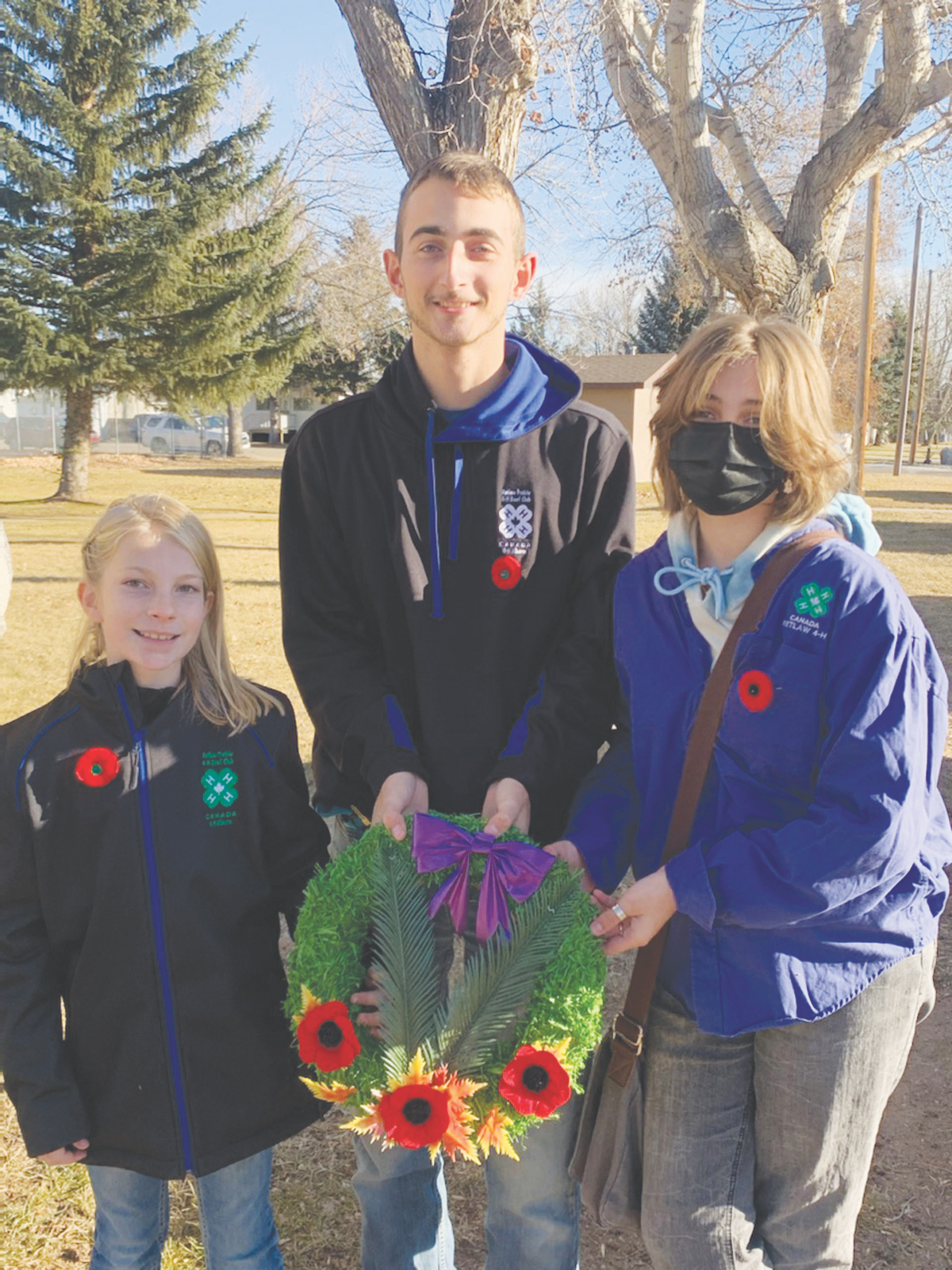 Merrit Cailliau, Lex Cailliau and Callie Cailliau laid wreathes at the Vauxhall Remembrance Day ceremony for Retlaw 4-H. PHOTO SUBMITTED
By Cason Van Hal 
Retlaw 4-H Club Reporter
The Retlaw Prairie 4-H Beef Club is back for another fun-filled year. We held our reorganizational meeting on Oct. 4, 2021 at the Enchant Hall. We have 20 members participating in our four project areas: Beef, Sheep, Horse, and Small Engines. It is great to see so many back for another year and to have a few new faces in our club.
At our Nov. 1, 2021 meeting held at the Vauxhall Elementary School, we held our Election of Officers for this 4-H year.
Our executive is as follows:
President – Marie Wetherelt
Vice-President – Kalley Howg
Secretary – Savanna Wiggill
Treasurer – Shelby Lillico
Club Reporter – Cason Van Hal
Project Photographers: Beef – Brynlee Van Hal,  Sheep – Ella Odland,  Horse – Shay Wilms
Small Engines – Christopher Mills
Communications Officer – Jodi Venter
Club Reps: Sr: Lex Cailliau,  Int: Sienna Howg,  Jr: Merritt Cailliau
Our leaders are as follows:
General Leader – Dorthea Mills,  Beef Leaders – Susan Anhorn, Ryan Van Hal
Sheep Leaders – Jackson Wetherelt, Kaitlyn Mills  Horse Leaders – Dalyce Brewin, Amanda Malone
Small Engines – Duane Mills, Clancy Holthe, Sebastien Cailliau
Assistant Leader/Treasurer Mentor – Jodi Welsh  Record Books – Brooke Scott
Our Beef members held their weigh-in at Southwood Stock Farms on Nov. 6, 2021. This was postponed from our original date of Oct. 30, 2021. All calves weighed between 500lbs and 800lbs and they all looked great. We weighed in 12 market steers, one club spare, four heifers and four carcass class steers. The Carcass class is a new project this year that some of our members are trying out. It is a provincial project where you raise a steer with it's carcass in mind. The steer is taken to the butcher and the cuts of meat are graded. The best graded carcass wins. We have our fingers crossed that one of our Retlaw Prairie Carcass Steers will be best in the province.
Our club reps participated in the Remembrance Day Ceremony in Vauxhall. They laid a wreath on behalf of our club. It will be nice to be out in the community again and be taking part in this. Our club is also selling Springbank Cheese as a fundraiser again this year. Contact one of our members or leaders if you would like to order cheese packages. They make fantastic Christmas gifts.
Our Small Engines members will be meeting for a work meeting on Nov. 27, 2021 and going over the rules of the shop and basic tools. We will discuss what projects everyone plans on working on this year.
For our Awards Banquet this year, due to COVID, we are unable to have a sit down supper so we will be holding our Awards Night at our next meeting which will be held at the Vauxhall Elementary School on Dec. 6, 2021 at 6 p.m. Our club would like to recognize a few of our past members who received 4-H Scholarships this year.
Kaitlyn Mills – Southern Alberta 4-H Regional Council Centennial Scholarship
Jessie Ferguson – The Norma Jean Gray Provincial Scholarship, Southern Alberta 4-H Regional Light Horse Committee Scholarship, and the Southern Alberta 4-H Regional Council Millennium Scholarship. Chelsey Mills – Norma Jean Gray Provincial Scholarship, Milo Barfuss Memorial Spirit of 4-H' Scholarship, and the Taber 4-H District Scholarship. Chelsey Mills was also one of seven rural farm youths that were awarded the Elmer and Ona Hansen Memorial Scholarship worth $5,000. Congratulations to our past members on their accomplishments and good luck in your studies. It is looking like we are in for another great year. Keep watching for more on what is happening in the Retlaw Prairie 4-H Beef Club.