Above average beet crop on deck in 2023: ASBG
Posted on September 21, 2023 by Vauxhall Advance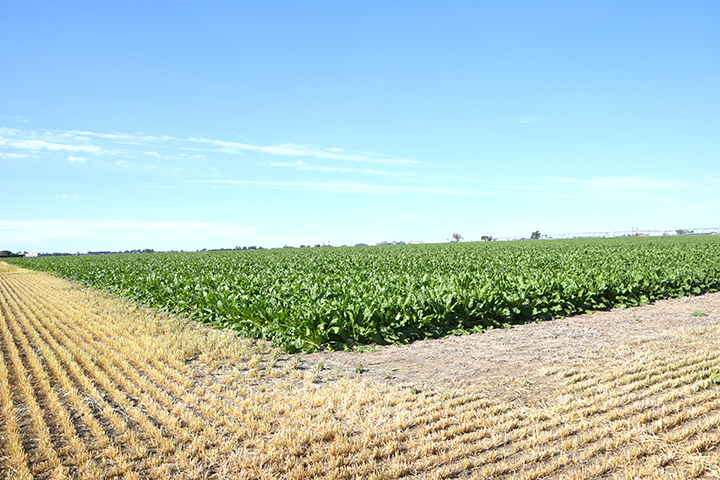 Advance Photo by Erika Mathieu Sweet success: Sugar beet field in Lethbridge County.
By Trevor Busch
Vauxhall Advance
editor@tabertimes.com
W
ith the regional sugar beet harvest getting underway earlier this month, the Alberta Sugar Beet Growers (ASBG) are anticipating sweet success in 2023.
ASBG president Gary Tokariuk talked about conditions in the region during the growing season and some struggles related to water supply for irrigators.
"I think the heat's been very good for our beets. And unlike last year, we've had quite cool nights. And that's also quite good for beets, because last year, we had the warm nights and we didn't seem to get very good sugar at the end of the day," said Tokariuk. "So this year were the cooler nights. So that's what we like to see at this time of year."
Water restrictions in the St. Mary River Irrigation District (SMRID) created some issues for producers later in the growing season.
"BRID (Bow River Irrigation District) and EID (Eastern Irrigation District) didn't have any – and actually at the end of the day, neither did LNID (Lethbridge Northern Irrigation District) – water issues. In St. Mary's, we were first of all restricted to 14 inches per acre. And then it was turned down to 13 inches per acre. But most guys either bought water or were able to move from other crops to have sufficient water," said Tokariuk. "And also September 22 is when SMRID water is shutting down. So a lot of guys, especially on the sandy soils, always like to have lots right before harvest. So they're probably not going to be able to do that this year. So that could be a concern at harvest time."
The general harvest in the Taber region was expected to start on Sept. 14.
"They're going to also have a mini harvest in Vauxhall," said Tokariuk. "So those are the areas that usually supply most of mini harvest beets daily anyways, every year."
Some yields in the region might even top 39 tons per acre, reports Tokariuk.
"Well, last year, we had a 32 ton average. And from what I understand from field staff is that Lantic is figuring it's going to be closer to 35 tons to the acre this year for an average. And if we get decent sugar, that's going to be a pretty good payday for a lot of guys. I'm confident that somebody's going to have a 40 ton crop this year, which would be the first ever. We've had guys that are 39 other years, past years, but I can't see why not a 40 ton crop this year."
"You know, it's always hard to tell until you get in the field and start digging. But I can see this being an above average year."
Hail caused some damage in 2023, and insect pests plagued other fields. Roughly 26,500 acres were planted this season.
"I guess through Vauxhall and a little bit through Burdett, they had some hail, which tends to beat them back, but some are back up to 90 per cent. So that'll be a bit of a challenge there for those guys. Spring was kind of nasty. We actually lost a field to grasshoppers this year, which is something unheard of. So always something new, something different," said Tokariuk.
Contract stability with Lantic Sugar Inc. is in place for growers.
"We're in the first year of two-year contract, and we never got to where a lot of some of the growers wanted to see the price but I think we got a pretty good price here for the next few years. It's still a vibrant industry," said Tokariuk.