Donovan hopes to keep Little Bow MLA seat
Posted on April 16, 2015 by Vauxhall Advance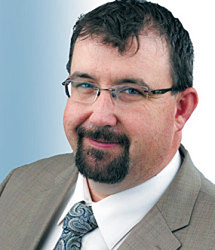 By Stan Ashbee
Southern Alberta Newspapers
Albertans head to the polls May 5 to cast a ballot for their favourite candidate in the Little Bow riding.
Currently, the Progressive Conservative Little Bow MLA is Ian Donovan, who is one of the candi- dates running in the upcoming Alberta Election. Donovan recently crossed the floor from the Wildrose Party to the PCs.
Donovan has been out and about meeting with constituents across his riding to find out what the local issues are and to let voters know what the PC game plan is, which includes a recently announced budget.
"I think we need to have a good plan out there to show people over the next three years what this government will do to continue Alberta getting off the rollercoaster of the oil revenue in-and-out and that's what the PC government is bringing forward in their budget plan," said Donovan.
A lot of constituents, Donovan noted, want to know how the PCs will continue to move forward into the future and what the party's plan is to get out of the boom-bust cycle of oil and gas. But, there are a plethora of thoughts and feelings constituents have shared with the MLA.
"They want their infrastructure built — they still want the schools, hospitals and roads to be maintained. The biggest thing talking with people is agriculture — making sure we're investing in agriculture," he said, adding healthcare and education are always key concerns. When asked if he thinks constituents are wanting change in Alberta politics, Donovan said, he's heard a lot of people talking about change.
"There is change. We are under new management under Premier Jim Prentice. He's shown that, he's shown the leadership changes that need to happen. The big thing is — you've got to look just straight over at the plan. Being in opposition for two and a half years, it was always easy to criticize but you never had to have a plan.
"You just complained about what was happening. That was one of the challenges I had. My thing is — people want solutions and that's what we have in place — solutions in this three-year budget cycle we're planning and this 10-year plan we put together," Donovan explained.
At the end of the day, Donovan added, it's easy to sit as an arm- chair quarterback but when you don't have a plan in place — How do you actually do anything?
"That's what we're going for- ward with, a realistic plan, that's balanced and forward over the next three years and how to deal with a lot of the things that need to be done. You can't just shut the door off and shut everything off and say that's how we save money. That's not what Albertans expect," said Donovan.
According to the Little Bow MLA, it's been a great experience joining the PCs and it has always Donovan said one of the challenges of being a part of the opposition Wildrose Party was not having a free vote.
"One of the big issues of why I left the Wildrose was — our free votes were being taken away and we were being whipped into what we had to do," he said.
Donovan added healthcare issues and seniors care continue to be key constituent issues at the forefront within his riding.
"Making sure we're getting our best value for our dollar and acces- sibility," he said.